Sunday, May 03, 2020
Coronvirus Humor - Part 3
In my first post on Coronavirus humor I mused about the arc of humorous treatments of disaster and crisis and how we can categorize and classify the many jokes and memes that we are all consuming about Covid-19. Then in a second post I brought some scholarly evidence that keeping it funny in the face of great challenge keeps us determined and optimistic that we can fight through. An Atlantic article has a similar take, encouraging us to keep laughing precisely because we are facing scary times. Time magazine says laughing right now can combat anxiety. And the New York Times reassures us that it is ok to joke right now, writing that humor existed even among prisoners at concentration camps during the Holocaust. The analogy seems a bit extreme but I was deeply moved by the passages about Holocaust survivors remembering how humor kept them alive:
"Every day at the Art Cafe on Leszno Street, one can hear songs and satires of the police, the ambulence service, the rickshas, and even the Gestapo, in veiled fashion," wrote Mary Berg, a 15-year-old trapped by Nazis in the Jewish ghetto in Warsaw, in a diary entry from Oct. 29, 1941. "The typhus epidemic itself is the subject of jokes. It is laughter through tears, but it is laughter. This is our only weapon in the ghetto."
and the best nugget of research in the NYT article is from Scott Weems, a cognitive neuroscientist and the author of "Ha! The Science of When We Laugh and Why.":"My favorite study even found that watching 'Friends' reduced anxiety significantly more than simply resting, which should make those of us watching a lot of Netflix lately feel a little better."
Gotta go binge some netlfix now...
Posted by Orly Lobel on May 3, 2020 at 01:39 AM | Permalink | Comments (1)
Saturday, May 02, 2020
AALS Section on Professional Responsibility Call for Papers – 2021 AALS Annual Meeting
The AALS Section on Professional Responsibility invites papers for its program "Professional Responsibility 2021Works In Progress Workshop" at the AALS Annual Meeting in San Francisco (if it happens). Two papers will be selected from those submitted.
Continue reading "AALS Section on Professional Responsibility Call for Papers – 2021 AALS Annual Meeting"
Posted by Howard Wasserman on May 2, 2020 at 12:27 PM in Teaching Law | Permalink | Comments (0)
Friday, May 01, 2020
Should We Deliberately Infect Vaccine Volunteers with the Coronavirus?
The novel coronavirus has not only sickened millions and killed hundreds of thousands, it has devastated the world economy and limited the freedom of billions. While some hope to have a vaccine in 18 months or sooner, it could take longer--much longer. One reason the search could take a long time is that late-stage vaccine studies usually include thousands of subjects, some of whom receive the target vaccine and some of whom receive a placebo. Then we wait and compare the susceptibility of both groups to the virus. It can take a long time, however, to get statistically meaningful results, especially if quarantine and social distancing measures prevent most people in both arms of the study from getting infected. 
One way to speed up the search for a vaccine is to deliberately infect young, healthy, adult volunteers (living in areas where the virus is already rampant) with the coronavirus as part of a "human challenge" vaccine trial (see, e.g., Eyal et al. and this letter from 35 members of Congress "potentially" supporting this approach.) We usually don't deliberately infect people with viruses that can cause diseases as serious as COVID-19, but these are not ordinary times. In a forthcoming essay in the Journal of Law and the Biosciences, I argue that human challenge vaccine trials for COVID-19 are not only morally permissible, they are morally obligatory, given reasonable empirical assumptions and a few additional caveats.
The journal has an accelerated publication schedule for its COVID-19 papers, so I will likely turn in the all-but-page-proofs version later in the day on Monday. It's a short piece, so if you have any corrections or feedback, I encourage you to email me soon or comment below! 
Posted by Adam Kolber on May 1, 2020 at 02:46 PM in Adam Kolber | Permalink | Comments (13)
Bushrod Island
I think that Bushrod Washington is the only Supreme Court Justice with an island named after him. Bushrod Island is part of the Liberian capital of Monrovia. (See below). Bushrod was the President of the American Colonization Society from 1816 until 1829 and advocated freeing slaves and deporting them to Liberia, though his personal record on that score was poor.
Posted by Gerard Magliocca on May 1, 2020 at 12:41 PM | Permalink | Comments (2)
Thursday, April 30, 2020
7th Circuit universal injunction in sanctuary cities case
A Seventh Circuit panel on Thursday unanimously declared invalid DOJ's attempt to withhold funds from sanctuary jurisdictions and affirmed a permanent injunction, dividing 2-1 (Rovner wrote the majority, Manion dissented) on the scope of the injunction (while labeling them "universal" throughout). Rovner's opinion walks through the "veritable cottage industry of scholarly articles" on the subject, while suggesting that the scholarly trend is moving away from the constricted view that such injunctions are flatly prohibited.
The majority ultimately approves universality through a version of an indivisibility argument. Because the DOJ programs are formula grants, application of the invalid condition to other entities affects the amount Chicago receives; for Chicago to get the appropriate funds, no entity can lose funds because of this invalid condition. This is different than, for example, a purely discretionary grant of $ X, in which (unlawfully) depriving California of its money does not affect what Chicago receives. Thus, Chicago cannot get complete relief (the proper money to which it is entitled) unless the injunction bars withholding funds from everyone.
Manion's dissent rejects this on several points. The denial of funds to other entities would never reduce Chicago's award, only increase it (the court divides on what the regulations provide on this). Even if such a "windfall" is improper, the windfall comes only if money is denied to Illinois or other municipalities in Illinois; thus an injunction protecting within Illinois is sufficient, without protecting all entities throughout the country. In any event, the majority still errs by giving relief to non-parties in the guise of giving relief to Chicago.
The panel was unanimous on a different scope issue--"temporal" scope. The injunction prohibits DOJ from withholding funds in "future years." The court properly recognized that showing an injury from enforcement of a grant condition allows a party to challenge and a court to enjoin all current and future impositions of such conditions. The alternative would require a party to return each year to challenge each new denial of funds and imposition of unlawful conditions.
Posted by Howard Wasserman on April 30, 2020 at 05:52 PM in Civil Procedure, Constitutional thoughts, Howard Wasserman | Permalink | Comments (0)
Wednesday, April 29, 2020
May Events
As we enter May from the longest April in memory, I am pleased to welcome returning guest Adam Kolber (Brooklyn). In addition to his regular posts, Adam will run an online symposium on "Legal Discontinuity," based on a conference he organized in Tel Aviv in December; the symposium will begin around May 11. Participants include Saul Levmore, Lee Fennell, Ronen Avraham, Re'em Segev, Talia Fisher, Eric Kades, Julie Roin, Omer Pelled, and perhaps others. Details as the start date draws near.
In the meantime, please welcome Adam back to Prawfs.
Posted by Howard Wasserman on April 29, 2020 at 02:32 PM in Blogging, Symposium: Legal Discontinuities | Permalink | Comments (2)
Bushrod Washington--At Home!
When I can, I'm still working on my Bushrod Washington biography. The end is in sight. So I thought I'd start doing more posts about what I've found. (If zoos and museums can post "At Home" content, why not me?)
Here's the first one. Patent lawyers are familiar with the doctrine of equivalents. As stated most recently by the Supreme Court, the doctrine holds that "a patent's scope is not limited to its literal terms, but embraces all equivalents to the claims described." Which judge first articulated this important idea?
The answer is Bushrod Washington. In 1817, he instructed a jury in a patent case that: "What constitutes a difference in principle between two machines, is frequently a question of difficulty more especially if the difference in form is considerable, and the machinery complicated. But we think it may safely be laid down as a general rule, that where the machines are substantially the same, and operate in the same manner, to produce the same result, they must be in principle the same." There are two prior circuit cases (from 1804 and 1810) in which he told juries much the same (albeit more briefly).
My guess is that Bushrod was never acknowledged for this development because Justice Story (also in a circuit opinion) expressed the idea more colorfully in 1814. Indeed, this example supports one of my tentative conclusions in the book, which is that Story is overrated and Washington underrated in part because Story was better at writing pithy aphorisms. Robert Jackson once explained that both of the Hand cousins were excellent judges, but that a rule of thumb for lawyers was to "quote Learned but go with Gus [Augustus]." A similar statement can be made about Story and Washington. Story was more brilliant and quotable, but he also made many mistakes. (I'll take more about that in other posts.) Washington's opinions are less exciting to read, but he made few mistakes.
Posted by Gerard Magliocca on April 29, 2020 at 09:38 AM | Permalink | Comments (1)
Tuesday, April 28, 2020
Civ Pro Workshop Series
Suzanna Sherry (Vanderbilt) and Adam Steinman (Alabama) have organized a new remote Civil Procedure Workshop Series, hosted by and modeled on the Evidence Workshop run by Ed Cheng at Vanderbilt). It will be weekly 30-minute discussions with a guest speaker discussing current trends or topics, interesting factoids, or teaching ideas. It is open to all Civ Pro teachers.
The first workshop will be at 3 p.m. EDT (2 p.m. CDT, 1 p.m. MDT, noon PDT), Tuesday, May 5; Alexi Lahav (UConn) will discuss Bristol-Myers Squibb: Going Forward. I will speak on Tuesday, May 12 on a topic TBD.
Register at the above link by clicking on "Register for Civ Pro" (unless you also want to join Ed's Evidence Workshop, which I might do, as well).
Posted by Howard Wasserman on April 28, 2020 at 09:31 AM in Civil Procedure, Howard Wasserman, Teaching Law | Permalink | Comments (0)
Monday, April 27, 2020
Reopening universities
Whether and how to reopen colleges and universities (and with them, law schools) has been the topic of discussion by Brown President Christina Paxson in The Times and Adam Harris and Graeme Wood in The Atlantic. Wood's suggestion that "colleges are more like cruise ships and retirement homes than they are like hardware stores and driving ranges" is sobering. As is the reminder that a law school with 500 students, like a small college, can more easily distance students than can a large university.
Posted by Howard Wasserman on April 27, 2020 at 05:10 PM in Howard Wasserman, Teaching Law | Permalink | Comments (2)
Friday, April 24, 2020
Behavioral Research on Market Responses to Covid-19 - event today
Dean and Professor On Amir, brilliant behavioral economist at UCSD, my occasional co-author, and my always partner, has been doing some fascinating data analysis about market responses to the current health and economic crisis. You can find his working paper The Four Stages of a Pandemic Response here and today he is being interviewed by his colleague Professor Uma Karmarkar in a free and open to the public event, you can register to it here. It is today, friday, at noon just 30 min talk so don't be late!
Posted by Orly Lobel on April 24, 2020 at 10:12 AM | Permalink | Comments (0)
Changing Perceptions of the Federal Government
I was curious the other day to see what President Woodrow Wilson said or did in response  to the 1918 pandemic. The answer is basically nothing. He said nothing publicly, and the  only "federal response" was by the military, which of course had to figure out how to deal with the cases within its ranks.  
Maybe this lack of presidential action can explained by the fact that World War I was on and everything else took a back seat. Still, I don't think that Wilson simply ignored all domestic issues in the Fall of 1918. Rather, I think the answer is that few thought that the federal government was supposed to handle a pandemic (even a progressive like Wilson). It was seen as a state and local matter. We still have some of that sensibility today, but now there is a greater sense that federal officials are supposed to lead the response.
Posted by Gerard Magliocca on April 24, 2020 at 07:34 AM | Permalink | Comments (6)
Wednesday, April 22, 2020
I'm trying, Ringo; I'm trying real hard to be the shepherd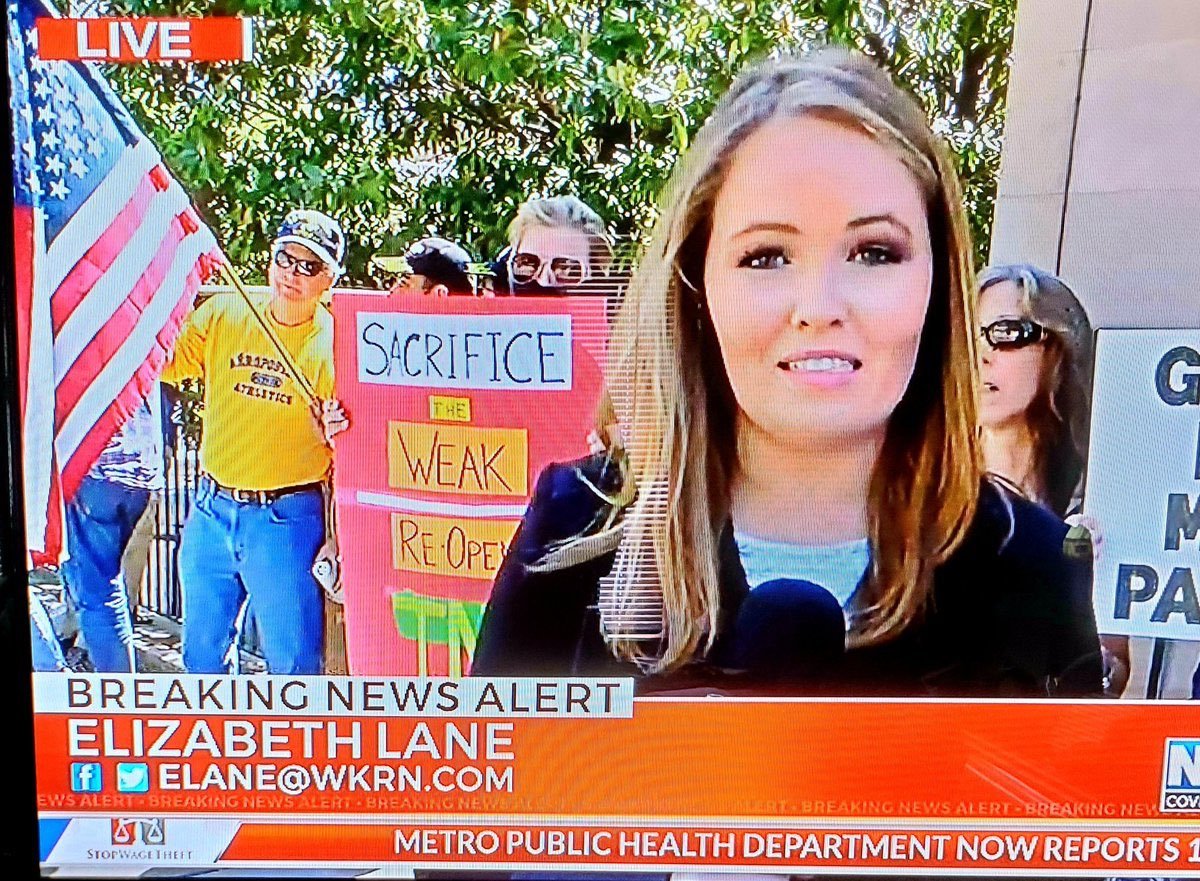 The path of the righteous man is beset on all sides by the
Inequities of the selfish and the tyranny of evil men
Blessed is he who, in the name of charity and good will
shepherds the weak through the valley of darkness
for he is truly his brother's keeper and the finder of lost children
And I will strike down upon thee with great vengeance and furious
Anger those who attempt to poison and destroy my brothers
And you will know
My name is the Lord when I lay my vengeance upon thee
Posted by Howard Wasserman on April 22, 2020 at 11:27 AM in Culture, Howard Wasserman | Permalink | Comments (10)
Impeachment as Footnote
Remember the impeachment trial? It was only a few months ago, but it feels like a few decades ago. This raises a larger point: The impeachment is going to be an afterthought in 2020 and beyond. In other words, this year will be remembered for the pandemic. The election result will turn on the pandemic. We will not be able to draw conclusions about the public response to the impeachment ("Let the people decide") because of the pandemic.
There is a certain irony in this. The 1918 pandemic was largely overlooked afterwards because most of the deaths occurred while World War I was underway. That larger event swallowed up historical memory even for a pandemic that killed millions of people around the world. Now it's the other way around--the pandemic is swallowing up the political event.
Posted by Gerard Magliocca on April 22, 2020 at 09:16 AM | Permalink | Comments (3)
Impeachment as Footnote
Remember the impeachment trial? It was only a few months ago, but it feels like a few decades ago. This raises a larger point: The impeachment is going to be an afterthought in 2020 and beyond. In other words, this year will be remembered for the pandemic. The election result will turn on the pandemic. We will not be able to draw conclusions about the public response to the impeachment ("Let the people decide") because of the pandemic.
There is a certain irony in this. The 1918 pandemic was largely overlooked afterwards because most of the deaths occurred while World War I was underway. That larger event swallowed up historical memory even for a pandemic that killed millions of people around the world. Now it's the other way around--the pandemic is swallowing up the political event.
Posted by Gerard Magliocca on April 22, 2020 at 09:16 AM | Permalink | Comments (2)
Law in the Age of Covid-19 - Gig Workers & the Labor Market (w/apologies to Paul's grand title aversions)
This Thursday, 12:30-1:20pm Pacific Time I am looking forward to participating on a panel on employment and labor law during this global health and economic crisis. Zahr Said has put together at Univ of Washington a course/public speakers series called Law in the Time of COVID-19 (again, notwithstanding Paul's memo to fellow faculty - I actually substantively don't agree with Paul that we should not be writing about what is taking over all of our lives. I think it is part of how we process and engage and of course all such writing "at a time of" comes with the caveat and acknowledgement that we are way to involved and close to what is going on to see clearly - that's fine, there is room for both kinds of reflections - fast and slow, up close and personal, reflective and distant...).
I also agreed to write something about the Gig Economy and Gig Workers in relation to the CARES Act and the labor market upheavals for a symposium issue - yes - Law during... - of the San Diego Law Review  - so I am happy to hear any and all thoughts about how the economic recovery will affect the battles over employee classification and the extension of social benefits to all workers.
Join us at the Univ of Washington event this Thursday 1230 Pacific Time on Zoom: https://washington.zoom.us/s/97708493662
Posted by Orly Lobel on April 22, 2020 at 02:43 AM | Permalink | Comments (0)
Tuesday, April 21, 2020
Testing on (if not for) coronavirus
I am curious if people are planning on using COVID-19, the pandemic, and everything going on for exams and assessments for this semester. It presents legal issues across a number of subjects, including mine. Is it too soon, either because everyone is living through it or because the issues are not ripe? Is it triggering because everyone is living through it--the equivalent of testing about Ferguson while the protests were ongoing--and thus distracting and unfair?
Posted by Howard Wasserman on April 21, 2020 at 02:54 PM in Howard Wasserman, Teaching Law | Permalink | Comments (5)
Zoom Faculty Meeting Incentive Structures: Some Urgent Proposals
We just had our first faculty meeting since the advent of what the TV commercials are calling "These Uncertain Times." (Vastly preferable to "In The Age of," in my opinion. I now believe I was too generous before, and that law reviews should shoot for a zero percent target for articles using that phrase in the title.) It was a genuine pleasure to see my colleagues' faces again. It was not, however, a short meeting. No one is to blame! But it reminded me, with a chill of recognition, of a legal academic Facebook friend's Boschian description of a faculty meeting, relatively early in the Uncertain Time era, that was still going after four hours. And it occurs to me that, perhaps without our recognizing it, the incentive structures for faculty meetings have suddenly changed significantly and dangerously. 
I take as a general proposition and guide for living that any meeting that lasts longer than 60 minutes should be counted as a failure. (There are exceptional cases, of course, but they should be as limited as possible.) Usually, a meeting scheduled at an inconvenient time, or near the end of day and around the advent of rush-hour traffic, offers at least some incentive for people to wrap things up and head to class, home, or otherwise to get the heck out of Dodge. But Zoom meetings already take place at home. You're already seated in your favorite chair. You're not dependent for refreshment on catering, which at well-organized meetings can be cunningly organized to maximize the desire to wrap things up in a hurry. (For example, offering a tiny number of diet Cokes and a large number of Sprites, or a nut mix calculated to maximize the unpopular nuts and provide an insufficient snack to each person given the attendance number, or rigging the ratio of chocolate chip to oatmeal cookies.) Those who enjoy long meetings--there's one in every bunch--and who perhaps are not weighed down by child- or elder-care requirements or other responsibilities can protract the meeting indefinitely and literally at leisure. Impatient looks and sighs directed at that colleague, which rarely work even in person, are even less effective online.
This simply won't do.
One possible solution is a simple policy change: For any meeting, each participant must agree to raise or lower the temperature of the room in which he or she is sitting to a painfully uncomfortable level. This will serve as a proxy for the general inconvenience and painfulness level of in-person meetings. (I think heat would work better than cold: one can always keep bundling up, but modesty and fear will prevent faculty members from stripping down too far. But your mileage may vary.) The obvious problem with this proposal is that it seems to depends largely on voluntary self-enforcement. But there is a possible solution to this problem. The smart thermostat has become a more common feature in bourgeois homes. Zoom could work together with Alexa and other Internet-of-Things hosts to track attendees' thermostat readings. Just as some places right now require a thermometer screening before one can enter a shared space, so entry to a Zoom meeting could be restricted until one registers a thermostat setting of at least 85, and one could be cut off for failing to maintain that minimum temperature. We might call this the Demon Seed Plan.  
As a friend--not an economist, admittedly, but as a law professor he may be assumed to be a general expert in any field--pointed out, however, there is a deeper incentive problem: Zoom pricing structures. Perhaps with the Endless-Meeting problem in mind, Zoom's free plan has a 40-minute limit on group meetings--quite a bit shy of the 60-minute failed-meeting mark, to be sure, but better safe than sorry. Most universities, however, mindful of studies suggesting that an audience's attention span in a lecture setting tends to drop off after 20 minutes, schedule their classes in 50-80 minute blocks. Accordingly, they have subscribed to premium plans that allow Zoom classes to go on ad nauseam--and Zoom meetings to continue post nauseam. This is a terrible structure, one in which the cheapness of one resource (cost per unit of time) allows, or even encourages, the overuse of another scarce resource (sanity and common sense).
I would thus like to propose another solution, one that is much easier to administer than the smart-home proposal. Call it the Ulysses Plan. A meeting organizer operating on a premium pricing basis can designate a meeting as falling under the Ulysses pricing structure. Once this option has been selected, Zoom will charge a steep and perhaps rising penalty fee for every additional minute over one hour. Of course there are still free-rider problems, but those can be fixed fairly easily. The penalty can be automatically deducted from the faculty research and travel budget. Or, if one worries--surely baselessly--that some people who indulge in the unnecessary prolongation of meetings are also people who don't do much writing or traveling, and thus won't feel enough of a sting, one can use Zoom's own technology to charge the fee directly to the salary or discretionary budget of each individual who is still speaking after 60 minutes. In this way, we can fully internalize the costs of failed meetings. Think of it as a pre-commitment measure, like stickK, but with a touch of the lash instead of the weak constraint of donation to charity.
I have focused on faculty meetings because they are what I dread know. But these proposals have a much wider potential application. Not only are there faculty meetings, there are university administrators' meetings. And, beyond the college gates, there is also--roughly speaking--every other meeting. When one considers the aggregate costs of Zoom-extended meeting lengths across the whole economy, it is clear that the total of lost minutes constitutes a significant financial drain in what are already economically precarious and Uncertain times. I do not, of course suggest that these simple measures would constitute a complete and effective remedy for our current economic difficulties. But I'm not exactly not suggesting it either.
I offer these proposals gratis. I am happy to give Zoom, the smart-home companies, and universities, corporations, and other meeting-plagued institutions the right to any intellectual property involved at no cost, for the sake of the common good. I ask only that after this is all over, as a small token of gratitude for saving millions of minutes of unnecessary meeting time, a modest bronze statue of me, in full Roman senatorial regalia, be erected in every faculty, university, and corporate meeting room.            
Posted by Paul Horwitz on April 21, 2020 at 09:57 AM in Paul Horwitz | Permalink | Comments (0)
Monday, April 20, 2020
Justice Powell's Separate Opinions
Today in Ramos v. Louisiana, the Supreme Court overruled Apodaca v. Oregon and held that the Sixth Amendment, applied to the states by the Fourteenth, requires unanimous jury verdicts in criminal cases. I agree with this decision for several reasons, but that's not the subject of this post.
One dispute in today's ruling was whether Justice Powell's concurring opinion in Apodaca, which has been treated as stating the controlling rule of the case, was binding precedent. Three Justices concluded that it was not because the views of one Justice, they say, cannot bind the Court. Six Justices said that the Powell concurrence was binding precedent, although three of them decided that this precedent should be overruled.
This led me to think about the most famous of Justice Powell's separate opinions--his concurrence in Bakke. What did the Court say about that in Grutter? Here is the relevant passage:
We do not find it necessary to decide whether Justice Powell's opinion is binding under Marks. It does not seem "useful to pursue the Marks inquiry to the utmost logical possibility when it has so obviously baffled and divided the lower courts that have considered it." Nichols v. United States, supra, at 745—746. More important, for the reasons set out below, today we endorse Justice Powell's view that student body diversity is a compelling state interest that can justify the use of race in university admissions.
One lesson is that the Court should strive to avoid plurality opinions that are joined by separate concurrences, as they are confusing. Another is that they really need to revisit Marks, especially in light of judicial and scholarly criticism of that case. It was confusing in Grutter and it's confusing here.
Posted by Gerard Magliocca on April 20, 2020 at 08:16 PM | Permalink | Comments (5)
JOTWELL: Coleman on Wood on the real world of sexual harassment litigation
The new Courts Law essay comes from Brooke Coleman (Seattle), reviewing Diane P. Wood, Sexual Harassment Litigation With a Dose of Reality, 2019 U. Chi. Legal F. 395 (2019), which demonstrates the real-world problems facing sexual-harassment litigants.
Posted by Howard Wasserman on April 20, 2020 at 09:44 AM in Article Spotlight, Civil Procedure, Howard Wasserman | Permalink | Comments (0)
More on the demise of blogging
One of my favorite non-law policy blogs was the Reality-Based Community ("RBC"), started by UCLA public-policy professor Mark KleimanZ"L and then expanded to other academics. Kleiman died last summer and RBC closes shop at the end of April. The remaining bloggers are offering final posts with thoughts and memories of RBC.
Yesterday's post was from Keith Humphreys (Stanford Med School) reflecting, as I have in the past, on the decline in law-and-policy blogs in the face of the decline of paid journalism and the rise of social media and the gravitation of many bloggers and readers to Twitter and other social media. Fortunately, some of us are still going, perhaps more so in the current environment when we have nothing but time on our hands.
Posted by Howard Wasserman on April 20, 2020 at 09:31 AM in Blogging, Howard Wasserman, Teaching Law | Permalink | Comments (1)
Sunday, April 19, 2020
Why cross examination works--and doesn't work
USA Today columnist Michael Stern, a former federal prosecutor, explains how he would cross examine President Trump, keeping him from slipping away, generalizing, or lying, as he does in response to reporters' questions.
I share Stern's wish that reporters would do a better job of questioning Trump, beginning with asking shorter, non-multi-part, non-grandstanding questions. And I agree they have been doing a terrible job during these ridiculous briefings cum political rallies.
But the cross-examination analogy fails because of the different power dynamics. Cross examination is effective because a good attorney is in control and the witness is not. The witness must remain on the stand as long as the attorney wants to keep him there. The attorney can keep asking questions until the witness answers, she has the judge as a backstop to ensure the witness cannot sit there and not answer or try to leave the stand, and she has perjury as a legal backstop to keep him from lying. (We could say the same thing about oral argument, the other law analogy, where the judge as questioner similarly controls the event and the attorney subject cannot leave, refuse to answer, or lie).
WH reporters hold none of that power. Trump can answer or not answer whatever questions he wants however he wants, then move to another (more obsequious) reporter or unilaterally end the rally. He suffers no legal consequences for lying or not answering. Nor does he suffer political consequences. The best cross-examiner could not achieve anything with a witness who has neither a desire nor obligation to answer fully and obligation.
The best a good cross-examining reporter could achieve is causing Trump to bl0w up, lose his mind, and walk off the stage. Perhaps not a bad result.
[Update: This is why I do not watch presidential debates. There is similarly no obligation to answer the question or to answer the question honestly. The mechanics of the procedure do not allow the questioner to pin the answerer down]
Posted by Howard Wasserman on April 19, 2020 at 10:31 AM in Howard Wasserman, Law and Politics | Permalink | Comments (3)
Saturday, April 18, 2020
The complexities of the Senate
David Super's piece about a canceled election, which I mentioned last night, revealed a math error in my original post on the topic. Option # 3 (Acting President Grassley) would be the result of a 49-48 Republican Senate rather than 50-47 (I think I coded Kansas as a state with a Republican governor). This is based on a 35-30 Democratic rump, 13 states with D governors who can appoint who they want, 18 states with R governors who can appoint who they want, and one state with a D governor forced to appoint a Republican. The result is the same--Acting President Grassley (or a more qualified person chosen by the Republican majority)
A series of email exchanges with David adds some new wrinkles and complications.
Continue reading "The complexities of the Senate"
Posted by Howard Wasserman on April 18, 2020 at 04:25 PM in Constitutional thoughts, Howard Wasserman, Law and Politics | Permalink | Comments (3)
Friday, April 17, 2020
Even more January 20, 2021
Following my posts speculating about the effects of President Trump canceling the elections, David Super (Georgetown) games it out at Politico.
David plays out a few different scenarios than I did, to some interesting conclusions and ideas.
Continue reading "Even more January 20, 2021"
Posted by Howard Wasserman on April 17, 2020 at 08:38 PM in Constitutional thoughts, Howard Wasserman, Law and Politics | Permalink | Comments (4)
The Constitution as a Moral Hazard Problem
Here's an idea that I've been kicking around lately for a paper. The Constitution helps secure our freedom and well-being. In a sense, you could say that it's a kind of insurance that we rely upon. If that is so, then (like all insurance), there can be a moral hazard problem. In other words, I may feel like I need to do nothing (or not much) to safeguard my liberty because the Constitution is there. This issue is often discussed in economics or in the insurance field more generally. You could also say that this an idea behind James Bradley Thayer's famous defense of judicial deference.
How do insurers try to deal with moral hazard? Part of the answer is that they impose certain direct requirements on the insured. Part of the answer is they require the insured to take some losses in the event of an accident, to convince people not to rely totally on insurance. (A deductible, a co-pay, or an exclusion in certain situations.)
Are there constitutional equivalents for this? Sort of. There are some affirmative requirements for citizens (such as serving on juries) but not many. We do not, for example, have mandatory voting as Australia does, which might be understood as a device to avoid moral hazard. What about forcing us to have skin in the game? To the extent that laws are applied generally, we all bear the costs of a bad law or one that just imposes significant burdens. When laws are not applied generally, though, only some people bear the costs of those decisions. In that respect, the Equal Protection Clause (as Robert Jackson once famously explained) prevents invasive laws simply by requiring general application much of the time. It is the moral hazard remedy, to the extent that we have one. But is there moral hazard in relying upon that part of the Constitution? And how do we deal with that? 
Posted by Gerard Magliocca on April 17, 2020 at 09:19 AM | Permalink | Comments (9)
Wednesday, April 15, 2020
Northwestern University Law Review COVID-19 Blog Initiative
The Northwestern University Law Review announces a COVID-19 blog initiative. We welcome all posts that explore the legal questions that arise due to the pandemic and the constantly changing legal landscape. Posts should be approximately 500 words in length. Interested authors should submit their work or additional questions to [email protected]edu. 
Posted by Sarah Lawsky on April 15, 2020 at 06:24 PM | Permalink | Comments (0)
Homestead 42
The fifth (and penultimate) episode of Plot Against America aired last night. It is the first episode where we see the government acting to disadvantage Jews, either directly or through inaction in the face of private violence. We have seen examples of private Anti-Semitism bubbling to the surface--desecration of a cemetery, anti-Semitic comments and insults and confrontations in public--without an explicit link to anything from the government. There is an Anti-Semite in the White House, but we have not seen him say or do anything to give the public "permission" to act out. The closest was a state dinner for German Foreign Minister Joachim von Ribbentrop.
That changed this week in two respects. We see a group of thugs (the hint is they are from the German-American Bund) violently attach the audience at stump speech by (Jewish) presidential candidate Walter Winchell, while police stand by and watch. And we hear later radio reports that the Winchell audience attacked the bystanders.
The centerpiece of the episode is implementation of Homestead 42. This an Interior program (designed by a rabbi who works in the administration) that asks/urges/coerces/orders/conspires with companies to transfer Jewish (or "urban," in the parlance) employees from the East Coast to rural areas off the coasts, with the government paying moving expenses but not increased salary or bonuses. Herman, a salesman for Met Life, is transferred to Danville, Kentucky. He joins a lawsuit to enjoin the transfer, but the lawsuit fails in the district court; facing another year of litigation, he quits his job rather than move.
Continue reading "Homestead 42"
Posted by Howard Wasserman on April 15, 2020 at 09:31 AM in Constitutional thoughts, Culture, Howard Wasserman | Permalink | Comments (0)
A Campaign Without Campaign Rallies
One special feature of 2020 is that we're probably not going to see traditional campaign rallies. (Too many people packed too closely together.) In a sense, the campaign will look much more like presidential campaigns early in our history, which were conducted entirely by surrogates and through the media. (Presidential candidates did not begin personal campaigning in public until after the Civil War.) Overall, I'm not sure that this is a bad thing, but even if it is the point is that we can still have satisfactory elections under those conditions. 
Posted by Gerard Magliocca on April 15, 2020 at 07:28 AM | Permalink | Comments (1)
Tuesday, April 14, 2020
A call for a virtual summit on online legal education
This CNN report detailing the Harvard study about social distancing paints a scary picture of social distancing on an continuing basis through 2022.  Not continuing shutdowns, but periodic restrictions and, in any event, responsible restrictions on medium to large-group setting business as usual. 
Bottom line, our universities and law schools may not be able to function as they did pre-March 2020.  Here is another report along these lines.  We can push against this predicament; we can surrender to it. My tentative prediction is that we might be somewhere in between, and maybe for three or four semesters worth.
I am not here to debate the public health and regulatory aspects of this, but let us suppose there is something to this ominous situation. Let us suppose that cannot deliver residential legal education for all of the fall and spring semesters for the next academic year. 
We are going to need to develop some fundamentally creative and responsible strategies to deal with this temporary new normal.  The ABA is not going to rescue us from this, as it will, at most, say something like this:  Law schools can put their academic programs entirely online for XX period of time.  They will not and cannot make them do so.  State bars, as folks have pointed out to me privately, might push back hard against this brave new online world.  Just because the ABA gives law schools its blessing for all-online education does not mean that the states are obliged to license graduates who have taken, say, half of their academic credits online.  And our faculties are going to rebel even more actively against major adjustments to pedagogical adaptations, especially those that come from the top down. I could go on and on about the problems, but the point, I hope, has been made.
What I want to suggest is that we would do well to convene a big summit, in a virtual form, to discuss comprehensively, tactically, and in a data-driven way, how we might deliver excellent legal education in an online format (entirely, partially, to some of our vulnerable students).  Clearly these conversations are well underway in many law schools (I won't hazard a guess at how many).  But we need the wisdom of the crowds and collective conversation.
Frankly, I don't really care who convenes this summit.  AALS? Sure.  ABA Section on Legal Education? OK.  I and others can conjure up a list of folks who should have a virtual seat of this table.  Folks from within and outside legal education; innovators and skeptics. Educators and entrepreneurs.
We need to do something big.  Fingers crossed that the fall will bring relief is not the answer.  This strategic endeavor for how to maintain educational quality with fundamentally different pedagogy is a massive undertaking, one that falls squarely under the rubric of worst-casescenario contingency planning.  But if are not intentional and inclusive about this conversation, we could find our proud system of legal education imperiled, or at least knocked seriously back on its heels.
An early summer summit.  Please. 
Posted by Dan Rodriguez on April 14, 2020 at 09:51 PM in Daniel Rodriguez | Permalink | Comments (6)
Monday, April 13, 2020
More on the Utah bar proposal
Some scattered thoughts, adding to my post last week about the Utah Supreme Court's pending bar proposal, the proposal that permit graduates from law schools with at least an 86% rate of first-time bar takers (in any jurisdiction) to be admitted under the supervision of lawyers as elaborated in the proposal.
First, some of the commentary, including by BYU's dean, Gordon Smith, suggests that this is considerably more generous than Wisconsin's diploma privilege for the two in-state schools.  What is missing from this account, however, is a more detailed description of the Wisconsin rule.  Wisconsin requires that graduates of the University of Wisconsin and Marquette complete at least 60 (of their 84 required credits) in specified bar-related subjects.  There is no such requirement in the proposed Utah rule.  This difference is rather fundamental.  
Second, any implication in this proposal that graduates will help close the access to justice gap in their work with supervising attorneys is speculative.  Readers may recall that this ideal undergirded the New York Court of Appeal's proposal, spearheaded by then-chief judge Jonathan Lippman, for 50 hours of mandatory pro bono work.  There is scant evidence that this has moved the needle in New York.  Part of the problem, not unexpected, is the dearth of attorneys willing to undertake supervision of students doing this work.  We can imagine similar problems in Utah after the adoption of this proposal.  On some of the larger issues raised by efforts to yoke bar admission to an A2J rationale, I commend Paul Horwitz's terrific post here (not only for some insights on this topic, but on many other elements of these complex issues).
Third, Derek Muller has a thoughtful post here that, as he notes, comes at the issue from the opposite direction as I did.  That is, he worries that the proposal is too inclusive, in that it sweeps many schools whose graduates might not be successful in Utah.  This seems to me a plausible and important argument.  However, his suggestion that the remedy be to limit the scope of the rule to just BYU and Utah raises protectionist considerations. (And I remain unmoved by the argument that because Wisconsin does something like this, it's not problematic to do this again). Moreover, the fact that a very small number of out-of-state students are affected is small solace to that group.  Sure, the supreme court set the cutoff of April 1. But whether they can or will stick to it in the face of what will surely be objections, if not legal action, by individuals who would aspire to become admitted in Utah under these new standards, remains to be seen.
Finally, we should reflect, as I said earlier, on exactly what this proposal means for our state-by-state system as a whole.  Coming back to Professor Muller's point, if Utah and Wisconsin give special rules for their in-state schools, what we do make of a nationwide move to do likewise? For those of us who think that the lawyering world is better without artificial borders, this development is unsettling.
Posted by Dan Rodriguez on April 13, 2020 at 03:45 PM in Daniel Rodriguez | Permalink | Comments (3)
New Law Graduates' Needs, New Client Service Needs, and the Bar Exam: Three Problems That Needn't Have One Solution
I admired Dan's post below on "the high costs of bar federalism." Although I can certainly appreciate his point, having experienced the issue first-hand as a youngster with a Canadian law degree and American LL.M. when I sought to enter practice and got tangled up in such rules, I take no strong view on the issue. What I admire, in addition to his passion and compassion and the years he has spent on issues like this, is that Dan addresses one issue, more or less, at a time.
I posted earlier on recent writing addressing emergency efforts to address the bar exam and licenses to practice at this moment. My basic point, made at some length, was that "we should separate the question of the emergency need for legal services in this crisis from our understanding that the same crisis may cause suffering and economic uncertainty for new law school graduates." Since then, there has been a good deal more advocacy on these issues and more action from state bars. I doubt that I have kept on top of it all as thoroughly as Dan. (One reason is that much of the discussion has taken place on Twitter, and I try to maintain a healthy ignorance of what goes on there.) One source I have found useful in its discussion of these issues is Derek Muller's blog, Excess of Democracy. Derek has also been writing about these issues for some time. Also worth noting is this blog post by the group of professors who wrote an earlier draft paper examining several options for addressing new law graduates' current needs and the imminent legal service needs of clients, a paper I discussed in my earlier posts.
In a post on his blog, Derek laments that some discussions and arguments about this issue "have spiraled away from the emergency-oriented concerns into more broad-based (and, in some ways, timeless) critiques of the bar exam generally." To that, I would add what I noted in my earlier post: that some proposed solutions to the concerns of imminent law school graduates have been combined, not especially clearly or entirely persuasively, with arguments that we are facing a sudden need for client representation for a host of new and vulnerable clients dealing. So we really have three issues that are being addressed at the same time, and that are often combined (and sometimes jumbled together): 1) What to do about current law graduates given delays or other problems with the bar exam? 2) What to do about clients who require legal services that are related to the current crisis, or whose access to legal services is being affected by the current crisis? 3) What to do about the bar exam generally? 
There are excellent strategic reasons to combine all three issues. They are in the spirit of never wanting to waste a crisis, or at least in the spirit of making the argument that is most affective, most persuasive, and likeliest to silence doubt or questions and encourage a bandwagon effect. The problem with combining them is the potential loss of the soundest, clearest thinking and the wisest short- and long-term solutions. For those who are deeply concerned by the needs of law graduates or clients, or who have long been advocating changes and see a sudden road opening up that will give their arguments traction and light a fire under the feet of institutions accustomed to delay, that may seem like a trivial cost. But it does not necessarily lead to the best solution for each individual problem--only the fastest one. And in the longer run, if it turns out that the assumptions about problem A that are used to argue for a solution to problem B are unsound, it may undermine trust in either the solution or the expertise and authority of those who argued for it. That is not a great problem in itself, both because experts are rarely punished for being wrong and because if these particular experts are discredited, others will come along. The greater problem is that it will undermine trust in expertise and authority even when they are merited and properly wielded, and despite the societal value of having trust in expert knowledge and institutions.
I try to separate the three questions in what follows. I apologize for the incompleteness and crudeness of my thoughts but not the length of the post. If a crisis in legal services affecting millions of vulnerable people (at least if one accepts that premise), a fairly radical nationwide change in current licensing rules, and a possible long-term change to legal licensing and legal education--because a change in legal licensing necessarily requires immense changes in our current mode of legal education--are not worth a few extra paragraphs on a blog that often discusses legal education, I'm not sure what is. (I do apologize for any repetitions or undue paragraph length. "If I had more time, I would have written a shorter letter," and so on.) 
Continue reading "New Law Graduates' Needs, New Client Service Needs, and the Bar Exam: Three Problems That Needn't Have One Solution"
Posted by Paul Horwitz on April 13, 2020 at 01:56 PM in Paul Horwitz | Permalink | Comments (0)
Friday, April 10, 2020
Update on the TX abortion litigation
https://reproductiverights.org/sites/default/files/2020-04/Second%20Fifth%20Circuit%20Stay.pdf
Dissent from Judge Dennis forthcoming.
Posted by Dan Rodriguez on April 10, 2020 at 06:08 PM in Daniel Rodriguez | Permalink | Comments (3)
University of Miami sued in South Carolina
A putative class action has been filed on behalf of all students against University of Miami, alleging breach of contract and unjust enrichment for sending students home and for teaching them remotely. A lot of people (especially Michael Abramowicz at Volokh) were anticipating such lawsuits and writing about whether schools will have a force majeure defense.
I find the case interesting because the action was filed in South Carolina (where the lead plaintiff lives), raising some jurisdiction and forum-selection problems. Too bad I wrote my exam, because this is a beauty.
Continue reading "University of Miami sued in South Carolina"
Posted by Howard Wasserman on April 10, 2020 at 02:00 PM in Civil Procedure, Howard Wasserman, Judicial Process | Permalink | Comments (3)
State Balanced Budget Requirements and COVID-19
One aspect of constitutional law that will be tested during the pandemic is the common requirement in state constitutions that their budgets be balanced. Achieving that without a federal bailout may be extremely difficult.
State balanced budget requirements vary significantly. Most say the requirement can be waived by a supermajority of the Legislature. Getting that kind of majority in some states, though, will be challenging without tough political negotiations. But even if these requirements are waived, the states have limited borrowing capacity. They do control their currency as the federal government does. During the Great Recession, I wrote a short essay about the implications a debt default by a state. We may soon be revisiting that question. 
Posted by Gerard Magliocca on April 10, 2020 at 01:03 PM | Permalink | Comments (1)
Thursday, April 09, 2020
Utah emergency bar order, and the high costs of our bar federalism
The Utah Supreme Court made the important and, as Dean Gordon Smith of BYU notes on Twitter, courageous decision to permit emergency admissions of 2020 grads, under a deliberate set of attorney supervision rules.  These rules are in the spirit, even if distinct in some specific, from the supervision rules emerging from a growing number of states (New Jersey, Arizona, Tennessee, etc.).  I agree on the whole with this move, not grudgingly, but enthusiastically.  To be sure, there are difficult issues regarding lawyer supervision, which I leave to others to probe.  Our students need bold leadership in this time of emergency, and Utah here, as elsewhere in the legal innovation space, has taken this compassionate and thoughtful step.  And, insofar, as I suspect, the deans of the two excellent law schools in Utah, BYU and the University of Utah, were working hard on behalf of this result, they deserve our kudos for their work on behalf of these future Utah lawyers.
However, I note one of the peculiar features of Utah's rule and that is the privilege is limited to law schools whose aggregate bar passage is at least 86% of first-takers.  This clearly covers BYU and Utah, which I will surmise with no special evidence, was part and parcel of the rationale for this particular criterion.  However, one of the consequences, which, again, I will speculate was unintended, is to impose a bar on graduates of law schools who take the bar in states where the cut score is high.  California immediately jumps to mind.  But there are others who would have a difficulty meeting this standard.
As Dean Smith has said on Twitter, we should recognize that this includes a small number of students, that is, students who are already signed up for the July 2020 bar.  (I will push back slightly on this just to say that Utah might, if for no other reason than its strong LDS community, draw in a not trivial number of students who have studied elsewhere but look to return to Utah.  The University of San Diego, where I had the privilege of serving as dean a long while ago is such an example; so are the law schools in Arizona and UNLV. Anyway, you get the point).
This Utah result flags a larger phenomenon, and that is the rather wide diversity in bar cut scores and the resulting difficulty of reaching any defensible equilibrium on what is a good enough score on which to settle.  If other states are going to go down the path of Utah in requiring a bar passage threshold, they are going to face this same conundrum.  Some of my dean friends in California might, rightly, see this as another illustration of the particular disadvantage their students confront because of California's high cut rate.  Where I would point to is somewhere different, and that is the extremely vexing situation that exists and persists in a world in which all fifty states have their unique rules, rules which at least balkanize legal practice and, at worst, raise the spectre of protectionism.  Something for our state supreme courts to think about, now in this period of crisis and emergency.
Posted by Dan Rodriguez on April 9, 2020 at 07:32 PM in Daniel Rodriguez | Permalink | Comments (2)
JOTWELL: Thomas on Green on wage claims by low-wage workers
The new Courts Law essay comes from Suja Thomas (Illinois), reviewing Llezlie Green, Wage Theft in Lawless Courts, 107 Cal. L. Rev. 1303 (2019), discussing the difficulties for low-wage earners bringing wage claims.
Posted by Howard Wasserman on April 9, 2020 at 11:10 AM in Blogging, Civil Procedure | Permalink | Comments (0)
Class certification in felon-disenfranchisement case
In February, the Eleventh Circuit declared invalid a Florida law that required released felons to pay court-ordered financial obligations before their voting rights could be reinstated, affirming an injunction prohibiting enforcement as to the 17 named plaintiffs. At the time, I wrote:
The question is what happens next. The state remains free to decline to enforce the payment law against anyone while it continues to fight this litigation, even if not enjoined from doing so. That avoids either new litigation and a new injunction involving new plaintiffs or the court certifying a 23(b)(2) class of all felons unable to pay LFOs and extending the existing injunction to the class.
We got the answer on Tuesday. The district court certified a 23(b)(2) class of all persons who would be eligible to vote but-for unpaid obligations and a sub-class of persons who would be eligible but-for unpaid obligations and who show a genuine inability to pay those obligations. The state opposed certification in part on the grounds that an injunction is unnecessary, because the state will abide by any ruling if the plaintiffs prevail on the merits. The district court responded:
Here, though, the Secretary's promise to abide by any ruling is not enough. After entry of a preliminary injunction in favor of the 17 individual plaintiffs, the Secretary advised Supervisors of Elections throughout the state that the ruling applied only to the 17 individuals. The March 2020 elections went forward on that basis—without any statewide effort to conform to the United States Constitution as interpreted by both this court and the Eleventh Circuit. Class members can hardly be faulted for asserting that, if the ruling on the merits ultimately is that they have a constitutional right to vote, the right should be recognized in an enforceable decision.
The district court properly nailed the state on its inconsistency--promises of future voluntary compliance with a particularized injunction are undermined by past refusal to voluntarily comply, making the next step of class certification necessary. This is perhaps how litigation should work--a particularized injunction for individuals, expanded to a class if the state chooses not to voluntarily change as to non-parties. This is how some of the marriage-equality litigation proceeded, notably in Alabama.
But the state's framing, at least as described by the district court, is circular: The state would "abide by any court ruling." But any court ruling is limited to the named plaintiffs, so not changing conduct towards non-plaintiffs is not a failure to abide by the ruling. We need a new concept to capture what we want the government to do in changing its enforcement behavior to persons not protected by the injunction. Perhaps we could think of it as abiding not by the injunction but by the law-declaratory aspect of the court's judgment--the signal from the court as to the state of the law, separate from the order compelling government to act or refrain from acting, that hints at what will happen if government continues (as it is free under the particularized injunction) to enforce its laws as to non-parties.
Posted by Howard Wasserman on April 9, 2020 at 09:31 AM in Civil Procedure, Constitutional thoughts, Howard Wasserman, Judicial Process, Law and Politics | Permalink | Comments (4)
Wednesday, April 08, 2020
Open Covid Pledge - Don't Let Law Impede Finding or Disseminating a Cure
I wrote about the IP/Innovation nexus during a pandemic in this previous post. A new Open Covid Pledge asks all to pledge to "make our intellectual property available free of charge for use in ending the COVID-19 pandemic and minimizing the impact of the disease." Law schools can sign on the pledge too, as can organizations, centers and companies (Intel an Mozilla for example have already pledged).
The pledge will grant:
"every person and entity that wishes to accept it, a non-exclusive, royalty-free, worldwide, fully paid-up license (without the right to sublicense) to make, have made,  use, sell, import, reproduce, adapt, translate, distribute, perform, display, modify, create derivative works of and otherwise exploit all patent, copyright and other intellectual and industrial property rights (other than trademarks and trade secrets) in products, services, compositions of matter, machines, articles of manufacture, processes, and works of authorship that we have the right to license under these terms (the "Licensed IP"), for the sole purpose of ending the "COVID-19 Pandemic" (as defined by the World Health Organization, "WHO") and minimizing the impact of the disease, including without limitation the diagnosis, prevention, containment, and treatment of the COVID-19 Pandemic."
Posted by Orly Lobel on April 8, 2020 at 04:39 PM | Permalink | Comments (4)
LSAT, GRE, & Law Schools in Crisis: We told you so
Warning: There is some grumpiness in this post, but I hope it won't conceal an important point.
In the summer of 2018, the ABA House of Delegates had before it a thoughtful proposal from the Section of Legal Education which proposed removing the requirement of an admissions test for law school admissions.  Law schools, the Section insisted, could be trusted to develop coherent, evidence-based admissions criteria, including the LSAT, the GRE, or another test entirely.  As the Law School Admissions Council had become over the years a de facto monopoly on the testing business with the LSAT, the case for flexibility and local knowledge was ever growing.  Moreover, slavish commitment to the LSAT was harming diversity goals, by creating an anachronistic barrier to entry.  Finally, the haze of quantification embedded in an LSAT score added fuel to the baleful rankings fire.  
But a peculiar thing happened on the road to this brave new world.  The LSAC, under the politically shrewd (and quite capable in myriad other ways) new leader, Kellye Testy, hit back hard on these efforts, working with stakeholder groups within the ABA and also with the media to tell a story -- a fabulist story -- that painted a world in which law schools would utterly abandon standards of quality to grab anyone with a pulse.  Moreover, and this is really strange, Kellye, her board, and other troops she could call upon as the CEO of her large organization argued that diversity goals would be seriously undermined by this effort.  Pause for a moment on that one: We know that standardized testing has long been used as a gatekeeping mechanism to keep persons of color from accessing our universities and law schools and, likewise, we know that USNews rankings has that consequence. Yet groups within the ABA devoted to advancing diversity in the legal profession became persuaded that the Section's proposal was a trojan horse of sorts, one that would damage law school diversity by removing the requirement that the LSAT be used.
The political effort to preserve the LSAT and therefore the Law School Admissions Council's principal revenue source was successful, and the proposal, quite likely to be defeated, was withdrawn at the last minute.  Neither of the two Legal Education Section delegates were even willing to speak in its favor at the House of Delegates meeting.  
Regrettably, precious few law school deans or other legal educators spoke out in favor of this proposal. At the time the dean of Northwestern and the chair of the AALS deans steering committee, I was a vocal advocate, writing and speaking in its favor before and during the ABA meeting. But this was mostly a lonely endeavor.  The vast majority of deans either could not be bothered to voice their support in key venues or, perhaps worse, feared the wrath of the LSAC (or else the resources that LSAC leadership none-too-subtly noted were provided to law schools as part of their admission efforts).  So, basically Barry Currier, me, and a tiny handful of others.  We were no match for Kellye and LSAC.  The LSAC won this important battle and, to the victors go the spoils.
So now where are we?  The promises of LSAC to bring the LSAT fully into the digital age have not yet borne fruit.  COVID-19 has meant that the March and April tests are cancelled.  Perhaps some digital version will become available in the near or intermediate future.  Or perhaps not.  But even if it becomes available, there will be serious questions of its efficacy and its security.  Moreover, it will be a different test, as LSAC admits. 
Meanwhile, the Educational Testing Service, with lightning speed, has made available the GRE for applicants to take at home. Of course, ETS has been at this digital testing business for a long time, and so was can be confident that this is not a trial run.  (At this point, I believe it important to disclose, as I have before, that I have been working with ETS for about four months on its GRE law school strategy. For a rather small amount of money, I am embarrassed to add. But  there you go).
Of course, no one saw the coronavirus coming, and LSAC cannot be faulted for not being fully prepared to deal with the myriad issues now before us with the LSAT.  However, the larger "we told you so" point remains:  Flexibility in testing, constructing a coherent digital strategy, fomenting competition among different organizations providing testing and, lastly, giving law schools permission to use the GRE if they choose to, and without jumping through time-consuming and expensive bureaucratic hoops was a good idea in August 2018.  The present crisis puts into sharp relief why.
Law schools are rightly concerned about the stability of their classes for the coming year.  In the fall, this will give way to worry about the next year.  Whether LSAC will be able assuage these worries by concrete action, in testing and otherwise, is an open question. There is no one whose commitment to the welfare of legal education and our students is greater in my experience than Kellye Testy. But she sits atop an organization that will frankly struggle to meet the needs of law schools struggling now and in the near future with this crisis. I believe that a different outcome in 2018 by the ABA would have set three things in motion: First, pressure on the LSAC to improve their testing process (which didn't happen, at least not with the alacrity that serious competition would have facilitated); second, the growth in the use of the GRE and, with it, emergence of a key stakeholder organization, ETS, which would have been farther along by now with their efforts to support law schools.  (They have been inexplicably absent on all the calls, as I understand it, the ABA, the AALS, and law schools have had -- set up through the LSAC's conference line, as I understand it); and, finally, law schools would have much more flexibility to consider student applicants at this late date and also next year, without being forced to continue in the current testing regime.
Politics matter.  The politics underlying LSAC's masterful efforts to maintain its near monopoly led to the unfortunate situation we are in.  I hope deans and other legal education leaders will heed these lessons.
Posted by Dan Rodriguez on April 8, 2020 at 03:21 PM in Daniel Rodriguez | Permalink | Comments (0)
Universality in Texas
Following on Dan's post about the Tuesday's Texas abortion case and courtesy of Josh Blackman, there is FN 19 of the opinion:
Although not necessary to our decision, we note that the district court purported to  enjoin GA-09 as to all abortion providers in Texas. But Respondents are only a subset of  Texas abortion providers and did not sue as class representatives. The district court lacked authority to enjoin enforcement of GA-09 as to anyone other than the named plaintiffs. See Doran v. Salem Inn, Inc., 422 U.S. 922, 931 (1975) (explaining "neither declaratory nor injunctive relief can directly interfere with enforcement of contested statutes or ordinances except with respect to the particular federal plaintiffs"). The district court should be mindful of this limitation on federal jurisdiction at the preliminary injunction stage.
This is obviously dicta, given how the case came out. But it illustrates two points about the scope-of-the-injunction issue. First, it is not limited to cases involving ederal law and certainly not limited to federal executive orders and regulations. Because the real issue is injunctions extending beyond the parties, it is present regardless of the source of law. Second, had the court come out the other way on the merits, this is a good example of a case in which the practical effect would be universality, either because the government will fall in line and not enforce against anyone or because it would be easy for other providers to join and have the injunction extended to them.
Posted by Howard Wasserman on April 8, 2020 at 01:09 PM in Civil Procedure, Constitutional thoughts, Howard Wasserman, Judicial Process, Law and Politics | Permalink | Comments (0)
Tuesday, April 07, 2020
Texas COVID-19 abortion case
Interesting and important abortion case decided today by 5th circuit.  Basic issue is whether Governor Abbott's suspension of elective abortions is constitutional under the standard imposed by Jacobson, an early 20th century case involving quarantines.  Here is my quick take (re-posted by epidemiclaw listserv).
Framing of the Jacobson issues by the majority seems correct. Yes, a case that gives very wide berth to state d-makers, under the rubric of broad police power.  Emergency health conditions do not suspect civil rights & liberties, but do put them in sharp relief up against exigencies of the time. And state officials are given great deference.  (see In re Abbott for the money quotes);
Focus on the "error" of the district ct in characterizing this as an "outright ban" is a red herring.  It is, for all intents and purposes, a permanent ban on elective abortions otherwise squarely protected by Roe.  All the post-Roe caselaw on appropriate burdens doesn't deal with restrictions that essentially run out the clock on the availability of elective abortions and therefore the exercise of constitutional rights;
Time-sensitivity cuts in both directions, which is why the case is so challenging.  Burden on the Texas health care system is a matter of fact.  Court comes close to taking judicial notice of the COVID-19-related burden or else just taking the Governor's word for it. But, bottom line, no one can seriously doubt that Texas health care system faces extraordinary demands.  This question, not at all present in Jacobson or other cases, is how to evaluate these demands in light of constitutional rights.  The pregnant woman is not a threat to health & safety directly, but just indirectly in the (putative) burdens she places on health care system;
Important issue noted by the dissent is that the pregnant woman imposes burdens in any event because of prenatal care, etc. Presumably Texas has not suspended that!  So the question is what is the incremental burden.  This is a medical question, about which the court seems rather ill-equipped to assess;
Majority acknowledges check on police power for "extreme cases."  Majority in In re Abbott defines these cases as relating to the health of the mother, not as related to exercise of constitutional rights.  Is this the right way to look at it?
Court:  "We could avoid applying Jacobson here only if the Supreme Court had specifically exempted abortion rights from its general rule. It has never done so."  What does this mean???
The court waves away pretext argument. And perhaps properly so, given how difficult, if not impossible, it is to gather evidence on this point. However, in the real world in which we live, it is conspicuous that anti-Roe states are lining up to impose these restrictions.  That is the fundamental "law in action" point in all this;
Writ of mandamus is, indeed, an extraordinary writ.  But no thumb on the scale apparent in the court's opinion against exercising this extraordinary discretion.  Do we have post-Jacobson caselaw that sheds light on what we ought to do with mandamus petitions?
Dissent emphasizes that health restrictions in Jacobson were public-health related.  But this misses the point of the majority.  Here, too, the case stated by the governor, and accepted by the majority, for the restrictions is health related.  Question is how to balance this with rights;
In a profound way, the strength of the dissent's argument about the temporary nature of this ban depends upon a crystal ball.  How long will the crisis last?   I am aware of no constitutional law case that is so utterly dependent upon states of the world decoupled from either the efficacy of governmental choice or the magnitude and measure of the constitutional right.
Posted by Dan Rodriguez on April 7, 2020 at 06:50 PM in Daniel Rodriguez | Permalink | Comments (5)
CrimFest in the Time of Corona
For obvious reasons, CrimFest--the annual workshop and gathering of criminal law professors--will not be held in person this summer.
Instead, of trying to move a 150+ person conference online, we are going to facilitate a semi-structured paper swap.  While the swap is obviously not a substitute for the conference itself, my hope is that it will help provide at least some of the benefits of CrimFest --- namely,  giving us a mid-summer us a writing deadline, letting us learn about what others are writing, and allowing us to get feedback from others who are writing and researching similar topics. 
Everyone who signs up for the swap will be expected to send their draft to others no later than July 1; and they will also be expected to return comments to others no later than July 15.  People can swap with as many or as few people as they'd like.  And the two week turnaround for comments should be flexible enough to allow all of us to balance our other responsibilities. 
If you are interested in participating, please email me at [email protected] no later than April 24.  Please put "CrimFest Swap" in the subject line of your email, and I will reply with more details.
Posted by Carissa Byrne Hessick on April 7, 2020 at 03:37 PM in Carissa Byrne Hessick, Criminal Law | Permalink | Comments (1)
Job Posting - Federal Judicial Center
The Federal Judicial Center is the research and education agency of the United States federal courts, and its Research Division is searching for a new director. The Director manages researchers who answer specific requests from policy-makers within the federal courts, including its Advisory Committees on Federal Rules. Research is also performed in response to Congressional statutory mandate. The Director can expect frequent and extensive interactions with federal judges and foreign judges.
The precise job listing, including contact information, can be found at https://www.fjc.gov/sites/default/files/job-postings/20-07%20Director%20of%20Research.pdf
The position is akin to a dean in academia and may be of interest to very experienced law professors considering government service. While COVID-19 may lengthen the search process, interested applicants are still encouraged to apply by the stated deadline.
Posted by Sarah Lawsky on April 7, 2020 at 12:41 PM | Permalink | Comments (0)
Faculty Workshops via Zoom
Yesterday it felt so good to get back into the rhythm of conferencing/workshops. I had the pleasure of virtually attending a constitutional law workshop with participants from all over the country and even some Europeans joined in. The workshop actually felt very close to in person talks - the presenter gave a 15 minute overview of his paper and then a colleague held the queue. When my turn came to ask a question, my wifi became wacky midway, so I had to complete the thought via the zoom chat. The chat actually proved to be an advantage over the physical gathering because we could throw in small comments while someone was speaking without an actual interruption.
A lot of discussion has been devoted to online teaching and how to make it most effective. My experience with the online talks and workshops has been that size matters. If participants are capped at around 20 or less then meaningful participation and engagement happens, the speaker watches participants laugh and nod and everyone gets to comment. Webinars and mass online talks don't have that quality and they therefore are unlikely to replace the big lecture events that happen on campuses. But really, I don't see a reason to cancel workshops that were scheduled this semester [unless of course the speaker needs to prioritize family/health/volunteering]. Some of my hosts immediately offered the zoom alternative while others just cancelled, but after yesterday I thought I'd reach out to the cancelling hosts to let them know that at least from my end - I am happy to workshop the paper online. Any thoughts on how to make the most of zoom workshops and conferences most welcome!
Posted by Orly Lobel on April 7, 2020 at 12:12 PM | Permalink | Comments (0)
Monday, April 06, 2020
The Supreme Court's Term
The Supreme Court will not hold oral arguments until further notice. I do not have a firm opinion on when they should resume or how they should be held. But I do have one relevant observation--there is time.
Contrary to some reporting in the press, the Court's Term does not end in late June. The Term ends in early October. The October timeframe is in an Act of Congress. The June deadline is just a tradition started long ago to allow the Justices to escape the hot Washington DC summer. Thus, nothing prevents the Court from hearing some cases in July or August and then deciding them.
I am unclear, frankly, what the legal relevance of a Supreme Court Term is anyway. Suppose an argued case is not decided by October. Does that mean that they have to start over again as a new Congress would with a bill? No. They can just carry the case over to the next Term, though what the formality of that is I don't know. 
Thus, the Court can easily wait a couple of months, decide which cases need its immediate attention, set those for argument, and decide them before the new  Term begins. Or after the new Term starts.
Posted by Gerard Magliocca on April 6, 2020 at 08:19 AM | Permalink | Comments (5)
Sunday, April 05, 2020
Picking the Best Fight with Adrian Vermeule
Vermeule's Atlantic essay defending "common good constitutionalism" (CGC) excited a lot of controversy, but, on one level, it is hard to see why. Vermeule argues that "conservatives" ought to discard originalism for a kind of Dworkinian fit-and-justification style of constitutional interpretation that safeguards a comprehensive conception of the common good defended by a strong executive aided by a robust bureaucracy. He calls this approach "illiberal legalism" (more on that formulation below).
To the uninitiated, the essay looks like the usual Vermeulean performance in which Vermeule spots paradoxes in platitudes and then re-states those platitudes in crisply inflammatory prose exquisitely highlighting the paradox. Consider, for example Vermeule's essay on the "optimal abuse of government power" the title of which, by pairing "abuse" with "optimal," highlights the paradox in the truism that it's excessively costly to eliminate all abuse of governmental power. This schtick is so well-known that it has earned a much-coveted April Fool's satire from Larry Solum. The diction of the Atlantic Essay follows this script, using phrases calculated to shock liberal pieties but, at least on the surface, urging nothing more than garden-variety paternalism of the Devlin/James Fitzjames Stephen variety.
Take his paragraph where he says that CGC has no fear of "domination and hierarchy" whereby "rulers" use laws to "re-form" their "subjects'" "perceptions." Pretty creepy, huh? But use Google Translate to change the language from Vermeulese to Platitude, and you get the following: Sometimes citizens — say, drug addicts, alcoholics, dummies who ride motorcycles without a helmet — do things that sensible people know are self-destructive. The government should prevent them from doing so, and, in time, the example of such laws and obedience thereto will inculcate more sensible behavior. You do not have to agree with this view of the State to realize that it is familiar and not especially shocking.
Likewise, it is controversial in an academic sort of way for Vermeule to call for reading "substantive moral principles that conduce to the common good … into the majestic generalities and ambiguities of the written Constitution." But such a position, read abstractly, is not really a big shock. Arguably, Ronald Dworkin took something like the same stance in rejecting what he took to be Isaiah Berlin's moral pluralism. Arguing that the law should not merely set out neutral rules to protect autonomy but should also advance a conception of the good does not put one outside American legal tradition.
So why all the fuss? David Dyzenhaus has, as usual, put his finger on the reason: Vermeule is choosing connotations — especially that phrase, "anti-liberal legalism" — that flirt with actual current wannabe or actual dictators like Viktor Orban and Vladimir Putin. I've called this flirtation a kind of "anti-liberal chic" — a device to garner maximum frisson (and downloads) without actually saying that one endorses (say) criminally prosecuting investigative journalists or having cops beat up people in street parades. After the jump, I will explain why this barely coded dog whistle is pernicious and how one should fight against it — not with debates about "integralism" and similar abstractions but instead with pointed questions about factual nitty-gritty going on in places like Hungary, Poland, China, and Russia.
1. How Fussing About Integralism Distracts Us From What's Really Urgent
One way to argue with Vermeule is what I shall call "the abstract approach": This strategy challenges Vermeule's general claims about the proper role of the State. The problem with this sort of argument is not that it is unpersuasive but that it misses what is rightly most controversial about Vermeule's argument — not his abstract prescriptions but his insinuations and connotations about specific governmental actions that dare not speak their name.
Take, for instance, the fuss over Catholic integralism. "Catholic Integralism" is the belief that government and society should be integrated to pursue a single conception of the common good rooted in Catholic religious principles. Integralism is now enjoying a recent price spike in a tiny niche of the marketplace of ideas, although one can doubt, despite a surprisingly successful IPO, that it will have much staying power.
Understood merely as an abstract bundle of propositions about the proper role of the state, it is hard to know whether or not integralism is worth anyone's angst. Sure, Vermeule likes to excite his audience with sly Counter-Reformation innuendos. (His twitter handle, "Vermeullarmine" is a hat tip to Roberto Bellarmine, the great Council of Trent Catholic reformer). But it is hard to know how he or fellow integralists would translate Catholic theology into actual laws and governmental actions. Patrick Deneen, a Catholic writer championed by Vermeule,assures us in his Why Liberalism Failed (page 19), "[m]oving beyond liberalism is not to discard some of liberalism's main commitments—especially those deepest longings of the West, political liberty and human dignity" but instead requires us to jettison only "ideological remaking of the world in the image of a false anthropology," which he later describes (page 30) as "1) anthropological individualism and the voluntarist conception of choice, and 2) human separation from and opposition to nature."
That's it? I just have to repudiate a bunch of semi-intelligible abstractions about human nature and I can join the Integralist Club? At that level, integralism might just be Council-of-Trent fancy dress for stuff that a lot of us (not all, but a lot, myself included) already believe. After all, I already disagree with the notion that human values are legitimized only by our consent to them. On that level of abstraction, I guess that, like Monsieur Jourdain, I've been speaking integralist all of my life without knowing it. I just have to translate the values I care about (say, the right of each to pursue their false conceptions of the good within reasonable limits) into language that the integralists like Deneen seem to prefer ("political liberty and human dignity" but not "rights").
Even if one disagrees with these abstract arguments, those disagreements really do not capture what is deeply troubling about Vermeule. They merely highlight ordinary ongoing disagreements about political theory that have reasonable partisans on both sides.
As an example of the abstract approach to arguing with Vermeule, consider Micah Schwartzman's tightly reasoned essay arguing that Vermeule's Catholic integralism is "unreasonable" because it rejects Rawls' conception of citizens as equally capable of forming rival conceptions of the good.
Micah's essay is powerfully reasoned and clearly written, and, if you endorse Rawls' account of the "burdens of judgment" and "reasonable pluralism," then you will likely also believe that Micah has laid out a convincing case against Catholic integralism. The problem, however, is that reasonable people (in the ordinary, not Rawlsian sense of the word "reasonable") do not regard Rawls' concept of "reasonableness" as the only reasonable way to define acceptable pluralism. If you are one of those people, then you might come away from Micah's essay thinking that Vermeule's worst offense is to fail to carry Rawls' "burdens of judgment." Vermeule would likely reply that no one should bother bearing such burdens, because it is a self-deceiving liberal illusion to think that a government can be created from such thin stuff any more than soup can be boiled from a nail. In any case, the Constitution (to coin a phrase) does not enact Professor Rawls' Political Liberalism.
Jack Balkin provides another example of what I think is the weaknesses of the "abstract approach." Jack argues that Vermeule's CGC is at odds with American liberal republican traditions, because it requires "a comprehensive conception of what is really and truly good from the standpoint of human reason and divine law, as explicated through the Church's teachings," whereas, in our liberal republican tradition, "the nature of the public good is not preordained" but instead "is something to be worked out in and through politics itself, and the contest over what is in the public good must be circumscribed by guarantees of liberty and equality."
Maybe Jack is right that Vermeule has fallen outside any plausible "fit" with our constitutional principles. Maybe Jack is wrong. In any case, I think his rebuttal of Vermeule's piece misses what is most important and controversial about Vermeule's Atlantic essay — not the abstract prescriptions of the theory but rather the coy connotations of the diction.
On the abstract question of whether Vermeule's theory fits with our republican traditions, I guess I am inclined towards Jack's view but regard the question as a close one. Vermeule's "common good," despite being divinely fixed and eternal, is pretty abstract. Presumably, our perception and implementation of that common good could be mediated by politics and hedged by rights. Why does not that level of practical uncertainty satisfy Jack's demand that our collective ends be "worked out in and through politics"? After all, Vermeule thinks that political institutions — most notably an elected President — will have to figure out how to implement the common good, which, even as laid out in various Catholic documents, is pretty vague. If that good consists of generalities like "dignity," then I imagine that Vermeule could reach all of the specifics of our current order with just a few little tweaks (say, a stronger rule against obscenity).
Moreover, there is some historical basis for disagreeing with Jack's reading of our liberal republican traditions. From Timothy Dwight's 1776 Valedictory Address to Abraham Lincoln's theologically anguished Second Inaugural, there is a deep tradition of rooting republicanism in shared sacred commitments. I do not think, therefore, that it is indisputably plain that neutrality about our common ground is a constitutional necessity. As Eisenhower famously remarked in 1952, "our form of government has no sense unless it is founded in a deeply felt religious faith, and I don't care what it is." Just change that last phrase to "I don't know what it is," and you've got an integralist constitutional order that eternally seeks after the meaning of abstract commitments — civic equality, love of nature, respect for elders, protection for the weak, kindness towards the stranger in our midst, whatever — through democratic means. Moreover, the capacious Catholic concept of "dignity" can sweep in many of these commitments to rights: If SCOTUS were staffed by a bunch of Vatican II Jesuits, then I imagine their rulings would look a lot like Brennan opinions.
In sum, Micah and Jack both lay out eloquent and well-reasoned rebuttals to abstract arguments presented by Vermeule that overlook the reasons why we should care much about exactly what Vermeule is pressing. By focusing more on highly debatable abstract theory than on particularities of diction and style — on denotation rather than connotation — these sorts of responses to Vermeule miss what's most worthy of criticism in his essay.
Vermeule's essay is not controversial or even interesting because it stakes out a particularly controversial position. For what it is worth, Vermeule's catalogue of values seems sound enough to me and well within the 18th century Federalist conception of the constitutional order: In his words, he aims to advance "respect for the authority of rule and of rulers; respect for the hierarchies needed for society to function; solidarity within and among families, social groups, and workers' unions, trade associations, and professions; appropriate subsidiarity, or respect for the legitimate roles of public bodies and associations at all levels of government and society; and a candid willingness to 'legislate morality"…." If that's the Vermeulean program, then conservative types like myself may yell, "sign me up!" Or, at least, sign me up so long as I get a fair say about the acceptable limits on the "morality" to be legislated and the "rulers" and "hierarchies" who will govern, and the scope of the tradition that will define the "family." What Vermeule describes here is mostly just our current regime — using edgy Vermeulese ("rulers," "hierarchies") in place of the usual nouns ("government" and "law").
2. The Better Way to Fight with Vermeule
What is really worrisome about Vermeule's writing is not the dogmatic generalities but the hidden specifics. His talk at the invitation of the Polish consulate, for instance, praised the Polish government's "protecting "the particularistic solidarities that are constitutive of so many of the goods of human life" from "experimental individualist projects of self-actualization by educated elites." What exactly did he mean by "particularistic solidarities"? Merely celebrating Polish language and culture writ large? Or criminally punishing anyone who told the truth about Poland's massive pogrom against Jewish Poles after World War II? Vermeule coyly did not say: He left it to his readers' imagination.
And therein lies the problem on which Vermeule's critics, IMHO, ought to focus. The big abstract questions of political theory are all fine things, and the voluminous debates about what is an acceptable "public reason" and what, the proper ends of a state, are all laudable enterprises. But the abstract theory of Vermeule's essay is not what has, or should have, generated the fierce controversy it has provoked. Had his essay been written with less inflammatory prose but the same basic conception of law — a conception akin to that defended, for instance, by John Garvey — then I doubt many would be vexed. The controversy over Vermeule comes from the connotation of the diction, not the denotation of the words.
In particular, as Dyzenhaus notes, Vermeule's particular use of "illliberal legality" combined with his focus on Carl Schmitt hints at Viktor Orban's reference to "illiberal democracy." Along with all that stuff about "rulers" and "subjects," it flirts with the rhetoric of current and wannabe dictators, from Putin to Orban, now peddling alternatives to those "individualistic projects of self-actualization" that he criticizes.
The really urgent question, therefore, is not whether Vermeule is right or wrong in his abstractions. It is whether or not Vermeule really means to endorse the very specific prescriptions that this raft of tyrants wants to sell. Does Vermeule support Orban's buying up the major media sources in Hungary and chasing away an independent university? Does he support the Polish Law & Justice Party's law criminalizing expression about Poles' lynching massive numbers of Jews following World War II? Does he think that the Hungarian government should launch criminal prosecutions of investigative journalist András Dezső? He is fond of invoking Schmitt's friend-enemy distinction. In his ideal integralist republic, are Jewish citizens friends or enemies?
Those are the questions on which, I think, Vermeule needs to be pressed. Honestly, I am not sure how he would answer. After all, he and Cass Sunstein have endorsed Lon Fuller's "thin" theory of "rule of law." It might be that he would also safeguard, in the name of Catholic "dignity," the sort of freedom, academic and otherwise, from which provocative writers like himself (and their audiences) benefit so much.
Who knows? But don't ask, and he won't tell. Engaging only with high abstractions of political theory lets him off the hook.
Posted by Rick Hills on April 5, 2020 at 06:34 PM | Permalink | Comments (12)
Saturday, April 04, 2020
Zoom as the new normal in the legal academy?
As for virtual academic conferences, workshops, and symposia, I wonder if we should separate long-term and short-term. Short-term, I could see schools doing this to deal with coming budget crises. One of the first things to go may be money for faculty travel, conferences, workshops, and symposia. Schools determined to weather the budget problems while maintaining some an academic and intellectual culture may choose this option. Longer-term and once the financial problems (hopefully) pass, how strong will the push be to get real human contact in our lives? Will the current experience make us not accepting of the new normal but longing for what we had? Then the question is when short-term ends and long-term begins.
As for class, I share Josh's bottom-line assessment of "more positive than I expected." I have been able to recreate, more or less, my live class in terms of how the conversation goes, the level of interaction, etc. There is a slight delay and things move more slowly than when we are in the same room. But I agree the students have been flexible and as well-prepared and engaged. I even took advantage of the technology to save class time--posting a recording of me talking about material (the types of civil actions) I would have lectured on in class. (Talking to a blank computer was awful).
Josh says "[u]niversities will demand more classes to be taught virtually." True. But the X-factor is that students hate this. That might be due to the sudden transition or the sense that this is not what they signed up for. But the common refrain that I have heard--and that some of my colleagues have heard--is how inferior this form of instruction is. I hope this gives faculty, like me, an argument to use when "stand[ing] athwart history, yelling Stop."
Posted by Howard Wasserman on April 4, 2020 at 05:58 PM in Howard Wasserman, Teaching Law | Permalink | Comments (12)
Thursday, April 02, 2020
(Still) More on 12:01 p.m., January 20, 2021
I shared my thoughts on what happens if President Trump declares an emergency and tries to suspend the elections and stay in office. A reader raises an issue as to my seventh option, so I amend my earlier argument slightly. [Update: This conversation has taken off on a listserv, so I am putting in a page break and adding some additional points]
Continue reading "(Still) More on 12:01 p.m., January 20, 2021"
Posted by Howard Wasserman on April 2, 2020 at 03:19 PM in Constitutional thoughts, Howard Wasserman, Law and Politics | Permalink | Comments (3)
Tuesday, March 31, 2020
Today is Equal Pay Day 2020 - and a new national alliance
Today is Equal Pay Day 2020. It happens every year on the day that women begin earning like men - such that if the gap is about 80 cents the dollar, women on average de facto work for three month for free until they catch up in April. 
I am honored to be a founding member of the Fair Pay Workplace Alliance. We launched the 1st meeting today with an amazing group of founders - academics Chai Feldblum, Florencia Marotta Wurgler, Zev Eigen, and industry leaders including Nordstrom, Sales Force, Adobe, NerdWallet, Vimeo and the National Women's Law Center. The Zoom meeting and the initiative gave me hope that we are moving toward eliminating the gender and race pay gaps - though so much work ahead!
I have a forthcoming article about important reforms underway - Knowledge Pays: Reversing Information Flows and the Future of Pay Equity, Columbia Law Review 2020. One of the most significant initiatives I discuss in the paper, collecting nationwide data annually on pay equity was halted by the OMB but recently a federal judge ruled to reinstate the data collection. Chai Feldblum, while she was at the EEOC was involved in passing this reform which holds promise.
Posted by Orly Lobel on March 31, 2020 at 05:42 PM | Permalink | Comments (2)
Today's Profile in Marketing Savvy: Martindale-Avvo...
...which sent me one of its regular emails offering law firm marketing services and such, and whose email today was titled:
"Don't just survive Covid-19. Thrive!" 
Posted by Paul Horwitz on March 31, 2020 at 04:45 PM in Paul Horwitz | Permalink | Comments (0)
More on Emergency Licenses to Practice Law: Identify and Address The Emergent Problem--and Only That Problem
I have further thoughts on Howard's post below on emergency licensing of new law school graduates and on the paper he cites to. A lot of further thoughts. The issue is important and deserving of plenty of thought and discussion, and I lack the time to edit them into fewer or shorter thoughts. So read on at your leisure or your peril.
The summary is this: We should separate the question of the emergency need for legal services in this crisis from our understanding that the same crisis may cause suffering and economic uncertainty for new law school graduates. One involves a distinctive need centering on the object and concern of the legal profession: the client. That is what we should be thinking of, and every emergency measure proposed or tried should be directed toward the end of best serving clients--specifically, clients in regions and subject areas and under circumstances where there is an actual emergency. It's far from clear that a blanket, nationwide system of admission to the bar, however much it might ease graduating law students' very understandable concerns, actually serves that paramount interest. We should start by identifying the right problem with specificity and tailoring the best solutions to that end. Helping law students is a valuable goal, at least for law schools, but it's a separate one. Where it can be undertaken in a way that helps clients, great; where it can't, we must find some other way. But clients always come first, and if there are better ways of serving those clients who are in specific need of emergency help, we should start there. I think some of the suggestions made by the author in their short but useful paper are worth thinking about and perhaps trying. But it's not clear that they are the first thing worth trying; and whatever we do try should be hedged round with client protections, even if they result in fewer new graduates getting more opportunities for employment. I may say that with personal regret, as a law teacher, but the paramount crisis here has to do with the needs of clients, not students. 
There are also excellent reasons to rethink the bar exam--and legal education--more generally. The current emergency that the authors argue exists may help us see some current flaws more clearly. But if the argument right now is that we urgently need to do something specifically for clients, that should be our focus, not general reform. I start with a question below and move to the longer argument after the jump. 
Under what circumstances would we give someone a license to practice medicine after two years of medical school classwork, perhaps (but not necessarily) with one or two rotations of working with patients? It is not impossible to imagine arguments that some emergencies would qualify--circumstances under which the need for patient care was desperate and it was impossible to retask currently practicing doctors to meet that need. We could also imagine strong arguments against it, or against doing so unless it was quite impossible to manage otherwise. I am no expert in medical education and I imagine, with some basis, that the classwork-then-rotation model has been greatly altered over time. But I also imagine that many doctors would say that classwork alone, or even classwork with significant practice simulations, or perhaps even classwork with significant practice simulations and one or two rotations of actual patient care under close supervision, is not a sufficient qualification to render medical care without harm. If one were inclined to make exceptions due to exigent circumstances, one imagines that the exception would have to fit the circumstances and be carefully circumscribed. For example, one might insist that any emergency license be limited to work in the area most urgently requiring medical care; a crisis in emergency care would be no basis for granting an emergency medical license to practice dermatology. And one might insist that such a license involve only institutional practice, in a fully resourced hospital or large medical practice in the relevant area and involving work with and under the close supervision of experienced physicians, and not hanging out one's own shingle. 
Such a view, one would hope, would be grounded in the view that the question is what is needed for patients. Certainly someone outside the profession would be almost certain to care about patients and not about the professional welfare of medical students as such. They might not be callous or indifferent to the students; they just would take that as a question that must take a distant second place to the question of help or harm to patients. If the emergency called for X number of new (as opposed to existing) doctors in a specific field, then that would be the way to address it. The fact that other medical students might have to wait to be licensed, and would suffer personally as a result, would be sad but not relevant. 
It is quite possible that this emergency would lead medical schools and doctors to rethink what medical education should look like. Again, I pretend to no expertise and, indeed, not much knowledge. But the emergency might lead them to conclude that the qualifications for entry should differ, or that the course of medical education should involve supervised clinical care almost from the outset, or that the whole process (if undertaken differently) could be speeded up. They might shift to year-round teaching. Conversely, they might conclude that some things are right about the current model and that, no matter the emergency, you simply can't make a doctor overnight, or at least not one who is ready to offer care to patients--supervised or unsupervised. But it's doubtful that the specific emergency would be a time to address all these issues in medical education--just the specific emergency.
Continue reading "More on Emergency Licenses to Practice Law: Identify and Address The Emergent Problem--and Only That Problem"
Posted by Paul Horwitz on March 31, 2020 at 01:36 PM in Paul Horwitz | Permalink | Comments (0)