Wednesday, November 28, 2018
A funny thing happened on the way to the court of appeals
Here is my SCOTUSBlog recap of Tuesday's argument in Nutraceutical Corp. v. Lambert, considering whether the 14-day period for seeking interlocutory review of a class certification order is subject to equitable tolling.
The most notable part of the argument was the humor--the transcript shows eight breaks for laughter, seven during petitioner's argument. Which makes sense, given stated concerns for Martian invasions. I await Jay Wexler's analysis of the case.
Posted by Howard Wasserman on November 28, 2018 at 11:17 AM in Civil Procedure, Howard Wasserman, Judicial Process | Permalink | Comments (0)
Tuesday, November 27, 2018
"10,000 mostly drunk people" and "contempt of cop"
Here is my SCOTUSBlog recap of Monday's argument in Nieves v. Bartlett. I genuinely am not sure how this comes out, as no one on the Court was blatantly leaning in one direction and everyone seemed determined to find a middle ground between the government's extreme that would let no claims go forward and the respondent's extreme that would let too many claims go forward.
The argument will be best remembered for the Chief describing Arctic Man as "10,000 mostly drunk people in the middle of nowhere," a description that thrilled the journalist who wrote the leading story about the festival.
Posted by Howard Wasserman on November 27, 2018 at 11:55 AM in First Amendment, Howard Wasserman, Law and Politics | Permalink | Comments (2)
Call for Papers -- Empirical Analysis of Wealth Transfer Law
From the American College of Trust and Estate Counsel and UC Davis:
The University of California, Davis School of Law (King Hall) and The American College of Trust and Estate Counsel's Legal Education Committee are happy to announce that the 8th ACTEC academic symposium will be held on Friday, October 11, 2019. The theme is Empirical Analysis of Wealth Transfer Law. The event's goals are to bring together established and emerging scholars and to foster discussion about empirical scholarship about wills, nonprobate transfers, intestacy, inheritance taxation, and related issues. 
Articles presented at the symposium will consist of those selected from this Call for Papers and those from invited speakers. All papers will be published by the UC Davis Law Review.
If you would like to be considered to present a paper, please email an abstract of no more than two pages to Professor David Horton ([email protected]) by March 1, 2019. The Law Review will notify those selected by March 15, 2019. Please be aware that speakers must submit drafts that are ready for the editing stage of the production process by mid-November 2019.
Speakers will be reimbursed for their reasonable travel expenses (economy airfare, ground transportation, and up to two nights in a local hotel). Speakers will also be invited to dinner on Friday, October 11. Breakfast and lunch will be provided to speakers and attendees on October 11 courtesy of the ACTEC Foundation. Questions about the symposium or this Call for Papers should be directed to David at the email address above or Professor Adam Hirsch ([email protected]).
Posted by Sarah Lawsky on November 27, 2018 at 11:00 AM | Permalink | Comments (0)
Friday, November 23, 2018
JOTWELL: Mullenix on Vitiello on a civ pro companion
The new Courts Law essay comes from Linda Mullenix (Texas), reviewing Michael Vitiello, Animating Civil Procedure (Carolina Academic Press 2017),  a companion to Civ Pro casebooks offering a procedural-justice gloss on the major cases and issues.
Posted by Howard Wasserman on November 23, 2018 at 11:17 AM in Article Spotlight, Books, Howard Wasserman | Permalink | Comments (0)
Tuesday, November 20, 2018
Universal injunction in asylum-point-of-entry (corrected)
These are coming too quickly to process. The District Court for the Northern District of California issued a universal preliminary injunction (styled a TRO, but done adversarially and scheduled to last more than 14 days) prohibiting the government from enforcing new regulations denying asylum to any persons who present themselves at places other than lawful points of entry.
Unlike the Ninth Circuit in the DACA case, which Sam Bray analyzed, the court did not explain its scope ruling, other than by pointing to three things: facial unconstitutionality; the cert grant in the second travel ban case that allowed the preliminary injunction to stand as to people "similarly situated" to the plaintiffs (before the whole thing became moot); and the relevance of the APA. Sam discusses (with links) the third point and whether the APA really demands universality. The first point relies on Califano v. Yamasaki's "extent of the violation" language, ignoring that Califano involved a nationwide class (and thus a violation of the rights of the class), not the permissible scope of an injunction in an action brought by an individual. The second point continues to get far too much mileage out of loose language in a decision on a stay and granting cert. I have been accused of undervaluing that language, and perhaps I have. But courts are treating it as SCOTUS precedential imprimatur for universal injunctions, which is wait it cannot bear.
Sam argues that courts are close to making universal injunctions the default remedy in cases under APA, immigration cases, and cases with entity plaintiffs. This case supports that position.
Posted by Howard Wasserman on November 20, 2018 at 11:20 AM in Civil Procedure, Howard Wasserman, Judicial Process, Law and Politics | Permalink | Comments (5)
SCOTUSBlog preview: Equitable exceptions to claim-processing rules
I have a SCOTUSBlog preview of Nutraceutical Corp. v. Lambert (to be argued Nov. 27), considering whether the time period for taking a Rule 23(f) interlocutory appeal of a class-certification order is a claim-processing rule subject to equitable exception.
The case was the main topic on this week's First Mondays, live from Duke Law School and featuring Marin Levy and Stephen Sachs, who had fun with the underlying facts  of the suit involving the allegedly fraudulent sale of "Cobra Sexual Energy."
Posted by Howard Wasserman on November 20, 2018 at 10:55 AM in Civil Procedure, Howard Wasserman, Judicial Process | Permalink | Comments (3)
Monday, November 19, 2018
SCOTUSBlog Preview: First Amendment retaliatory arrests
I have a SCOTUSBlog preview of  Nieves v. Bartlett (to be argued November 26), considering whether a plaintiff seeking damages for a First Amendment retaliatory arrest must show absence of probable cause. The Court last term punted on the question in Lozman v. City of Riviera Beach, because the case involved a retaliatory municipal policy, not only one officer's single retaliatory decision
I describe this as a sneaky-important case, because it involves a collision of two Roberts Court commitments--protecting First Amendment rights and immunizing law enforcement from damages suit and liability. The last part of the petitioner's brief downplays the constitutional importance of talking back to, challenging, criticizing, or insulting police officers performing official functions, insisting it is not speech on matters of public concern that should be protected against retaliatory motives; this eliminates the need for damages liability to vindicate that speech. The brief also argues that police departments will discipline rogue officers who engage in retaliatory arrests, especially in an age of body cameras and citizen video, when departments are more committed to internal accountability. The second point is laughable as an empirical matter. The first is correct on free-speech principle only if the First Amendment does not extend to the rough-and-tumble of ugly public protest or if police officers, the public officials with whom the public has the most direct contact, are above rhetorical challenge and criticism. But both are ideas I could see this Court majority buying, with the second commitment prevailing over the first.
Posted by Howard Wasserman on November 19, 2018 at 03:02 PM in Civil Procedure, First Amendment, Howard Wasserman, Judicial Process, Law and Politics | Permalink | Comments (4)
Sunday, November 18, 2018
The limits of Spiderman
Ilya Somin has an interesting post wielding the Spiderman Principle--"With great power comes greats responsibility"--to argue against judicial deference to the executive and supposed executive expertise in those areas, such as immigration and national security, in which the executive is believed to have the greatest power. Under the Spiderman Principle, the fact that executive power is so great in these areas requires greater judicial scrutiny and greater justification from the executive, to ensure that this power is used responsibly and not abused.
I agree with Ilya that excessive judicial deference is a problem. But it seems to me the Spiderman Principle does not get us very far, because it cuts both ways. The courts would argue that deference and referral to expertise is compelled by the Spiderman Principle--it is how they bring some responsibility to temper the exercise of their great power to declare invalid the executive's conduct.
Posted by Howard Wasserman on November 18, 2018 at 10:32 AM in Constitutional thoughts, Howard Wasserman, Law and Politics | Permalink | Comments (7)
Saturday, November 17, 2018
What sovereign immunity has wrought (Update)
Steve writes at SCOTUSBlog about a motion in a pending cert case asking the Court to decide on the validity of Matthew Whitaker's appointment as AG, in order to figure out who should be substituted (for Jeff Sessions) as respondent in the petition. This is happening while lower courts consider the validity of the Whitaker appointment in more substantive contexts. (Gerard Magliocca believes that a Court order compelling briefing will compel Whitaker to withdraw or compel the President to nominate a new AG).
This is another example of how much time is wasted by sovereign immunity, rather than being honest about the fact that the government, and not any individual officer, is the real defendant in a challenge to a constitutionally invalid law.
Update: There is a discussion on the Civ Pro/Fed Courts Prof listserv about why plaintiffs ever sue the officer by name rather than office. FRCP 17(d) provides that "A public officer who sues or is sued in an official capacity may be designated by official title rather than by name, but the court may order that the officer's name be added," so it is permissible to sue the title. And since an EPY action is against the officer in his official capacity, it is against the office/title, so we end up in the same place. This gets me to my original point--if we just sued the office (and thus the U.S.), it would remain more straight-forward.
Posted by Howard Wasserman on November 17, 2018 at 03:15 PM in Civil Procedure, Constitutional thoughts, Howard Wasserman, Judicial Process, Law and Politics | Permalink | Comments (2)
Friday, November 16, 2018
White House must return Acosta credentials
According to news reports, District Judge Timothy Kelly ruled from the bench, granting a TRO based on the failure to provide process, without reaching the First Amendment question.
It will be interesting to see if the White House appeals. Although the order was styled as a TRO, the court would treat it as an appealable preliminary injunction should the government choose to appeal. But the court never reached whether the First Amendment in any way limits control over press access. And the due process focus means that, in theory, the White House and Secret Service could give him process tomorrow and reach the same decision. There is a motive to return the credential and let the litigation play out in the district court first.
Update: Garrett Epps (Baltimore) at The Atlantic ties Kelly's decision to the unsung decision in Island Trees v. Pico, in which SCOTUS held that the school district had unfettered power to select books to place on the shelves, but the First Amendment imposed limits on the district removing books already placed (based on objections to content. I highlighted Pico as an important example of why Brennan was the heir to Holmes in protecting free speech, although a decision that gained little traction, including in debates over internet filters in libraries. I agree with Garrett that it would be nice to see a revival of the decision, including in a new context.
Posted by Howard Wasserman on November 16, 2018 at 10:48 AM in Constitutional thoughts, First Amendment, Howard Wasserman, Law and Politics | Permalink | Comments (4)
Thursday, November 15, 2018
The Cambridge Handbook of the Law of the Sharing Economy
I am excited to announce the publication of The Cambridge Handbook of the Law of the Sharing Economy edited by Nestor M. Davidson, Fordham Law School, Michèle Finck, University of Oxford , John J. Infranca, Suffolk University School of Law. Here is the description of the book from Cambridge Press: 
This Handbook grapples conceptually and practically with what the sharing economy - which includes entities ranging from large for-profit firms like Airbnb, Uber, Lyft, Taskrabbit, and Upwork to smaller, non-profit collaborative initiatives - means for law, and how law, in turn, is shaping critical aspects of the sharing economy. Featuring a diverse set of contributors from many academic disciplines and countries, the book compiles the most important, up-to-date research on the regulation of the sharing economy. The first part surveys the nature of the sharing economy, explores the central challenge of balancing innovation and regulatory concerns, and examines the institutions confronting these regulatory challenges, and the second part turns to a series of specific regulatory domains, including labor and employment law, consumer protection, tax, and civil rights. This groundbreaking work should be read by anyone interested in the dynamic relationship between law and the sharing economy.
The book has a great number of insightful chapters by leading scholars in their fields on questions ranging from competition law to zoning and the geography of platforms and new business models, the law and economics of new digital platforms - my chapter is called Coase and the Sharing Economy - and questions about employment, trust, safety, consumer choice, and democratic decision-making.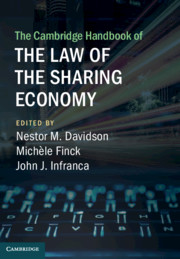 Posted by Orly Lobel on November 15, 2018 at 05:51 PM | Permalink | Comments (2)
Wednesday, November 14, 2018
Hastie Fellowship Call for Applications
From the University of Wisconsin Law School:
The University of Wisconsin Law School seeks applications for the William H. Hastie Fellowship. The application deadline is February 1, 2019.  
For over forty years, the Hastie Fellowship has helped aspiring scholars from underrepresented communities in the legal academy prepare for a career in law teaching. Hastie Fellows devote the majority of their time to their own research agenda, researching and writing scholarly articles with support from a faculty advisor and the Hastie Fellowship Committee. During their residence, Hastie Fellows become part of the rich intellectual community at the University of Wisconsin, participating in workshops, symposia, and colloquia at the law school and broader campus community. Hastie Fellows participate in the entry-level law teaching market during the fellowship's second year, and receive support and mentoring from the faculty. Most fellows also elect to teach or co-teach a course in an area of their interest during their second year in residence. Upon the successful completion of their work, typically involving the preparation of two publishable articles, fellows may elect to receive an LL.M.
Since the program was founded in 1973, over thirty Hastie Fellows have completed the program and secured academic appointments. They are a distinguished presence across American legal education, and three have gone on to serve as law school deans. The Hastie Fellowship continues to play a remarkable role in encouraging and developing scholars from underrepresented communities and in preparing them to succeed in the legal academic market and in the academy. 
Posted by Sarah Lawsky on November 14, 2018 at 02:16 PM in Getting a Job on the Law Teaching Market | Permalink | Comments (0)
Monday, November 12, 2018
C.J. Cregg = Sarah Sanders (Updated)
Attorney David Lurie argues in Slate that CNN should sue the Secret Service over revocation of reporter Jim Acosta's press credentials. He argues that CNN has a good case. D.C. Circuit precedent holds that reporters must receive process in the denial or revocation of credentials and that the basis for revocation cannot be that the reporter criticized the President or anyone else in the White House. And the President admitted that Acosta's credentials were revoked because he did not treat the presidency with "respect" and that he might do the same to other reporters.
Update: CNN and Acosta, represented by Gibson Dunn, has filed suit, claiming violations of the First and Fifth Amendments and the APA; named defendants are Trump, Kelly, Sanders, William Shine (Deputy Chief of Staff, the Secret Service, and the head of the Secret Service.
The incident brought to mind S3E4 of The West Wing, titled "On the Day Before." Press secretary C.J. Cregg gets pissed at a reporter who inaccurately reported on something that C.J. had done. C.J. tells the reporter that she is having the reporter's credentials revoked and that the reporter must call C.J.'s office every day so C.J. can decide if the reporter will be allowed into the press room. And this was played with C.J. as the hero, standing up and justly sanctioning the vapid, dishonest, and unethical reporter.
This is another illustration of Aaron Sorkin writing the Trump Administration in the Bartlet Administration,  with much of the behavior and norm-breaking that we have seen the past two years; the difference is that Sorkin's characters did it in service of a liberal Democratic agenda, while the Trump Administration has done it in service of a very different agenda. There is no difference between Trump and Sarah Sanders stripping Acosta of his credential and C.J. doing the same to that fictional reporter--both are mad because the reporter treated them unfairly.
Posted by Howard Wasserman on November 12, 2018 at 08:44 PM in Culture, First Amendment, Howard Wasserman, Law and Politics | Permalink | Comments (8)
Friday, November 09, 2018
Teaching Con Law in the Current Moment
I'm starting to plan ahead for next semester, and would love to hear what other Con Law professors are doing in terms of folding the issues of the current moment--e.g., the Emoluments Clause, birthright citizenship, the ability to subpoena the president, executive privilege, the authority of the special counsel, appointment and removal power, the census--into their classes.  I've always given some extra time to current issues, but in the past, it's been easier because they were natural outgrowths of the bread-and-butter 1L Con Law subjects (for example, both NFIB v. Sebelius and Obergefell build perfectly on Commerce Clause, Tenth Amendment, and Equal Protection doctrine).  I'm finding several of the current topics more challenging to integrate into the syllabus since they are more specialized and there's not necessarily much case law (yet).  To what extent are all of you generally sticking with your regular syllabi, versus significantly re-doing them in order to build these topics in?  If the latter, what are the topics that you're dropping to make room for them?
Posted by Emily Gold Waldman on November 9, 2018 at 05:01 PM | Permalink | Comments (15)
Thursday, November 08, 2018
I am Spartawitz or Wearing a yarmulke after Pittsburgh
I began wearing a yarmulke the Tuesday after the October murder of eleven Jews at Pittsburgh's Tree of Life Synagogue. I would have started sooner; the idea came to me almost immediately. But I wore a baseball hat on Sunday, so my head was covered. On Monday, I was late getting to work and forgot, as finding a head covering had not become my routine. I wore one to an inter-faith memorial service at my Reform temple near Miami on Monday evening, and it has remained.
This is new for me. I grew up in an unaffiliated Hebrew School that combined Conservative liturgy with a Reform commitment to justice; yarmulkes were reserved for services. I attended a public school district that was about 45% Jewish, but not one kid in my class wore one. I  attend a Shabbat morning minyan, a small, joyous, informal service at which I wear a tallis and a baseball cap, usually bearing the logo of my daughter's private, Episcopal-affiliated middle school (we both appreciate irony).
The deaths in Pittsburgh triggered a desire to publicly pronounce and announce my Jewishness. Not that this was not already obvious to anyone paying attention—my last name is Wasserman, I grew up in the suburbs of New Jersey, I work in academia, and I am obsessed with Jewish baseball players. This was different. I was challenging anti-Semites or other people who are uncomfortable around "different" Jews. As if saying hineni—"Here I am."
Update: Tablet's Unorthodox discusses (around 58:30) a letter from a listener who similarly began wearing a yarmulke following the shooting. He discusses greater initial apprehension of a negative reaction from other Jews than I had.
Continue reading "I am Spartawitz or Wearing a yarmulke after Pittsburgh"
Posted by Howard Wasserman on November 8, 2018 at 09:31 AM in Howard Wasserman, Religion | Permalink | Comments (9)
Tuesday, November 06, 2018
Peter Schuck Replies to his Critics on Birthright Citizenship
[Note from Rick Hills: At Peter Schuck's request, I am posting the following response written by Peter regarding recent discussion of his views on birthright citizenship]
To anyone who is interested in my actual position on birthright citizenship for the U.S.-born children of undocumented immigrants:
The flood of criticism, much of it on the Immprof listserv and Prawfsblawg, that has engulfed me (while traveling abroad, no less) and my co-author Rogers Smith deserves a reply. Fortunately, mine can be fairly brief as Rogers has already published his own series of replies on the Immprof listserv, with which I agree almost entirely. But here is where we differ: Rogers seems less troubled than I am by the toxic, corrosive, name-calling, motive-assuming, and debate-chilling tenor of a few of the published comments, typified by that of Paul Schmidt on Immprof, who stated (for instance) that "[s]omebody should take these characters [Rogers and myself] on and 'out them' for the race baiters that they truly are." Rogers, fine scholar, idealist, and gentleman that he is, imagines that even this bombastic exercise in impugning the good faith and motives of two serious scholars who have long advocated more generous immigration policies will somehow advance the cause of egalitarian solidarity. To me, this is wishful thinking that can never justify such ad hominem comments among scholars about a genuinely difficult legal and policy issue. Far from coalition building, this kind of self-righteous intolerance can only confirm the worst suspicions of the coalition partners Rogers hopes to attract.
On to a few substantive points.
Continue reading "Peter Schuck Replies to his Critics on Birthright Citizenship"
Posted by Rick Hills on November 6, 2018 at 05:19 AM | Permalink | Comments (3)
Monday, November 05, 2018
JOTWELL: Levy on Re on Marks
The new Courts Law essay comes from Marin Levy (Duke), reviewing Richard Re, Beyond the Marks Rule (Harv. L. Rev., forthcoming), which critiques the Marks Rule and its (ineffective) efforts to create binding precedent absent a majority opinion.
Posted by Howard Wasserman on November 5, 2018 at 10:34 AM in Article Spotlight, Civil Procedure | Permalink | Comments (0)
Sunday, November 04, 2018
Perfection, athletic skills, and sports
This Deadpsin piece defends the scoring system in gymnastics, under which Simon Biles won the all-around despite falling in two events (her routines have such a higher degree of difficulty than everyone else that even large point deductions for falls do not bring her back to the pack.
The piece includes the following:
Gymnastics is is an aesthetic, performance-based sport. As such, its ideas of winning and perfection are deeply intertwined. The history of the sport suggest that victory and perfection often go hand in hand, and that you can't have the former without the latter.

Ideas about "perfection" exist in other sports too. There is such a thing as a perfect game in baseball, and they are always the same—a pitcher faces 27 batters and gets them all out in order. Football's quarterback ratings are notably, ridiculous obscure, but an upper boundary exists and a few dozen quarterbacks have hit it over the years. Perfection is as rare in those disciplines as it is anywhere else. It's special, but by no means a guarantee of victory. A pitcher can be perfect through nine and watch his bullpen blow it in the tenth; a quarterback putting up a perfect 158.3 has given his team a chance to win, but only a chance.
This captures my line between sport and non-sport. Performing skills perfectly or well is intertwined with victory in non-sports, because victory is determined by a judgment on the internal value and quality of those skills. Victory in sport is extrinsic, determined by the outcome of the performance of the skills and not by the skills themselves. This is true not only for the aesthetic quality of the skill (how nice the jump shot looks or how hard the pitcher throws), but the overall performance of those skills, which still may not produce victory.
Posted by Howard Wasserman on November 4, 2018 at 09:31 AM in Howard Wasserman, Sports | Permalink | Comments (2)
Friday, November 02, 2018
Packers fan finds counsel for First Amendment claim against Bears
I have written about Beckman v. Chicago Bears, a lawsuit by a Bears season-ticket holder and Packers fan who was prevented from going onto the field in Packers gear. Proceeding pro se (although with some informal guidance for a time), Beckman survived a 12(b)(6) by a very forgiving district court. It now appears Beckman has obtained counsel for the long-haul--the First Amendment Clinic at Duke and a Chicago attorney named Michel Lieber.
I think his First Amendment claim is a good one, if he can get past the state action problems. I remain surprised it took him this long to find counsel, but I am glad he found someone. This could get interesting.
Posted by Howard Wasserman on November 2, 2018 at 02:38 PM in Civil Procedure, Constitutional thoughts, First Amendment, Howard Wasserman | Permalink | Comments (2)
Birthright Citizenship: A Case Study in the Near-Inevitability of Constitutional Ambiguity
President Trump, normally a divisive figure, has improbably unified us with his recent tweet on ending birthright citizenship for the children of unlawfully present aliens. Legal academics on the Left and Right, from John Yoo to Mike Dorf, have joined together as one to declare that Trump's proposal is obviously unconstitutional. Judge James Ho, Trump's own judicial appointee, has argued that the 14th Amendment guarantees citizenship to those born on U.S. soil regardless of whether their parents are lawfully present. (For a typically cogent summary of the debate, see Ilya Somin's post at Volokh's).
Thanks to President Trump, in short, we are enjoying a rare moment of scholarly consensus about the meaning of the Fourteenth Amendment. I honestly regret having to squabble with that spirit of unity in what follows. As I shall explain after the jump, I share the consensus view that the Fourteenth Amendment ought to be construed to guarantee birthright citizenship for those born on American soil to unlawfully present aliens. Unlike the scholars referenced above, however, I take this view to be the result of pragmatic constitutional construction. Plain textual semantics, legal tradition, and historical context all will not do the trick. The scholarly consensus, in other words, conceals a constitutional policy judgment. This judgment is buried under cartloads of erudition about sources ranging from Calvin's Case to the 39th Congress's debates about diplomats and Indian tribes to SCOTUS's decision in Wong Kim Ark. None of these, however, really speak to the question being asked by Trump and his supporters, because none of those sources confronted the question of whether persons who entered American soil in violation of its laws were really "subject to the jurisdiction of the United States." To answer that question, one must construct a purpose for the 14th Amendment's guarantee of "soil citizenship" — an unpleasant task, because such constitutional construction exposes how divided we really are about immigration. It is more pleasant to pretend that conventional legal sources yield an answer to an urgent legal question — and if such a pretense is necessary to beat off Trump's attacks on "soil citizenship," then I am happy to go long with the game. But I am hoping that a little candor about constitutional ambiguity will do no damage to a just cause as long as it is excluded from the briefs and confined to an obscure blog.
Continue reading "Birthright Citizenship: A Case Study in the Near-Inevitability of Constitutional Ambiguity"
Posted by Rick Hills on November 2, 2018 at 08:34 AM | Permalink | Comments (26)
Wednesday, October 31, 2018
"Volunteering for Execution" (again)
Reading and thinking about this Bloomberg news-item ("In Unusual Capital Fight, Inmate Gets His Wish and Gets Executed") took me back to a Prawfsblawg post of mine from more than ten (!) years ago.  Reacting to a then-recent decision by the U.S. Court of Appeals for the Ninth Circuit, I wrote: 
The term "death-row volunteer" probably sounds strange -- do people really "volunteer" to be on death-row? -- but, nonetheless, it describes reasonably accurately a not-insubstantial number of those convicted murderers who have been executed in the United States since 1976.  (For more detail on the death-row-volunteer issue, see this paper of minefrom a few years ago.) 

Today, the indefatigable Howard Bashman reports, the en banc United States Court of Appeals ruled that Robert Charles Comer, who was sentenced to death in Arizona, was "competent" to waive further proceedings relating to his federal habeas corpus petition and that he had, in fact, "voluntarily" waived those proceedings.  In a nutshell, the Ninth Circuit ruled that, notwithstanding the possibility that legal errors had infected his capital-sentencing proceedings, Comer could prevent judicial correction of those errors by "volunteering" to be executed, in accord with his death sentence.  (The court rejected the argument, advanced by Comer's counsel -- who were arguing, obviously, against Comer's stated wish to volunteer -- that Comer's "volunteering" was the product of harsh prison conditions.)

What should we think about this case?  How should we think about death-row volunteers generally?

Perhaps the most famous death-row "volunteer" was Gary Gilmore, who imagined himself something of a romantic outlaw-hero.  As is described at (great) length in The Executioner's Song, he fought, bitterly and publicly -- with the help of some publicity-hungry lawyers -- the efforts by the ACLU, his own mother, and others to prevent his execution.  Gilmore insisted, in an open letter to the ACLU, "I know what I did. . . .  I know the . . . effect it had on the lives of two families.  I'm wiling to pay ultimately.  Let me!"  "Butt out of my life," he demanded.  To which the ACLU responded, "We don't think the world is obliged to be governed by your preference. . . .  We are not imposing our wants and attitude on you.  We are seeking to impose humanity and decency upon the state of Utah."

So, again, how should we think about Gilmore's or Comer's case?  On the one hand, we might follow a commitment to "autonomy" where it (appears to) lead, and say, something like, "we don't approve of the death penalty, but it's legally authorized, and it's your choice."  As it happens, though, most lawyers for death-row inmates who flirt with volunteering -- and many do -- are willing to contest their own clients' efforts to volunteer and to contest, if necessary, their own client's decision-making capacity.  Here is a question:  If one opposes capital punishment on the ground that it is inconsistent with a commitment to human dignity, is that commitment undermined or impeached by efforts to paint one's client as "incompetent" in order to prevent him from pursuing a course that one believes will result in immoral state action?

I once represented a man who was living -- like Comer -- on Arizona's death row.  He twice "volunteered" -- or started to -- but was dissuaded.  If he had not changed his mind, though, what should I -- or another lawyer who opposed the death penalty but also knew that the inmate was not delusional, just tired, lonely, and remorseful -- have done?
By way of an update:  A few years I posted the above, the person I represented had his death sentence vacated (thanks to the hard work of other lawyers).
Posted by Rick Garnett on October 31, 2018 at 10:11 AM in Criminal Law, Rick Garnett | Permalink | Comments (5)
Tuesday, October 30, 2018
Judicial departmentalism and birthright citizenship
The President announced plans to issue an executive order that would deny citizenship to children born in the U.S. to non-citizen parents. Assume: 1) Trump (or the attorneys and aides advising him) genuinely believes this is constitutionally valid, on the best understanding of § 1; 2) § 1 of the Fourteenth Amendment guarantees birthright citizenship (i.e., Trump and his attorneys are wrong); and 3) the Court has given no signals of intent to move from its current interpretation of § 1.
So how should we speak about what Trump is proposing? Should we say he is acting unconstitutionally? Is that fair, given that he is an independent constitutional actor who believes in the validity of what he is doing? How might we otherwise describe it? If we accept the President's independent constitutional interpretive authority, can he exercise it even if he knows he will lose once the dispute reaches court? Or is his power more limited, to those situations in which he has reason to believe (from some judicial hints) that the Court may move off the judicial interpretation, so defeat in court is not guaranteed?
Posted by Howard Wasserman on October 30, 2018 at 11:29 AM in Constitutional thoughts, Howard Wasserman, Judicial Process, Law and Politics | Permalink | Comments (14)
Monday, October 29, 2018
VAPs and Fellowships: Open Thread, 2018-2019
On this thread, comments can be shared regarding news of appointments to VAPs or similar fellowships (for example, the Climenko and Bigelow).  Here is last year's thread.
You may also add information to the spreadsheet.
Posted by Sarah Lawsky on October 29, 2018 at 09:00 AM in Getting a Job on the Law Teaching Market | Permalink | Comments (61)
Saturday, October 27, 2018
Update on the Yiddishe World Series
We are three games into the 2018 World Series, featuring one Jewish player on each team. The first two games, both Red Sox wins, were quiet on this front. Ian Kinsler started both games at second for the Red Sox and was a combined 1-for-7 with an RBI. Dodgers outfielder Joc Pederson did not start either game; he was one of the Dodgers' four top hitters, all left-handers, who did not start against lefty starters, although he entered both games late, going 0-for-3 combined.
Game Three, an 18-inning Dodger win and the longest game in World Series history, had the Great, the Good, and the Ugly for the Chosen People.
The great:
Sandy Koufax gave Dodger starter Walker Buehler a standing ovation as Buehler left the mound after pitching seven innings of two-hit shutout ball with nine strikeouts. Koufax is two months shy of 83 and looks as if he still could pitch.
The good:
Pederson gave the Dodgers a 1-0 lead with a home run in the third. But for a blown save, that would have been the game-winning hit.
The ugly:
Kinsler. Inserted as a pinch-runner in the 10th, Kinsler was almost picked-off first. He was called safe and the call upheld on replay review, although it was close. Kinsler then advanced to third on a single, but overslid third base and barely scrambled to get his foot back on the base before being tagged. He then was thrown out trying to score on a fly ball to center. The throw was off-line, up the third-base line. But Kinsler got such a slow break off third that he basically ran into the tag about fifteen feet before the plate.
Then, with the Sox up 2-1 with two out in the bottom of the 13th, Kinsler's wild throw on a grounder up the middle allowed the tying run to score and the game to continue for five more innings and a 14th-inning stretch. Game Four in about nine hours.
Posted by Howard Wasserman on October 27, 2018 at 10:36 AM in Howard Wasserman, Religion, Sports | Permalink | Comments (0)
Friday, October 26, 2018
Don't be a lawyer
We are big fans of Crazy Ex Girlfriend, especially the music. Tonight, the show takes on law school and practicing law. Enjoy.
Update: Having seen the episode, the main plot development is the lead character deciding she does not want to be a lawyer anymore (although she is shown as being good at it). I must admit to expecting her to decide midway through the episode that she instead would become a law professor.
Posted by Howard Wasserman on October 26, 2018 at 09:24 PM in Howard Wasserman, Teaching Law, Television | Permalink | Comments (2)
Thursday, October 25, 2018
On the Georgia voting case
A district judge in the Northern District of Georgia on Wednesday preliminarily enjoined enforcement of certain regulations, specifically the "exact match" requirements for absentee ballots. Plaintiffs were three voting-rights organizations and a number of individual voters. A few thoughts:
• This is the type of case that Amanda Frost highlights as appropriate for universal* injunctions--time-sensitive and on a large scale. But this case also shows ways to extend the scope of the injunction by extending the scope of litigation. The court found that the voting-rights organizations had direct standing, given the burdens the regulations placed on them in having to notify the public of this problem. The organizations also argued associational standing on behalf of their members, although the court did not address that. The case also would have been perfect for a 23(b)(2) class and the court could have entered a classwide preliminary injunction prior to certification.
[*] Another reason "universal" works better as a term--an injunction halting enforcement of state law can be universal in extending beyond the parties, but not nationwide in any sense. And to then have nationwide and statewide injunctions would add a layer of nomenclature to the identical problem.
• It is interesting that no political party or campaign sued and attempted to assert third-party standing on behalf of voters (the typical path to broad injunctive relief against voting restrictions). This illustrates the way in which the franchise has become a partisan issue--one party wants to make voting more demanding (put aside whether the reasons are valid or not), the other party wants to make voting easier and available for more people (again, put aside whether for valid reasons or not). So a party jumping into a lawsuit, even to protect a neutral principle such as the right to vote, will appear to be acting for partisan advantage. This is especially true in Georgia, where the person making and enforcing the restrictions is a candidate for governor.
Posted by Howard Wasserman on October 25, 2018 at 11:10 AM in Civil Procedure, Constitutional thoughts, Howard Wasserman | Permalink | Comments (2)
When a colleague suddenly walks around in new tennis shoes...
An excellent article in the New Yorker about trade secrets, talent mobility, and Google v. Uber in the race for self-driving cars. The bonus is an inside view of the Silicon Valley culture, including as Mark Lemley put it to me, "perhaps the most Silicon Valley fact ever:"
Project Chauffeur employees began calling in sick so that they could interview with other firms or with venture capitalists. People started paying close attention to their co-workers' shoes. "The only reason an engineer buys new, expensive sneakers is if they're looking for a new job," one person told me. Project Chauffeur's hallways were suddenly filled with unscuffed Pumas and Allbirds. 
Posted by Orly Lobel on October 25, 2018 at 12:51 AM | Permalink | Comments (4)
Wednesday, October 24, 2018
Two worth reading
Light week, but I wanted to link to two pieces worth reading.
The first is by Brooke Coleman (Seattle) on the unrepresentative composition of the Rules Committees (as appointed by the Chief). The second compares the linguistic paternalism and authoritarianism of the LGBTQ+ movement to the anti-porn feminist movement of the 1980s.
Posted by Howard Wasserman on October 24, 2018 at 04:58 PM in Howard Wasserman | Permalink | Comments (2)
Tuesday, October 23, 2018
JOTWELL: Lahav on Frost on nationwide injunctions
The new Courts Law essay comes from Alexandra Lahav (UConn), reviewing Amanda Frost, In Defense of Nationwide Injunctions (N.Y.U. L. Rev., forthcoming). My views on this subject are well-known here. Amanda visited FIU last week to present her paper and to debate  injunctions for several student organizations.
Posted by Howard Wasserman on October 23, 2018 at 10:37 AM in Article Spotlight, Howard Wasserman | Permalink | Comments (0)
Monday, October 22, 2018
70 Years of the International Law Commission
This Friday and Saturday, FIU Law Review will host 70 Years of the International Law Commission: The Role and Contributions of the ILC to the Development of International Law. It is organuzed by Charles Jalloh, my colleague at FIU and a member of the ILC. The roster includes judges, scholars, and ILC members from around the world. Friday schedule is here, Saturday schedule is here. It will be live-streamed, so plan to check it out.
Posted by Howard Wasserman on October 22, 2018 at 09:31 AM in Howard Wasserman, International Law, Teaching Law | Permalink | Comments (0)
Sunday, October 21, 2018
Infield Fly Rule as Mitzvah
On last week's edition of Tablet Magazine's Unorthodox podcast, a listener letter (read at the 1:07 mark) argues that baseball is the most Jewish sport, because it has "long tradition, weird and obscure rules that are subject to interpretation and doesn't change on a whim."
I like it, but it got me thinking: Which of the 613 Mitzvot is analogous to the Infield Fly Rule?
Posted by Howard Wasserman on October 21, 2018 at 09:31 AM in Howard Wasserman, Sports | Permalink | Comments (3)
Friday, October 19, 2018
Misapplying pleading
Attorney David Lurie criticizes the lawsuit by former DNC employees and Democratic donors against the Trump Campaign for its role in disseminating the Wikileaks documents. I largely agree with his substantive First Amendment points, at least absent some stronger connection between the campaign and the Russian hackers and/or Wikileaks.
My concern is this paragraph:
But absent a basis to assert that that Trump campaign reviewed or otherwise knew of what was actually contained in the emails, the plaintiffs' allegation that the campaign launched a scheme with the Russians to plot out the dissemination of materials to "maximize their political impact" seems to be based on speculation, not facts. And the plaintiffs' claim that the Trump campaign knew that their private information, or that of others, was going to be disseminated seems all the more speculative.
A later paragraph allows that "if the Mueller investigation ultimately does provide evidence that the Trump campaign actually "partnered" with the Russian government to publish the stolen DNC documents, a civil lawsuit could well be the very least of the president's problems."
Both of these statements ignore the nature of civil pleading in federal court. At least before Twiqbal turned it into something different, pleading is supposed to be based on the plaintiff's allegations that may be speculative, because the plaintiff often/usually does not and cannot know at the outset what other people or organizations knew or did. That is what discovery is for--to uncover and obtain evidence to support those allegations. To require more before the plaintiffs have had an opportunity and authority to obtain information creates an impossible situation. Moreover, it should not only be for the Mueller investigation to provide evidence--civil litigation also exists to provide evidence of misconduct, in the course of proving that civil wrongdoing occurred. Lurie's argument is consistent with Twiqbal's approach to pleading; I do not think it wrestles with that problem.
Again, I believe the complaint is defective for other reasons--it alleges less collusion between the campaign and the Russians and more "advantage gained," which is not sufficient under the First Amendment. But the speculative nature of the allegations of what happened should not be a problem at the pleading stage. And this case illustrates the problem.
Posted by Howard Wasserman on October 19, 2018 at 03:43 PM in Civil Procedure, First Amendment, Howard Wasserman | Permalink | Comments (5)
Thursday, October 18, 2018
Do Body Cameras Improve Police Conduct?
The police technology discussion tends to focus on privacy issues rather than equality issues—although there is a growing body of scholars to look to equality to critique the new technology. Privacy has dominated much of the body camera debate; but equality issues have also driven much of the movement towards demanding body cameras. The egalitarian argument is that body cameras restrain police use of force by providing an "angel on the shoulder" of the officer, whose deployment of force may well become public.
The problem with this argument, as with much of the body camera debate, is that there is very little data to go on. The "angel on the shoulder" argument depends heavily upon the results of the first, brief study in Rialto, California. More extensive studies in Mesa and Pheonix, Arizona, found that the "angel" effect dropped off after about six months or so. The police became more forceful, and complaints rose. The studies also found that the police were more likely to arrest, rather than release, individuals when they wore body cameras. And the effect on criminal prosecutions depended heavily on access to the cameras, and in particular, whether the prosecutor reviewed the footage, which did not occur in most cases.
One way to read the studies is that supervision really matters. So long as the patrol police think their conduct will be made public or reviewed by a supervisor, they will restrain themselves. When they discover that no-one is reviewing the footage, they return to policing as normal. The footage may have important benefits for defense counsel in humanizing their clients and providing important evidence during a criminal trial. That view is currently anecdotal and needs some further study.
Body cameras are promoted as if they will transform policing. They will not. The problems of police patrol are not driven by the willingness of police officers to restrain episodically, during encounters with civilians. The problems of police patrol concern the distribution of policing, and the style of policing that civilians encounter and endure. So long as the governing monolithic mode of policing is forcible presence on the street in which the dominant role is to establish an unquestioned but temporary physical presence in the community, policing will continue to do what it does least well. Policing could instead establish shared, local, consensual norms coalescing around establishing justice and addressing injustice, including pressing for more livable communities, with better facilities, that are accessible to all. Having a body camera record a flawed policing method will not make that method better. Nor will it encourage trust within those communities that must bear the brunt of forcible policing.
Posted by Eric Miller on October 18, 2018 at 01:08 PM | Permalink | Comments (4)
Historical baseball note
This may prove premature; if so, I apologize. The Red Sox and Dodgers, two of MLB's historic franchises, are each one game away from the World Series, so I had to look up whether they had ever met in the World Series in those long histories. The answer is in 1916, when Babe Ruth was the Red Sox star pitcher and the team from Brooklyn was known as the Robins. The broadcasters could have fun with this one.
Posted by Howard Wasserman on October 18, 2018 at 06:58 AM in Howard Wasserman, Sports | Permalink | Comments (1)
Wednesday, October 17, 2018
SLAPP dismissal of Stormy Daniels' defamation suit
Judge Otero of the Central District of California dismissed Stormy Daniel's defamation action against President Trump under the Texas anti-SLAPP statute, holding that the President's tweets were rhetorical hyperbole and imposing attorney's fees under the statute.
Three quick thoughts.
Continue reading "SLAPP dismissal of Stormy Daniels' defamation suit"
Posted by Howard Wasserman on October 17, 2018 at 09:31 AM in Civil Procedure, Constitutional thoughts, First Amendment, Howard Wasserman | Permalink | Comments (11)
Tuesday, October 16, 2018
We Can't Tech Our Way Out of Policing
My colleague Sean Kennedy and I have been running a monthly discussion forum on Policing Los Angeles, that has provided an opportunity for the police, community activists, academics, and criminal justice professionals to come together to discuss policing policy in Los Angeles, one of the global centers of the good, the bad, and the innovative in policing. We've been discussing police technology a lot.
As an extension of the discussions we've been promoting around policing, I had the pleasure to participate in the Los Angeles Sheriff's Civilian Oversight Commission's conference on Community Policing in Los Angeles: A Vision for the Future. The panel discussed: "When should the use of technology by law enforcement meet a stop sign?"
High tech policing focuses on what the police are worst at: solving crimes. We've known for a long, long time that the police are good at solving really obvious crimes that occur right in front of them—traffic offenses, jaywalking, and so on—and less good at solving crimes where they have to investigate and rely on witnesses. It turns out that if police do what they are good at—handing out tickets to traffic violators—that affects us directly. We don't want the police to police *us*: we want them to police the crimes that other people do, or to deal with *serious* crimes (itself a problematic definition).
We also know that the police are only okay at deterring crime, COMPSTAT, hot-spots policing, pulling levers policing, shotspotter, CCTV, and drones notwithstanding. A much better way of preventing crime is to provide jobs, education, and other opportunities. Crime is a feature of a state failure, whether the state is a centralized economy or a neo-liberal market. The police, unfortunately, have to bear the brunt of that failure.
Finally, some of the essential services provided by the police are non-criminal. We want the police to enforce public nuisances that are often regulated by administrative rules. Or we want the police to settle a minor dispute. And we want the police to respond quickly to emergency situations to help us out when we are in trouble.
The tech "revolution" in policing does nothing to transform these basic features of policing. Technology may make crime detection or prevention a little more effective. At the same time, it may deepen inequality within and between communities, undermining social networks, and creating feedback loops that increase scrutiny for some people, and engenders "legal estrangement." But technology does nothing to transform the underlying features of policing: that it is about relations between human beings: state officials on the one hand, and the public on the other.
The major resource in policing is people not technology. To solve a crime, the police need to be able to engage with witnesses. To maintain order, and respond to emergencies, the police need human personnel, not sonic detection devices, body worn cameras, and the like. There is a role for all of these in the discussion of policing, but by emphasizing the role of technology as a crime-fighting device, we afford a disproportionate amount of money, energy, and rhetorical space to one of the least impactful areas of policing.
Technology can help in first responder roles. It may help in the core police function of public order. If the technology and policing discussion wants to be relevant to the life of the communities over which it is deployed, however, the technology revolution should aid what the police are good at, not exaggerate the importance of their other roles.
Posted by Eric Miller on October 16, 2018 at 01:05 PM | Permalink | Comments (3)
Saturday, October 13, 2018
Catch-up rule in baseball
I missed this paper by two game theorists (one at NYU) and some news stories about it. It proposes the following change to baseball's rules: A team that is leading gets only two outs in its turn at bat. The goal is to shorten games and to make games more competitive by giving trailing teams an opportunity to come back. It then applied the rule to all MLB games from 1967-2017, finding that it shortened the average game by about five outs (about 24 minutes) and the average score difference by more than one run. I am not sure what to think about this, although WSJ sports columnist Jason Gay is a fan (subscription required).
Posted by Howard Wasserman on October 13, 2018 at 12:21 PM in Howard Wasserman, Sports | Permalink | Comments (11)
Friday, October 12, 2018
Flipping the burden on voluntary cessation
This decision from the Fifth Circuit seems wrong, at least in its analysis. The court found moot a challenge to the New Orleans Public Defender's wait list for non-capital cases, because the state legislature allocated the PD's office sufficient funds and the office eliminated the wait list. The court stated:
we are justified in treating a voluntary governmental cessation of possibly wrongful conduct with some solicitude." Absent evidence to the contrary, we are to presume public-spiritedness, says the Supreme Court. Government officials "in their sovereign capacity and in the exercise of their official duties are accorded a presumption of good faith because they are public servants, not self-interested private parties." So, "[w]ithout evidence to the contrary, we assume that formally announced changes to official governmental policy are not mere litigation posturing.
But this seems to flip the burden of persuasion on voluntary cessation, presuming the government will not resume unlawful conduct (because the government is public-spirited) absent evidence from the plaintiff to the contrary. But this seems inconsistent with SCOTUS' insistence that "the defendant claiming that its voluntary compliance moots a case bears the formidable burden of showing that it is absolutely clear the allegedly wrongful behavior could not reasonably be expected to recur."
It does not seem possible to reconcile this case with Nike, at least in terms of the stated standard. The unprincipled explanation is that the Fifth Circuit was suspicious of the entire case and so was looking for a way to dump it. The plaintiffs and the defendant (the PD Office) agreed that the wait list was constitutionally invalid and the PD enacted the policy only because the lack of legislative funding tied its hands. The court hints that the entire action is "a coordinated public-relations effort to force funding" rather than a genuine attempt to enforce constitutional rights.
Suspicion aside, this agreed-upon conclusion meant it was unlikely that the PD would reenact the challenged policy on its own. Which may be true and may justify finding the case moot. But the burden remains on the PD to show that, not on the plaintiffs to rebut the assumption.
Posted by Howard Wasserman on October 12, 2018 at 09:31 AM in Civil Procedure, Constitutional thoughts, Howard Wasserman, Judicial Process, Law and Politics | Permalink | Comments (5)
Thursday, October 11, 2018
Federal Judicial Center Job Posting
From Timothy Lau at the Federal Judicial Center:
For those who are on the law faculty market with both a J.D. and a Ph.D., you may be interested to know that the Research Division of the Federal Judicial Center is currently seeking a Research Associate. The Federal Judicial Center is the research and education agency of the United States federal courts, and, unlike chamber law clerks, the research associates provide research for the federal courts on a systemic level. The research work is similar to that of law professors, and, while the position does not require any teaching, there may be opportunities to participate in education of federal as well as foreign judges. In addition, the research of the Federal Judicial Center can have real impact. Projects are often developed around specific requests of the policy-makers within the federal courts, including its Advisory Committees on Federal Rules, and are sometimes based on Congressional statutory mandate. The pay is competitive with starting law faculty salaries. The precise job listing can be found at:

https://www.usajobs.gov/GetJob/ViewDetails/513414400

It should be noted that, notwithstanding the language of the job announcement, any Ph.D. will be considered. Interested persons can contact me with questions at tlau at fjc dot gov.
Posted by Sarah Lawsky on October 11, 2018 at 11:42 PM in Getting a Job on the Law Teaching Market | Permalink | Comments (0)
Might progressives adopt judicial departmentalism?
Slate is running a debate between Daniel Hemel (Chicago) and Christopher Jon Sprigman (NYU) about whether progressives should abandon judicial supremacy and a belief in the Court and what it should replace that with. Hemel is more in favor of retaining faith in a (modified) Court, while Sprigman is more pessimistic.
Sprigman points to a clause in the Canadian Constitution that allows a national or provincial legislature to override a Supreme Court decision, by allowing a law to operate "notwithstanding" a court decision to the contrary. He proposes a law that allows Congress to override a Supreme Court decision (made in its appellate jurisdiction), then strip the federal courts of jurisdiction to hear cases resisting the overrides.
But I wonder if judicial departmentalism, which allows the other branches to ignore precedent and act on their own constitutional interpretations, gets us to the same place. Under a judicial departmentalist regime, Congress could reenact and the executive could continue to enforce a law that the Court had declared constitutionally invalid against anyone other than the party to the original case (who is protected by a judgment). Under judicial departmentalism, there is no need for an "override" of SCOTUS's decision, because the only binding effect of SCOTUS' decision on the other branches is its judgment prohibiting enforcement against the plaintiffs in that case. The problem remains that the courts must apply SCOTUS precedent in the challenge to the new law or subsequent enforcement efforts, so the result of new litigation over the same constitutional issue will be the same. But Sprigman's jurisdiction-stripping proposal may address that concern. Or the executive's repeated reassertion of the law's validity may cause the Court to yield to the other branches in the exchange, as happened during the New Deal (although for slightly different reasons, the idea remains the same).
I would also note Hemel's post arguing that "the court's worst moments have been moments of weakness, not overexertions of strength." This echoes the argument by Suzanna Sherry (and subsequent micro-symposium) that the Court's greatest failures are when it is inactivist, standing by and declaring laws constitutionally valid.
Posted by Howard Wasserman on October 11, 2018 at 07:19 PM in Constitutional thoughts, Howard Wasserman, Judicial Process, Law and Politics | Permalink | Comments (10)
On not talking the Talk
I'm fascinated by police encounters with the public. As the Court in Terry v. Ohio taught us, these encounters come in all shapes and sizes. Quite often, these encounters result in low-level discipline even if they do not result in an arrest: what the *Terry* Court called "harassment." Some turn deadly. As a result, for many members of the public, the encounter, even if just a stare from a police officer in a high-crime neighborhood, gives rise to the fear and deference that comes with trying to avoid or placate the powerful.
I recently reviewed Josephine Ross's article, What the #Metoo Campaign Teaches About Stop and Frisk, ___ Idaho L. Rev. ___ (2018), discussing why Eric Garner did not run. Eric Garner, Ross points out, stood his ground, and said "Every time you see me, you want to mess with me. I'm tired of it. It stops today…Please just leave me alone." Ross revels that Garner had been the victim of the sort of physically intrusive touching envisaged by the Terry Court as a serious aspect of the stop-and-frisk. Garner, as Ross notes, had previously suffered "a 'cavity search [in which the officer was] . . . digging his fingers in my rectum in the middle of the street." Garner experienced this as a loss of self respect: "the injuries I received was to my manhood"
Garner's reaction to the officer was that of a victim of what felt to him like a sexual assault. Garner likely knew "the Talk": he knew he was in a vulnerable position and was supposed to show deference to the police. Instead he decided to assert his duty to respect himself and his right to be treated with respect: to act, and to be acted towards, as a fellow human being, someone with cares and interests in maintaining his dignity.
In too many aspects of our society, race work is internalized, by the dominant and the subordinated, as servitude work. People like Eric Garner are expected to perform a sort self-abnegation undermining self-respect to mollify some police officer so as to convince the officer to respond calmly and civilly. This places many of us in a difficult position: enacting servitude has moral and political consequences both individually and collectively
If we are to avoid authoritarian government—on the local or on the national level—we must have equal standing; quite literally, perhaps. The civic republican idea of this non-dominative or anti-subordinating version of equal standing is "the ability to look each other in the eye." The sort of response anticipated by the Talk, and demanded by one policing notion of "respect" quite literally precludes this sort of eye-to-eye interaction, treating these self-respecting looks as disobedient stares and a form of resistance. Too much of the history of people of color in this country is one of not making eye contact, of crossing streets and embodying deference as a form of second-class citizenship. Policing, through its demands for compliance and deference on pain of being treated as resistant, is not a neutral activity, responding to crime, but a political activity, creating citizenship status through the ways the police choose if, and when, and whom, and how to encounter people on the street.
Posted by Eric Miller on October 11, 2018 at 05:29 PM | Permalink | Comments (8)
Wednesday, October 10, 2018
California's New Law Requiring Corporate Boards to Include Women: Is it Constitutional?
On Sunday, September 30, California Governor Jerry Brown signed into law a new bill requiring publicly held corporations based in the State of California to include women on their boards of directors.  Specifically, any corporation with its principal executive offices in CA must have at least one woman on its board of directors by the end of 2019.  By the end of 2021, the minimum goes up to two female directors if the corporation has five directors, or to a minimum of three female directors of the corporation has six or more directors.  You can read the bill, Senate Bill. No 826, here. 
Many people--including Governor Brown himself!--have questioned the law's legality.  It is a facial sex-based classification, which means that it will trigger intermediate scrutiny in an analysis under the United States Constitution.  (To be precise, the law defines "female" as "an individual who self-identifies her gender as a woman," so it is a facial gender-identity-based classification, but that is unlikely to change the standard of review.)  And under the California Constitution, the law is likely to trigger strict scrutiny, based on past precedent, which would be even harder to pass.  In his signing statement, Governor Brown stated that "There have been numerous objections to this bill and serious legal concerns have been raised.  I don't minimize the potential flaws that indeed may prove fatal to its ultimate implementation." 
Indeed, it's very hard to see how this law could be upheld.  It essentially imposes a quota for women, and the Supreme Court has consistently looked with particular disfavor on any state action that involves quotas or set-asides on the basis of protected characteristics.   (Oddly, the state senator who introduced the bill apparently predicted that it would be held constitutional "because it doesn't impose a quota or a percentage for board seats held by women"--but unless I'm missing something, it seems like the bill essentially does just that.)  Additionally, it seems that there are other facially-neutral measures to increase diversity that could be tried instead, such as requirements that director terms be shortened and that new directors be regularly cycled in. 
After acknowledging that the law might well be struck down in court, Governor Brown stated that "Nevertheless, recent events in Washington, D.C.--and beyond--make it crystal clear that many are not getting the message."  But does it even help the cause to adopt a measure that is so likely to get thrown out in court?  What message does that send?   I'm sympathetic to the ultimate policy goal of having more diverse corporate boards, but this doesn't seem like a productive route to me. 
Posted by Emily Gold Waldman on October 10, 2018 at 06:36 PM | Permalink | Comments (14)
Publishing opportunity--Kentucky Law Journal
Kentucky Law Journal is  looking for one article to round out its volume this year. They are specifically hoping to find a criminal law piece, but will consider other submissions as well. Authors can email submissions to [email protected]. 
Posted by Howard Wasserman on October 10, 2018 at 06:13 PM in Teaching Law | Permalink | Comments (0)
Two free speech stories
1) I agree with this argument about the problem of demeaning all protesters as uncivil, insincere, unruly mobs, which allows those in power to dismiss criticism, dissent, and protest without engaging with the ideas in dispute. Especially because, as the article notes, Republicans never criticize Tea Partiers, land protesters, or reproductive-health clinic protesters using similar tactics, often on people more vulnerable than Senators. I am curious if and where FIRE comes out on this--it has been so critical of campus lefties shutting down opposing voices, what about GOP leaders?
2) I am not sure that the Trump campaign's argument that the First Amendment protected the Trump Campaign's disclosure of the hacked DNC emails is wrong. It certainly is not as laughable as the article suggests and I wish the piece had not been so dismissive. The First Amendment generally protects disclosure of truthful, lawfully obtained information on a matter of public concern, "absent a need to further a state interest of the highest order." If the information was unlawfully obtained, the disclosing party is protected so long as it did not participate in the theft of the information, That should be as true for a political campaign finding information stolen from an opponent as for a radio host disclosing a recording of an unlawfully recorded conversation or a newspaper publishing the name of a victim of sexual assault.
The article tries to link the First Amendment argument to the administration's "collusion is not a crime" argument. But that presents a nice, open question. It is clear that the campaign is protected if the Russians and Wikileaks hacked the emails, passed them along to the campaign, and the campaign published them. It also is clear that the campaign is not protected if it conspired with the Russians and Wikileaks to execute the hacks. But what if we are in the middle with collusion--suppose the campaign did not assist in the hacks, but encouraged them, knew they were coming, and coordinated the disclosure once it had been hacked. I doubt Bartnicki runs out only if there is a full-on conspiracy; the question is where the lines are.
Posted by Howard Wasserman on October 10, 2018 at 06:07 PM in First Amendment, Howard Wasserman | Permalink | Comments (3)
Back-to-back Jewish World Series
Baseball's final four is set and all four teams have one Jewish player--Ian Kinsler (Red Sox), budding superstar Alex Bregman (Astros), Joc Pederson (Dodgers), and Ryan Braun (Brewers). This means we are guaranteed a consecutive two-Jew World Series for the first time (previous two-Jew Series before last year were 2004, 1959, 1945, and 1940). Moreover, each is a regular starter for his team.
Truly baseball's new gildene elter. 
Posted by Howard Wasserman on October 10, 2018 at 07:14 AM in Howard Wasserman, Sports | Permalink | Comments (4)
Tuesday, October 09, 2018
JOTWELL: Walsh on Hickman on severability
The new Courts Law essay comes from Kevin Walsh Richmond), reviewing Kristen E. Hickman, Symbolism and Separation of Powers in Agency Design, 93 Notre Dame L. Rev. 1475 (2015), considering the use of severability to remedy separation of powers defects in the design of federal agencies.
Posted by Howard Wasserman on October 9, 2018 at 10:50 PM in Article Spotlight, Howard Wasserman | Permalink | Comments (0)
Monday, October 08, 2018
Better Call Saul does legal-academic fundraising
In the Better Call Saul season finale, Jimmy donates $23,000 to an area law school to name the library Reading Room after his brother. Just how unrealistic was that? What is the going rate for naming rights for a room in a law school?
Posted by Howard Wasserman on October 8, 2018 at 11:17 PM in Culture, Howard Wasserman, Teaching Law | Permalink | Comments (1)
Yes, please sue
Where to begin with this suggestion that Justice Kavanaugh should sue Christine Ford and the Washington Post for $ 20 million each and that the suit would be successful? This is a new talking point among conservative commentators.
I go point by point after the jump, because there is so much wrong here.
Continue reading "Yes, please sue"
Posted by Howard Wasserman on October 8, 2018 at 09:31 AM in First Amendment, Howard Wasserman, Law and Politics | Permalink | Comments (12)
Sunday, October 07, 2018
Half measure on universal injunction in sanctuary cities case
On Thursday, District Judge Orrick of the Northern District of California enjoined enforcement of DOJ regulations denying law enforcement funds to sanctuary cities. Judge Orrick previously enjoined enforcement of a presidential order denying funds to sanctuary cities. Judge Orrick made that prior injunction universal, although the Ninth Circuit narrowed it to protect only San Francisco and non-party California, concluding that the record did not support universality.
Undeterred, Judge Orrick made this injunction universal, although with several pages of analysis and justification. That analysis ultimately comes down to this--when a narrow law or regulation (or at least a federal law or regulation) is constitutionally invalid, a universal injunction is proper. And despite the rhetoric of "careful consideration," that principle is unbounded and always applicable.
The court acknowledges (and purports to share) the concerns that universality preempts percolation of issues. But then he offers two points in response: 1) the issues here are the same as in the Seventh and Third Circuits, so percolation is occurring and 2) this is a "narrow constitutional issue," so it "does not seem to be the type of situation in which allowing more cases to percolate in federal courts would be of much benefit." The second point is simply wrong. Pure and narrow legal issues benefit from percolation, from multiple sets of eyes considering and analyzing legal questions; this is the first time I have heard it suggested otherwise. The first point misses the main issue: The first court to enter a universal injunctions ends (or should end) all litigation on the issue,; this renders litigation in other courts either moot (because any party to the second action is already protected by the original universal injunction) or dangerous (because the second court issues an order conflicting with the original universal injunction, potentially imposing conflicting obligations on the defendant).
But the court hedged slightly, staying the universality pending appellate review of a narrower alternative holding about the scope of the underlying federal statute (which applied only to the parties and thus did not warrant universality). This may become a common move between district courts, who seem to like universality, and courts of appeals, who are more circumspect about scope--make the injunction universal, but stay it. Judge Leinenweber of the Northern District of Illinois made the same move.
Posted by Howard Wasserman on October 7, 2018 at 10:55 AM in Civil Procedure, Constitutional thoughts, Howard Wasserman, Judicial Process, Law and Politics | Permalink | Comments (7)
Barnette at 75
I am happy to say that FIU Law Review's symposium Barnette at 75: The Past, Present, and Future of the "Fixed Star in Our Constitutional Constellation" was a great success, with three terrific panels and a wonderful keynote speech by John Q. Barrett (St. John's) on Justice Jackson's particular approach towards a series of contemporaneous disputes involving Jehovah's Witnesses.
Video of the entire event can be found here.
One other shout-out: At the same time as our program, Georgia State hosted a conference on Anthony Kennedy's jurisprudence, including one panel on Kennedy's prose. At perhaps the same moment as that panel, several of us were having a conversation, sparked by one speaker noting the unformulaic nature of Jackson's Barnette opinion--was Kennedy, in opinions such as Obergefell, trying to be Justice Jackson?
Posted by Howard Wasserman on October 7, 2018 at 06:52 AM in First Amendment, Howard Wasserman, Teaching Law | Permalink | Comments (0)