Monday, January 06, 2020
A teaching experiment
Our new scheduling guru is trying something new this semester--teaching on consecutive days rather than alternate days. So rather than Civ Pro meeting Monday/Wednesday/Friday, it will meet Wednesday/Thursday/Friday.
I am excited to see how this works. It should be interesting to have students working and focused on just my material (or my material and material in one other class) in a few-day block. And it fits how I structure the class and syllabus by topic rather class session--we work through something in however much time it takes, even if that time cuts across multiple classes. I am anxious to see whether that works better when students return to a case or problem in 24, rather than 48, hours.
Posted by Howard Wasserman on January 6, 2020 at 10:31 AM in Civil Procedure, Howard Wasserman, Teaching Law | Permalink | Comments (7)
AJC's @JewishandProud Day (Updated)
AJC has designated today--Monday, January 6--as #JewishandProud Day, with a campaign urging people to "wear your Jewishness publicly" and to post pictures with your Jewishness and the slogan below on social media.
Continue reading "AJC's @JewishandProud Day (Updated)"
Posted by Howard Wasserman on January 6, 2020 at 09:31 AM in Howard Wasserman | Permalink | Comments (2)
Sunday, January 05, 2020
Limiting rules in football
On Saturday, the Tennessee Titans ran almost two minutes off the clock without a snap in their Wildcard Round win over the New England Patriots, exploiting a glitch in the rules that calls for a limiting rule.
Lining to punt on 4th down with the game clock running, the Titans took a delay-of-game penalty; the clock restarted when the ball was placed after the 5-yard walk-off. The Titans then false-started; the clock restarted when the ball was placed. The Patriots then jumped offside; the clock restarted when the ball was replaced. Finally, the Titans punted.
Continue reading "Limiting rules in football"
Posted by Howard Wasserman on January 5, 2020 at 05:47 PM in Howard Wasserman, Sports | Permalink | Comments (3)
Friday, January 03, 2020
Double Aspect Blog on Canadian Supreme Court Dissents
In a post last year I called attention to the terrific Canadian public law blog Double Aspect, which had a great, very un-Canadian end-of-year series of posts in which the hosts and guests of the blog discussed their least favorite Canadian Supreme Court decisions. This year, Double Aspect has focused on another great subject: ten days worth of host-and-guest contributions discussing their favorite dissenting opinions in the Canadian Supreme Court. It's another wonderful read and, in its focus on dissents rather than majority opinions, a useful corrective to more cheery and approving takes on Canadian constitutional law by constitutional comparativists. I am pleased that a number of the writers picked Justiice LaForest's dissent in the Provincial Judges Reference case, Justice McLachlin's dissent in Keegstra, Justice Moldaver's dissent in the Supreme Court Act Reference case, and the joint dissent of Justices Binnie and LeBel in Chaoulli. Worthy choices all, if only for sounding a much-needed note of caution about judicial capacity and wisdom. A number of the writers also focus on religious liberty cases. I recommend the posts, for those interested in judicial dissents in general as well as those who are interested in learning more, and from a different perspective, about Canadian constitutional law. The posts run from the most recent down and are currently at the top of the blog.    
Posted by Paul Horwitz on January 3, 2020 at 01:18 PM in Paul Horwitz | Permalink | Comments (0)
Taking states seriously: new frontiers of public law
One of the most interesting and revelatory new connections I forged during my post-decanal sabbatical adventure was with Mr. James Tierney.  Teaching currently at the Harvard Law School, Jim is the former attorney general of Maine -- and not just any AG, but someone who has been described as "America's 51st attorney general."  Passionate, brilliant, and energetic, Jim is an evangelist for curricular attention to state public law.  He explains, rightly, that most of our students will become deeply engaged, in one way or another, with state and local legal institutions. These institutions (take the state judiciary as just one obvious example) function in the long shadow of state political institutions.  Lawyers permeate these institutions and the work of lawyers on behalf of clients, whether for private pecuniary interest or the public interest broadly defined, is deeply enmeshed into state legal and political structures. 
To the end of enriching student learning, both doctrinal and experiential, Jim and a number of other resolute colleagues have developed meaningful courses in this space. State constitutional law, which is experiencing a nice renaissance, and local government law are obvious examples.  Less obvious are traditional courses which would benefit from such exposure to the work of, inter alia, the state executive branch and also the network of relationships among state agencies, state courts, and general purpose local governments.  Students could (and perhaps should) be exposed to these issues in the first year private law core, including torts, contracts, and property.
Tierney, who has walked this walk at Columbia and Harvard Law Schools, among others, has also developed a web of resources for current state AGs.  The stateag.org site, linked here, gives one a flavor of a rich bevy of programs and initiatives that assist state lawyer-leaders and also communicate, and not too subtly, the message that understanding the mechanisms of state government is increasingly important. 
At the level of tactics, we ought to look for ways of connecting these professional opportunities with law school curricula, and even academic scholarship.  There is, of course, imaginative and sophisticated work in local government law, some of which connects to state public law themes rather directly. And state con law, as mentioned above, is an active scholarly field with good growth potential.  What Tierney's initiatives, propelled (as I can testify first-hand) by a remarkable lawyer with boundless energy, point to is a marriage between ambitious public law academics and their law school homes on one side of the aisle and seasoned AGs and other public officials who are committed to working within the domain of academic culture to fertilize this field of state public law.   
Posted by Dan Rodriguez on January 3, 2020 at 12:32 PM in Daniel Rodriguez | Permalink | Comments (0)
Lawsuit Against the ERA
Three states recently filed a lawsuit that seeks to stop the Archivist of the United States from recognizing the ERA as part of the Constitution. This is odd because neither the Archivist (nor anyone else) thinks that the ERA is part of the Constitution.
Assuming (as expected) that Virginia ratifies the ERA sometime this year, the Archivist could in theory declare the ERA ratified under Article Five. But there is no reason to think that the Archivist will say that. It would rather astonishing (and wrongheaded) for him to do so. And in the unlikely event that he did, that action could be challenged as unlawful.
In short, the pending suit should be dismissed as unripe. And probably will be, either before Virginia ratifies or afterwards. 
Posted by Gerard Magliocca on January 3, 2020 at 11:58 AM | Permalink | Comments (4)
Thursday, January 02, 2020
Political grass is always greener . . .
Thursday morning, I read this Atlantic piece from Lee Drutman (New America Foundation) arguing that a pure ideological two-party system had broken the Constitution. It produced the situation that Washington, Hamilton, Madison, and others feared of the "alternate domination of one faction over another." Drutman urges Congress or states to institutionalize multi-party democracy and proportional representation; he argues that Madison's Federalist No. 10, "with its praise of fluid and flexible coalitions," envisioned some form of multi-party system.
Thursday evening, I read this Tablet piece from Neil Rogachevsky (Israel Studies and Political Thought at (Yeshiva), arguing that multi-party democracy and proportional representation is what has placed Israel in its current political predicament, with no party able to form a government. He hopes that Benjamin Netanyahu might be able to push first-past-the-post as a parting gift to the country.
There are no right answers.
Posted by Howard Wasserman on January 2, 2020 at 09:06 PM in Constitutional thoughts, Howard Wasserman, Law and Politics | Permalink | Comments (2)
2020: The Year of Regulatory Reform in Legal Services? (And how the law professiorate might help)
The last eighteen months or so has brought an enormously interesting, and potentially quite impactful, stew of proposed regulatory reforms in the legal services delivery space to the fore.  Efforts in Arizona, California, and Utah have been especially notable, and other states are wading it as well.  The ABA Center for Innovation, whose council I have the privilege of chairing, has proposed a resolution that applauds this process of experimentation, focusing on what it represents for potentially enhancing access to justice, and calls for a greater collection and analysis of evidence of these reforms' impacts.  (Text of the resolution and report here). Moreover, the Institute for the Advancement of the American Legal System (IAALS) has embarked on an ambitious project entitled "Unlocking Legal Regulation," the gist of which is a comprehensive look at the state of legal regulation.
For those new to these developments, here are some valuable resources:
Arizona (full task force report here; news reports here and here).
California (the report by Prof. Bill Henderson of Indiana-Bloomington which started the ball rolling.  summary of recommendations, with relevant links here; news report here)
Utah (full report from working group; news reports here and here). 
Chicago, Illinois (announcement of the task force).
Some general commentary on these developments by Jayne Reardon in Illinois, Andrew Arruda of California, a member of the Cal task force, and Zachariah DeMeola of IAALS.  Also, the Innovation Center has a website detailing the current regulatory landscape.
As with any spate of experiments, there will be advances and setbacks.  The legal profession is a profoundly conservative one, and there are myriad headwinds -- some borne of protectionist impulses and strategies, and others of skepticism more well meaning (and thus credible) in its contours -- facing these reform efforts.  Utah is perhaps the furthest along this road, with Arizona coming quickly behind. The California efforts, potentially the most significant, given the state's size, have faced great opposition by lawyers within this state, and it remains to be seen whether some of the tremendous work of the state bar task force will bear fruit in the coming months.  So, in all, 2020 is shaping up to be a most interesting year with regard to fundamental change in how lawyers and legal services are regulated.
Law professors have not typically been at the vanguard of these movements. (With important exceptions, to be sure).  Yet, these reforms are of an enormous potential significance to our graduates, our current students, and therefore to our law schools.  How can we engage in these efforts beyond watching patiently as matters unfold?  A few thoughts:
Consider programs and projects which seek to connect the dots between the present structure of legal services regulation and access to justice considerations.  Reform evangelists tout the connection between ambitious changes and enhancing A2J; skeptics insist that these connections are tenuous.  Surely the matter is a complicated one; and, to be sure, we won't truly know these impacts until and insofar as we can develop some natural experiments in the U.S. context and therefore measure impact over time.  Law professors, especially those with expertise in these substantive topics and, as well, good empirical chops, will be in a great position to speak and do scholarship on these issues.  Some of this is already happening. (Check out this program at Arizona, just for example);
Where law profs have confidence in the value of certain reform proposals -- for example, permitting non-JD holding professionals to provide certain legal services or permitting alternative business structures for law firms in order to raise new sources of capital --, advocate in various fora for the implementation of these reforms.  This could be especially valuable in those states which are currently focused on these reforms and where law profs at state law schools are called upon for their input.  I know, for example, that the deans of the law schools in Utah and Arizona (along with key colleagues have been especially valuable interlocutors in these discussions;
Build bridges between law schools and their alumni so as to collect good data about lawyer performance and the current state of legal services delivery. Sure, there are omnibus groups, such as IAALS, the ABA Innovation Center, the American Bar Foundation and the like who can and should lead these data collection efforts.  However, law schools can be especially useful to this reform process by sharpening the focus on law school-specific cohorts, surveyed with care and evaluated over time, in order to illuminate the challenges and achievements of these lawyers and how the structure of legal services regulation has impacted their advocacy and counseling work.
There are undoubtedly more bullet points to add here.  My main message is that there is great ferment in the area of legal services reform.  Our colleagues who work on legal ethics/professional responsibility are especially knowledgeable in this space.  But expanding the legal academy's focus outward from there, drawing in colleagues in areas such as administrative law, corporate law, law & technology, empirical legal studies, and state constitutional law (among other areas) would help enhance understanding.  And a fruitful byproduct would be to show how law professors can add value to practice-related debates by their scholarship, their teaching, and their convening skills.
Posted by Dan Rodriguez on January 2, 2020 at 01:56 PM in Daniel Rodriguez | Permalink | Comments (5)
Wednesday, January 01, 2020
How does a descendent of Huguenots, son of a fur trader . . .
The 2019 Year-End Report on the Federal Judiciary begins, as always, with an historical ditty. This year, it is the Doctors Riot in New York in 1788 as the reason that, as the lyrics in Hamilton tell us, "In the end, they wrote eighty-five essays, in the span of six months/John Jay got sick after writing five/James Madison wrote twenty-nine/Hamilton wrote the other fifty-one." Kudos to Roberts for the line "perhaps if Jay had been more productive, America might have rewarded him with a Broadway musical."
The theme this year is civic education and the essential role of individual judges, the courts, and the judiciary in providing that civic education. Roberts writes:
It is sadly ironic that John Jay's efforts to educate his fellow citizens about the Framers' plan of government fell victim to a rock thrown by a rioter motivated by a rumor. Happily, Hamilton, Madison, and Jay ultimately succeeded in convincing the public of the virtues of the principles embodied in the Constitution. Those principles leave no place for mob violence. But in the ensuing years, we have come to take democracy for granted, and civic education has fallen by the wayside. In our age, when social media can instantly spread rumor and false information on a grand scale, the public's need to under-stand our government, and the protections it provides, is ever more vital. The judiciary has an important role to play in civic education, and I am pleased that the judges and staff of our federal courts are taking up the challenge.

Three other things are sadly ironic. One is that the Court is poised to resolve cases involving congressional subpoenas that should be easy in a democracy--Congress can investigate a President, including through subpoenas of unconnected third parties, however it sees fit--but that seem to be genuine toss-ups given current political divides. Two is that the current President has done more to use social media to spread rumor and false information on a grand scale and the Court, when pressed, has fallen in line and may do so again.
Three, and away from the politics of the day,  Roberts does not mention the role that video or audio-recording-with-speedier-release of arguments could and should play in this civic education. He mentions courts posting opinions* online, giving the "public instant access to the reasoning behind the judgments that affect their lives." Wouldn't "instant access" to the public arguments leading to the "judgments that affect their lives" provide a similar public civic-education benefit?

[*] He does offer a nice description of the distinction between an opinion and a judgment--"judges render their judgments through written opinions that explain their reasoning." That distinction is key to judicial departmentalism and the non-judicial branches engaging in meaningful constitutional interpretation. More on that later.

Posted by Howard Wasserman on January 1, 2020 at 09:26 AM in Howard Wasserman, Law and Politics | Permalink | Comments (1)
Tuesday, December 31, 2019
Karen Daniel, RIP
The sudden, tragic death of our Northwestern colleague, Karen Daniel, has hit hard not only our law school community, but the wide community of individuals and organizations devoted to criminal justice work, especially in the area of the wrongfully accused. Karen's professional life was focused like a laser on impactful litigation and advocacy. Brought to Northwestern several years ago by Larry Marshall, one of the founders of the Center on Wrongful Convictions, Karen established an important practice in this space, working with talented lawyer-teachers and mentoring many  students.  As dean, I appointed Karen and Jane Raley co-directors of the CWC.  (This was a no-brainer decision, I hasten to add, but one of which I remain proud).  Jane passed away on Christmas Day five years ago; Karen soldiered on; and the CWC continued its heroic work.  Because law school politics are what they are, some colleagues always looked with some skepticism at the CWC's large role in the curricular ecosystem of our law school, wondering whether the project had become in some way outsized.  But, reflecting back on this recent difficult period, I feel liberated enough to say that this perception misses a larger point, and that is that the CWC's contributions, and Karen's, ought not be measured simply by the number of students in the courses and the per-student costs of the program.  Rather, the CWC (by which I mean also to include the programs focused on youth and on women specifically) s a jewel in the crown of our Bluhm Legal Clinic and Northwestern's law school because of what it did and also what it represented -- as a foundational project of justice seeking in a profoundly unjust world.
I will always remember Karen Daniel as a key, and truly irreplaceable, piece of that mighty, and hopefully enduring, foundation.
I will also remember a plane ride I took with Karen several years ago, after I had appointed her to the CWC co-directorship.  In the bureaucratic miasma of a large, complex law school, I more often than not neglected to get to know in a broad and deep way many of my colleagues.  As dean, I took some neglectful shortcuts, figuring that the public bios and encomia from colleagues enabled me to learn enough to make faculty-related decisions.  This made the opportunity to connect more with colleagues all the more meaningful. By happenstance, Karen and I found ourselves sitting next to each other in a trip returning (if I recall correctly) from a AALS meeting in Washington DC or New York.  In that trip together, I discussed with Karen her professional journey and her work in our Clinic.  Talking about teaching and advocacy, Karen constantly returned to the humans involved -- the clients, the exonerated individuals, their families, their challenges, their meaningful lives. Her passion was always close to the surface; and I was moved by her words and the life force in this modest lawyer-teacher.  Others at our law school knew Karen better and for longer; but it was a privilege to have this window into the incredible work of one of my remarkable colleagues.
Words will of course fail at communicating the measure of this tragedy. So much left to accomplish, as a teacher, an advocate, and a friend. But I know well that Karen Daniel's legacy of service and accomplishment within and outside of our community is forever secured and, as I believe deep down she would want to say, our redoubled commitment in our law school, the legal academy, and the criminal justice community to the profoundly important work of CWC and other impactful organizations, is the true legacy of this life very well lived.
Posted by Dan Rodriguez on December 31, 2019 at 12:01 PM in Daniel Rodriguez | Permalink | Comments (1)
Monday, December 30, 2019
Hate crimes charges in synagogue stabbing (Updated)
The United States has filed federal hate-crimes charges against Grafton Thomas, accused of stabbing five people at a shul during a Chanukah celebration. The charges were brought under § 247, which prohibits obstruction of a person's free exercise of religion through the use of force. According to the complaint allegations by FBI Special Agent Julie Brown, Thomas' handwritten journals and internet searches focused on some anti-Semitic content.
I have never been a fan of hate-crimes laws. I believe SCOTUS gave too-short shrift to the First Amendment concerns in upholding the concept in Wisconsin v. Mitchell. I am not convinced that Thomas' actions are "worse" because he targeted Jews as to require different crimes or punishments. Nor do I (as sort-of part of the "attacked" group*) feel safer or more protected that Thomas will be prosecuted for the specific crime of targeting Jews as opposed to the more general crime of attempted murder or assault-with-a-deadly-weapon or something like that.
[*] To be clear, in response to a reader email, I am not trying to separate myself from the victims of these attacks as "different" types of Jews. By sort-of, I was making the point that the attacks have been localized in insular Jewish communities in New York. So I am part of the group as a Jewish person; I am not part of that insular and localized group. For purposes of this post: If the attacks were taking place against Jews in Coral Gables, Florida (where my temple is located), I would not be in any greater favor of hate-crimes laws as the solution.
I did not know about § 247, distinct from § 249(a), which makes it a crime to willfully cause or attempt to cause bodily injury to a person because of, among other things, the victim's actual or perceived religion, race, or national origin. I am curious why the U.S. Attorney charged under § 247 rather than § 249. Is the difference that this attack occurred during religious exercise--a Chanukah celebration at a place of worship--rather than from encountering a Jewish person on the street? And if the US Attorney pursues others of the dozen-or-so attacks on Jews of the past eight days, which occurred on the street, would it use § 249 instead?
Update: Marty Lederman also wonders why the government used § 247 rather than § 249, because it would be easier to prove both the motive element and the jurisdictional elements under § 249 than § 247 (although Marty believes the government can prove both as to § 247).
Posted by Howard Wasserman on December 30, 2019 at 05:10 PM in Constitutional thoughts, Howard Wasserman | Permalink | Comments (8)
Dean Search: Roger Williams School of Law
Roger Williams University invites nominations and applications for the position of Dean, School of Law.
Continue reading "Dean Search: Roger Williams School of Law"
Posted by Howard Wasserman on December 30, 2019 at 09:31 AM in Teaching Law | Permalink | Comments (0)
Sunday, December 29, 2019
Karen Daniel (1957-2019)
At Faculty Lounge, Steve Lubet has stories and remembrances of Karen Daniel, former director of Northwestern's wrongful-convictions clinic, who was struck and killed by a car last week.
Posted by Howard Wasserman on December 29, 2019 at 11:21 AM in Teaching Law | Permalink | Comments (0)
Friday, December 27, 2019
AALS Law Prawf Karaoke
The following comes from Franita Tolson (USC) and Anthony Michael Kreis (Chicago-Kent):
AALS Law Prawf Karaoke on Saturday night while we're in D.C..
Time: 8pm, Saturday, January 4th.
Place: Recessions Bar 
1823 L Street Northwest
Washington, DC 20036
Uber/Lyft/Taxi Meeting Point: For those who want to ride over together, we will meet in the Marriott Wardman Park main lobby at 7:30pm.
Please spread the word to anyone who might be interested that I've inadvertently left out. Hope to see y'all there!
Posted by Howard Wasserman on December 27, 2019 at 10:23 AM in Teaching Law | Permalink | Comments (0)
Tuesday, December 24, 2019
Constitutional small claims court
Clark Neily at the Cato Blog proposes a constitutional small-claims court for low-level constitutional violations. Neily's starting example is a cop citing a woman for disorderly conduct for saying "bitch" in public, an obvious constitutional violation, then ordering away (on the silent threat of arrest) an attorney who attempted to intervene. Neily's proposal would create a small-claims-court/traffic-court hybrid, with small-money damage awards paid from an escrow fund established by each department. Neily acknowledges the major structural departure, but says it is better than the current approach, "which is to collectively shrug our shoulders at the vast majority of relatively low-level civil-rights violations committed by cops hundreds, if not thousands, of times a day across the country."
It is an interesting idea, of a piece with other proposals to enable recovery on small violations. In my Civil Rights class, I discuss Jim Pfander's proposal to allow plaintiffs to seek only nominal damages in exchange for eliminating qualified immunity.
There are a host of details to work out, as Neily acknowledges. They begin with whether this system is in federal or state court and what that choice says about our current assumptions about the federal judiciary and civil rights. If at the state (or municipal) level, recall that municipal traffic courts have become money-making institutions for themselves, their local governments, and their police departments, creating their own constitutional violations. We might worry about recreating that system, even with the different goal of compensating citizens against governmental overreach. Finally, should it be limited to police or should it extend to other executive officials who violate rights in a small, l0w-level way, such as the staffer in the Recorder of Deeds office?
Posted by Howard Wasserman on December 24, 2019 at 11:27 AM in Civil Procedure, Constitutional thoughts, Howard Wasserman, Judicial Process, Law and Politics | Permalink | Comments (4)
Saturday, December 21, 2019
More on the role of academic experts
Andrew Ferguson in The Atlantic offers a new contribution to the debate over academic experts in public debate and public affairs and he pulls no punches in arguing that academic experts have nothing to add to public-policy debates. He aims his current ire at historians in the current impeachment debate, but spares some for nuclear scientists who argued for disarmament in the '80s and doctors arguing for stem-cell research in the '00s. He also questions the motives of the "obscure signatories from backwater colleges scattered between the coasts" who enjoy the ego boost of seeing their names alongside better-known professors. As I said, he pulls no punches.
I do not reject the participation of experts as completely as Ferguson does, because I believe there is a place for that participation. Ferguson's pithy point is "[i]f I want to understand the Whiskey Rebellion of the 1790s, Sean Wilentz [the Princeton history professor] will be my go-to guy, I promise. But Trump's impeachment, and contemporary politics in general?" The problem is that the Whiskey Rebellion (or some other historical event) might be essential to understanding contemporary politics, making that expertise essential to understanding contemporary politics. The same for nuclear scientists. Ferguson dismisses their actions as assuming that "knowing how to build a bomb was the same as knowing whether it should be used," ignoring that scientists' knowledge of the bomb's effects is relevant, thus helpful, to the political question of whether the bomb should be used. I agree that some of this is argument from authority. But some of this input from experts is necessary, proper, and essential.
Which brings us to Ferguson's insistence that "[t]he whole democratic enchilada rests on the assumption that when it comes to prudential matters of public importance, the view of the stevedore is as valuable as that of the Princeton professor." But I am not sure that is democracy's assumption (putting aside that we are a republic, not a democracy). Democracy assumes that the stevedore and the Princeton professor's votes count equally in selecting representatives and that the stevedore and the Princeton professor have an equal right to speak on matters of public concern. But democracy does not assume the surrender or rejection of any role for experts and expertise. Nor does democracy assume that, on a matter on which the Princeton professor offers an expertise that the stevedore lacks, the stevedore's views should be as influential on policy decisions. Just as I expect the stevedore's views should be more valuable and influential on the question of working conditions on the docks.
Ferguson is on the same page as Paul, Eric, and others who criticize academics for trading on their prestige in opining on matters beyond their expertise; the trick then becomes figuring out when those academics are truly speaking as useful experts and when they are speaking as credentialed citizens (as Brian Kalt put it, "your average lawyer"). But Ferguson goes one step further in rejecting all expertise.
Posted by Howard Wasserman on December 21, 2019 at 06:12 PM in Howard Wasserman, Teaching Law | Permalink | Comments (11)
Some Questions About the Harvard Law Review and its Scholarly Treatment of Prison Issues
This is a long post. I say so below, in the body of the post, but want to emphasize it here at the start in a kind of preface. I wanted to write what is ultimately a questioning and critical post in a way that was fair, and that aimed at the questions that inspired it without being dismissive of the work I'm questioning. I think the questions I raise are valid and important ones, concerning the nature of legal scholarship and the state of what is supposed to be one of the leading journals of legal scholarship, the Harvard Law Review. They deserve to be aired fully, both to put it on the record, so to speak, and so that those who care about these things can confront them properly and in an informed fashion. I'm sure there are many ways to write the same post more briefly. Some of them would involve stinting on details that I think matter, however, and most of them would involve spending more time than I have. As it is, medical issues delayed the publication of this post, which I started writing in November and ought to have published a few weeks ago. That's a benefit of sorts, since it gave me more time to see whether my concerns would be addressed in a timely fashion in the Harvard Law Review Forum. I can't say I apologize for the length, but I wouldn't object if many readers chose to give the post a miss. Where concerns about scholarship and our discipline are concerned, I think it's important to put things on the record, even if that record is too lengthy.   
For those who are still interested, bear with me. For what it's worth, my main area of interest and reason for writing this--not to dismiss the articles I discuss here, but to ask about how they relate to the basic scholarly mission of the Harvard Law Review and what is largely missing so far from its work on the topic of "prison abolition"--can be found in the final section of the post.  
* * * 
This year's Supreme Court issue of the Harvard Law Review is out. I always enjoy it, both in itself and as an object of professional and institutional inquiry. The Foreword this year, by University of Pennsylvania professor Dorothy Roberts, is titled Abolition Constitutionalism. Its take-off point is "prison abolition." In Professor Roberts's words and those of the writers she quotes, "Many individuals have...concluded that the answer to persistent injustice in criminal law enforcement is not reform; it is prison abolition." The movement wants to "'make "abolition" a practical theory of change.'" Roberts's Foreword seeks to "make the case for an abolition constitutionalism that attends to the theorizing of prison abolitionists...[and] to examine prison abolitionist theory and organizing as it relates to the U.S. Constitution in particular." The ultimate goal is to "construct a new abolition constitutionalism on the path to building a society without prisons."
This is the second occasion in a very short period of time on which the Harvard Law Review has devoted substantial space and resources to this topic. An unusual "Developments in the Law" issue of the HLR in April 2019 also focused on prison abolition. I say "unusual" because, at least as long as I can remember as a reader of the HLR, the Developments issue has been student-written. This Developments issue was, apart from an introduction, written instead by two professors, an activist who is also an adjunct professor, and a Miami Law student who served a prison sentence and now also works for restoring voting rights to former prisoners. I found the departure from the norm noteworthy as such, and--or "but"--admired the inclusion of a number of individuals, especially a non-"top ten" law student, who do not fit the usual pattern of iron-cage credentialism that generally characterizes the leading law journals. But it was unusual. I have more to say about Roberts's extensive (about 120 pages) Foreword below, but I'll just say for now that I read it and admire various things about it, some of which I identify and single out for praise.   
On the one hand, the focus on the single topic of "prison abolition" in two nearly-contemporaneous issues, surely involving at least some overlap of editors, could be taken as indicating that the HLR, or its current staff, take the subject very seriously indeed. And one might say by extension that its staff takes very seriously the "'concrete reforms" (to quote the introduction to the Developments issue) that might be made with respect to a congeries of issues: the number of prisoners in the United States, the number of African-American prisoners in particular, capital punishment, bail, court fees and fines, the effect of criminal records, and police violence, to name a few identified in the same introduction. On the other, I can't help but feel that the Foreword and the Developments issue taken together present some intellectual, political, and institutional questions that raise genuine questions about the journal's ultimate seriousness about these issues, about reform with respect to these topics, and about its willingness to engage in serious intellectual inquiry about them and about "prison abolition" as a movement and a theory.
Of course this is the usual long post, for a couple of reasons other than the usual didn't-have-enough-time-to-write-a-short-post one: 1) I want to give due credit to the Foreword and its author and to the review and its editors for positive or creditable aspects of these works while still raising some questions and potential criticisms, and doing both requires a little more nuance and space. That's especially so because it seems to me that we live in a cultural and intellectual moment in which sincere caveats or notes that in a sound academic environment ought not be needed at all--such as that criticism does not mean one is attacking or disagrees completely with an article or a scholar or a viewpoint--are no longer assumed or given sufficient credence. 2) I'm interested in raising questions about how an intellectually serious journal would address the issue or movement or theory of prison abolition, not in taking a position on prison abolitionism itself. That again requires a little nuance. My goal is ultimately to ask what one would expect of a journal that takes these issues seriously and is a serious intellectual and academic enterprise as opposed to something else entirely, not to take on the substantive topic. But I think the questions I ask are legitimate, and could or even should be voiced more vigorously, not least by Harvard's own faculty and administration.   
Continue reading "Some Questions About the Harvard Law Review and its Scholarly Treatment of Prison Issues"
Posted by Paul Horwitz on December 21, 2019 at 12:16 PM in Paul Horwitz | Permalink | Comments (0)
Happy Holidays - Take a Break from Research with Fiction about Us
Professors deserve some downtime too... As longtime readers of this blog know, my favorite type of fiction is the one close to home - the academic or campus novel. So I liked finding this list which includes some of my favorites (William's Stoner; Lodge's Trilogy; Sittenfield; Chabon; Rooney) and some new titles I need to order. Enjoy and if you stumble upon some new great academic novels please SHARE!
I am in the middle of Richard Rousseau's new book Chances Are, and it is about the formative college experience, but not a true academic novel like his amazing Straight Man. I also so want to find something that would match the four Napoli books of Elena Ferrante, which at some point become about a professor's life.
Posted by Orly Lobel on December 21, 2019 at 02:02 AM | Permalink | Comments (6)
Thursday, December 19, 2019
Oaths, Impeachment, and Questions of Degree
Senator Lindsey Graham caused quite a stir last week when he said, regarding the impeachment of Donald Trump "I'm not trying to pretend to be a fair juror here."  Soon after, Senator Mitch McConnell said "I'm not an impartial juror . . . I'm not impartial about this at all."  While we might all suspect that Graham and McConnell were never going to vote against President Trump in the upcoming impeachment trial, these statements are nonetheless controversial because they seem entirely at odds with the oath that both Graham and McConnell will have to swear at the beginning of the impeachment trial.
The U.S. Constitution states: "The Senate shall have the sole Power to try all Impeachments. When sitting for that Purpose, they shall be on Oath or Affirmation."  The oath itself is not written into the text of the Constitution, but the current Senate rules contain the following oath: ""I solemnly swear (or affirm, as the case may be) that in all things appertaining to the trial of the impeachment of [name], now pending, I will do impartial justice according to the Constitution and laws: So help me God.''  Similar language about impartial justice has been used in the oath for a very long time, at least dating back to the impeachment trial of Andrew Johnson.
While the text of the Constitution does not say anything about impartiality, it seems pretty clear why impartiality is included in the oath.  In Federalist 65, for example, Alexander Hamilton stated that the Senate was the optimal body to try impeachments because they were independent and thus more likely to be impartial:
Where else than in the Senate could have been found a tribunal sufficiently dignified, or sufficiently independent? What other body would be likely to feel CONFIDENCE ENOUGH IN ITS OWN SITUATION, to preserve, unawed and uninfluenced, the necessary impartiality between an INDIVIDUAL accused, and the REPRESENTATIVES OF THE PEOPLE, HIS ACCUSERS?
In other words, Hamilton wanted the Senate to make these decisions precisely because it was more insulated from political pressures.
Others have noted that the statements by Graham and McConnell are, on their face, inconsistent with the oath.  I agree.  But I wanted to write this post in response to a counterargument that I've seen—namely, that because impeachment is necessarily a political process, we cannot expect the Senators to actually be impartial.  Perhaps the oath is outdated, some say, and in a post-Seventeenth Amendment world,* we must expect that Senators will make their decisions solely on the basis of partisan considerations.  In other words, some are arguing that, the oath notwithstanding, we cannot expect political actors to behave impartially.
I am no impeachment expert, but I think that this issue raises a deeper question that is worth talking about.  The question is whether we can acknowledge that impeachment will necessarily include political considerations, while, at the same time, insist that it be something other than an exercise in rank partisanship. That politics will play a role in impeachment is, of course, inevitable because the task was assigned to Congress.   But even if politics has some role to play--or at least will play some role--in impeachment, that doesn't mean we should throw away the idea of the oath or the principle of impartiality.  I think we can acknowledge some role for politics without saying that politics is the only thing that will or should matter. 
Continue reading "Oaths, Impeachment, and Questions of Degree"
Posted by Carissa Byrne Hessick on December 19, 2019 at 02:36 PM in Carissa Byrne Hessick, Constitutional thoughts, Current Affairs | Permalink | Comments (9)
Wednesday, December 18, 2019
Kalt on "Experts" and Journalists
A nice piece by law professor Brian Kalt at Quillette, arguing that, as the headline puts it, "Journalists Need to Do a Better Job Matching 'Experts' to Their Actual Expertise." Although Kalt is writing mostly about law professors, of course it is true of many subjects.
I note Kalt's piece for purposes of adding two things. First, as Kalt observes later in the piece, perhaps too gently, this is something the experts themselves could help with. I would go further than that. By definition, the "experts" themselves are the ones who are supposed to get it right: to know the subjects on which they are or aren't qualified to opine. Kalt writes, correctly, that when contacted by a journalist, one may not know enough to opine, but may have some idea who is an expert in that area and to offer those names to the reporter. It's a good thing, and perhaps a professional obligation, to help in that fashion. But the most important word in the sentence "No, I'm not an expert on this subject and thus won't talk to you, but here are some people you might contact," is "No." The most important obligation an actual expert has is to refuse to talk qua expert about any subject on which one isn't actually expert. 
Expertise is not relative. Some professors may console or rationalize a willingness to talk on such subjects on the grounds that they certainly know more about the subject than the reporter or than many laypeople and thus can be of some help. But expertise consists of a high level of skill or knowledge, not a better-than-average level of skill or knowledge. And it is topic-specific. Teaching a survey course in some area does not make you an expert on everything contained within that course, and most people who teach, say, constitutional law focus their scholarship on some particular area rather than the whole megillah. If you're not genuinely expert on the topic you've been asked to opine on, just say no. The headline of Kalt's piece notwithstanding, it seems to me that the burden is first and foremost on the "expert," not the journalist. (Nor, of course, is it sufficient that being quoted is seen as being good for your law school or university. Even if it were true, which I doubt, that it's genuinely good for your institution for you to talk about questions outside your expertise, your primary duty is to your discipline and to your professional integrity. Being an academic means never having to say you're sorry when you tell your institution's press person that you're unwilling to talk to a reporter.)
Second, Kalt offers a useful stylized account of what he thinks and says when asked to opine on some issue about which he has "only a glib understanding and no special expertise," in which he explains to the reporter that he doesn't know more about some question than "your average lawyer." It seems to me that this is the key to the dialogue Howard had a while back with some commenters about why he would not sign a law professors' letter addressing the question of a judicial nominee's demeanor. Howard wrote that that question "did not call for any scholarly expertise"; some commenters argued back that this was a question on which one could be an expert. There is some truth to the commenters' counter-argument, at least in the abstract. But it is not a question on which most law professors, or even most teachers of subjects like legal ethics, are expert, and they are certainly not expert simply by virtue of being law professors or lawyers. If your opinion on a subject is ultimately, and at best, just that of "your average lawyer," again, you should not opine on that question.       
Posted by Paul Horwitz on December 18, 2019 at 02:08 PM in Paul Horwitz | Permalink | Comments (0)
Criminal Law syllabus / course aims and goals
Over the years, I've revised, tweaked, abandoned, and cobbled together a few pages, at the front of the syllabus, about the aims and goals of my first-year Criminal Law course. To avoid exam-grading obligations, I'm messing around with them again. And, if anyone else needs an avoidance-behavior opportunity, I'd welcome reactions and suggestions!  Below the jump . . .
Continue reading "Criminal Law syllabus / course aims and goals"
Posted by Rick Garnett on December 18, 2019 at 11:39 AM in Criminal Law, Rick Garnett | Permalink | Comments (2)
Monday, December 16, 2019
The Clinton Impeachment Precedent
There is some talk from the President's supporters (and others) that his impeachment means that impeachment will become a more common part of politics. This may be true, but I would pin the blame on the Clinton impeachment.
Prior to 1998, every impeachment was done with a reasonable prospect of obtaining a conviction in the Senate. Not every trial resulted in a conviction, of course, but the ones that did not were close. While analogies to criminal law are tricky in impeachments, there is some similarity here to the thought that a prosecutor should not bring a case unless he or she thinks that there is a reasonable chance of obtaining a conviction. In other words, people should not be indicted just to make a statement.
The Clinton impeachment broke new ground. Everyone knew that the Senate would not convict President Clinton, but the House impeached him anyway. This was a defensible position in the sense that the House and the Senate are independent bodies. The House of Representatives is within its rights to impeach someone no matter what the Senate thinks. After all, maybe the Senate is partisan, maybe the Senate is wrong, etc. Once the House started down that road, though, a restraint on presidential impeachment was removed.   
Posted by Gerard Magliocca on December 16, 2019 at 09:29 PM | Permalink | Comments (3)
Reported Entry Level Hiring 2020 - Spreadsheet
Here is the spreadsheet for 2020 entry-level hiring. This information is drawn from what seemed to be public postings (for example, tweets) that announced entry-level hires. I have included the link to the relevant public source (for example, the tweet announcing the hiring).
As always, if you are the person listed and would like the entry changed or removed, just send me an email and I will immediately change or remove the listing.
I'm happy to add other reports of hires anytime, if people want to email me with their own information (or if someone wants to point me toward a public source for the information, such as a tweet or announcement by a school); in addition, the usual call for information will be posted in early March.
Posted by Sarah Lawsky on December 16, 2019 at 09:30 AM in Entry Level Hiring Report | Permalink | Comments (8)
Sunday, December 15, 2019
Proposal for Law Journal Publication Reform
Brian Galle (Georgetown; Chair of AALS Section on Scholarship, Advisory Committee on Law Journal Reform) has shared the working draft of the Section's proposal for reworking the publication system. It makes two proposals. It is worth a read.
The moderate change is Limited Submission with Mandatory Acceptance ("LSMA")--authors submit to a limited number of journals and must accept the first offer. A supplement would impose a "quite period" of four weeks--no journal can make an offer on a piece for four weeks from receipt. The sweeping change is a Matching System, a la medical residency--authors identify the journals they would publish in and journals identify the articles they would publish.
The Section meets on from 3:30-5:15 on January 5 at the AALS Annual Meeting.
Two interesting proposals. I am trying to think about which approach is best specifically for professors at schools outside the top-50 or top-75 schools.
Posted by Howard Wasserman on December 15, 2019 at 09:20 PM in Howard Wasserman, Teaching Law | Permalink | Comments (1)
The Constitutional Remedial Gap
The current impeachment proceedings exemplify a recurring problem in American history. If a President engages in misconduct only one formal remedy is available--impeachment and removal. If a member of Congress or a federal judge engages in misconduct, there are a range of possible penalties that can be tailored to the offense.
Suppose a member of Congress does something wrongful and does not resign. Her part of Congress can expel her, but that is a draconian sanction that has been imposed only a few times in each House. She can, though, just be "censured" and penalized through a loss of committee memberships or a curtailment of floor privileges. Or there can be a reprimand with consequences for her next election. Likewise, a federal judge who misbehaves can be disciplined by means other than an impeachment. Judges can be suspended from hearing cases for a period of time by a circuit or by the judicial conference.
There is nothing that can be done to a misbehaving President other than impeachment. Sure there are informal sanctions that can operate, but that may not do all that much. And you can understand why people acting in good faith might hesitate to impeach or remove a President. If every act of misconduct by a member of Congress or the federal bench was reachable only through impeachment, few would suffer that sanction. The Senate tried to respond to this problem for Andrew Jackson by censuring him. One problem with that was a constitutional one (where did the Senate get the authority for that) but another was that the censure could have no tangible impact.  
At best, you might say that the Clinton impeachment precedent is that impeachment is a kind of censure from the House of Representatives. And maybe Presidents care about that. If President Trump is reelected in 2020 notwithstanding his impeachment, though, then that will become something of a paper tiger.
Posted by Gerard Magliocca on December 15, 2019 at 05:14 PM | Permalink | Comments (2)
Friday, December 13, 2019
Kennesaw State pays cheerleader $ 145,000 for having knelt
I missed this controversy from 2017: Five cheerleaders at Kennesaw State knelt before a football game in September 2017, causing the school to alter the pre-game routine and keep the cheerleaders in the tunnel during the anthem. It eventually was revealed that this change came from the political-hack then-President, under pressure from Republican state officials. The school reversed course one month later and the President resigned one month after that. One of the cheerleaders sued; on Thursday, the school settled for $ 145,000.
The resolution is an interesting one, because college athletes stand in a weird position. FIRE's story insists that "[s]tudent-athletes are students first, athletes second, with expressive rights fully protected by the First Amendment." But there are ways in which student-athletes look like employees who represent the university at public events, giving the school a bit more control over their speech. This settlement suggests that, at least in this case, those involved took the former view.

Posted by Howard Wasserman on December 13, 2019 at 09:31 AM | Permalink | Comments (0)
Thursday, December 12, 2019
Can An Impeachment Be Repealed?
Suppose Republicans retake the House of Representatives in 2020. In the new House, they promptly repeal of what they consider the unjust impeachment of President Trump. Can they do that?
The answer, I think, is yes. It's never been done before, but I am hard pressed to see why the House is bound by an impeachment passed by a prior one. This is different from an impeachment and a conviction. The Senate's judgment in impeachment trials is final. The impeachment itself, though, is not different from any other House resolution. (There is an analogy here to the Senate's Censure of Andrew Jackson in 1834, which a different Senate expunged three years later.) I doubt, though, that a repeal of an impeachment will mean that people will say that President Trump was not impeached.
Posted by Gerard Magliocca on December 12, 2019 at 09:12 PM | Permalink | Comments (8)
Evidence that Jews do not run Hollywood
I have written that The Goldbergs (a show we love and watch regularly) struggles with how explicitly Jewish it wants to be. This week's Christmas-themed episode might have been its most Jewish. It showed gifts wrapped with blue-and-white paper with Stars of David; visible Happy Chanukah bunting; and a Menorah with candles. Best of all, it showed Beverly lighting first-night candles.
Continue reading "Evidence that Jews do not run Hollywood"
Posted by Howard Wasserman on December 12, 2019 at 07:29 PM in Culture, Howard Wasserman, Television | Permalink | Comments (1)
Jewish-as-race-or-national-origin
I have not weighed in on the dispute over the administration's new order on anti-Semitism and Title VI. I do not like the new regs in my guise of free-speech advocate, because it appears to have potential to incentivize schools to restrict a lot of protected speech (including naked anti-Semitism) for fear of losing federal dollars.
But I do not understand the supposed apprehension that David Schraub describes: Jews do not want to be described as having a distinct national origin because it highlights "otherness," non-Americanness, and the historic charge of disloyalty. Schraub argues that "[i]f Jews are deemed "just" a religious group, then they are not covered by Title VI. Publicly funded programs, under this view, could discriminate against Jews with impunity." But this is incomplete. Schraub ignores the word "race" in Title VI, which seems to capture Jews without having to get into existential debates about nationality and the disloyalty they imply. SCOTUS has held that Jews are protected under § 1982 and Iraqi-born Muslims under § 1981. Lower courts have relied on that case law to hold that Jews are protected as a racial group (defined by "ethnicity and ancestry") under Title VI and Title VII (although other courts disagree). The point is that reading Title VI to protect Jews is neither unusual nor dangerous.
Posted by Howard Wasserman on December 12, 2019 at 07:22 PM in First Amendment, Howard Wasserman | Permalink | Comments (5)
The Cambridge Handbook of U.S. Labor Law for the Twenty-First Century
A new book on labor law for a new century - Rick Bales and Charlotte Garden's labor of love - is a must for anyone interested in the future of our job markets. Thirty-five contributors have written chapters about issues ranging from public sector innovations, combatting union monopoly power; independent contractors and joint employers; international labor law and much more.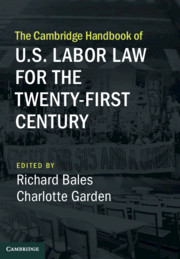 Posted by Orly Lobel on December 12, 2019 at 12:27 AM | Permalink | Comments (1)
Wednesday, December 11, 2019
JOTWELL: Pfander on Sohoni on universal injunctions
The new Courts Law essay comes from Jim Pfander (Northwestern-Pritzker), reviewing Mila Sohoni, The Lost History of the "Universal" Injunction, 133 Harv. L. Rev. (forthcoming), which shows the long SCOTUS practice of issuing universal injunctions (without calling them such).
Posted by Howard Wasserman on December 11, 2019 at 12:37 PM in Article Spotlight, Howard Wasserman | Permalink | Comments (0)
Tuesday, December 10, 2019
Final Reflections on VAP/Fellowship Interview Series
Now that my series interviewing VAP and fellowship directors has ended, I wanted to reflect on the broader lessons that I learned from these interviews.  Your takeaways may differ, so I hope you chime in in the comments if you think there are different or additional takeaways that prospective candidates and/or hiring committees should have.  But I've been on the hiring side for a long time and there were still a number of things that surprised me when I dug into the VAP/fellowship world.
**Before I dig into these reflections, a quick note that Howard Wasserman was nice enough to create a category for VAP and fellowships to the left, so you can now find all of these interviews and posts in one place.  Please remember also that the AALS has a new site devoted to providing information about the law teaching market.  Now onto my final reflections:
1.  It is *really* hard to get many VAPs and fellowships these days, way harder than I would have guessed. I imagined these programs as a chance for candidates coming from practice to kick start their writing, and I think some programs do work like that.  But several of the top programs seem to require that their fellows have several papers before they even start the fellowship.  These programs get enough applications (75+) that they can be this picky, and my guess is that this competition in turn drives the Ph.D. + fellowship trend that we see in Sarah's data.  It's obviously hard to write several good papers in practice, so it's not surprising that candidates are doing a Ph.D. program to write an initial set of papers and then doing a top fellowship to bring their scholarship back into the law world, write even more, and make additional connections.  That's a long on-ramp though, and it likely comes at the cost of other things such as practice experience.
Continue reading "Final Reflections on VAP/Fellowship Interview Series"
Posted by Jessica Erickson on December 10, 2019 at 08:30 PM in Getting a Job on the Law Teaching Market, VAPS & Fellowships | Permalink | Comments (11)
Marvin Miller and the Hall of Fame (Updated)
Marvin Miller--the first executive director of the Major League Baseball Players Association and the creative force behind the modern economics of baseball and all professional sports--was elected to the Hall of Fame yesterday. The election comes seven years after Miller's death. And, although I did not know this, against his express wishes.
Miller was passed over several times by various committees between 2003 and 2010, likely because the powers-that-be wanted to deny Miller the honor, at least while he was alive. In 2008, Miller, askedtthe Baseball Writers Association of America, the main selection body, not to nominate him again; he declared himself "unwilling to contemplate one more rigged veterans committee whose members are handpicked to reach a particular outcome while offering the pretense of a democratic vote. It is an insult to baseball fans, historians, sports writers and especially to those baseball players." Miller was no doubt especially angry that in 2007, former commissioner Bowie Kuhn, Miller's chief antagonist, was elected just before his death. Despite the request, Miller was nominated in 2010, then posthumously in 2014, 2018, and this year.
There is an interesting debate about how the Hall should handle those wishes. On one hand, it is a museum designed to tell the history of baseball and to recognize those who made the game--that history cannot be told without Miller. On the other hand, the Hall of plaques does more than tell a story; it singles people for a unique honor, an honor that should be bestowed only if both parties wish. Miller's children have made clear they will not attend and accept induction in their father's place. And it is hard not see the election as one final power play against Miller--selecting him against his wishes, but when he could no longer decline appear and make his own case.
Speaking of Miller and Kuhn, Slate's Hang Up and Listen uses Miller's election as an excuse to parse Flood v. Kuhn, especially the bizarre Part I in which Justice Blackmun rattles off a laundry list of historic players from a bygone era. Several tidbits on this.
Continue reading "Marvin Miller and the Hall of Fame (Updated)"
Posted by Howard Wasserman on December 10, 2019 at 03:01 PM in Howard Wasserman, Judicial Process, Sports | Permalink | Comments (2)
Does the Disqualification Clause Present a Political Question?
The draft articles of impeachment from the House of Representatives call for the President's removal from office and his "disqualification to hold and enjoy any Office of honor, Trust, or Profit under the United States." Does this mean that he can (assuming there is a conviction) be barred from being elected again as President? The answer is unclear. Suppose, though, that the Senate applies the disqualification penalty and says that the presidency is covered. Can this decision be reviewed by a court?
The answer, again, is unclear. The Supreme Court held in United States v. Nixon that the impeachment trial process raises non-justiciable political questions--the Senate has the final word. Is that true in determining the scope of the sentence? You could say so if you think that a sentence is part of the trial. But you can also understand those as separate phrases that should be treated differently. Or you could say that the application of a sentence is different from the lawful scope of a sentence.
Posted by Gerard Magliocca on December 10, 2019 at 01:10 PM | Permalink | Comments (2)
Monday, December 09, 2019
Segall on the role of law professors
Eric Segall has an excellent post at DorfonLaw about the proper role for law professors in controversial legal and political disputes. The obvious trigger was the four prawfs who testified at the impeachment hearings. But Eric expands it to participation in congressional testimony, confirmation hearings, amicus briefs, letters on public matters, etc. And blogs--he questions whether writing publicly, in our professional (and professorial name) about matters beyond our scholarly expertise either trades on the professorial name or dilutes it.
Two thoughts. First, Eric references the letter that 2000 law professors signed arguing that Brett Kavanaugh's demeanor at his hearing was not judicial and should have been disqualifying. I did not sign for the reason Eric offers for not signing--the question of Kavanaugh's demeanor did not call for any scholarly expertise and was really a cover for political opposition to Kavanugh's appointment.* I had a heated debate with my wife and overly engaged daughter, who did not buy the distinction or the idea of trading on my position to suggest expertise on a contentious political matter on which I could speak not as an expert but as a "concerned citizen."
[*] Which I shared. And which I offered in emails to several Republican Senators (not my own, because I chose not to waste my breath), using my name but not my title or position.
Second, a blog, like other social media, strikes me as a different medium of work. I am trading less on my position and expertise and more taking an opportunity to write for a regular audience about things that interest me and about which I know something (even if I do not know as much about these things as I do about universal injunctions). Regular readers of the blog know and expect that some of what I write about is going to be non-expert interests (baseball, Judaism) or personal matters (family, etc.). And you understand that this is part of the forum and what I like to do here. That is different than using my professorial cache (such as it is) to talk about a non-expert matter to a new, unfamiliar audience in a different forum, such as the op-ed page of the The New York Times or an advocacy letter to a congressional committee.
Posted by Howard Wasserman on December 9, 2019 at 03:11 PM in Blogging, Howard Wasserman, Teaching Law | Permalink | Comments (4)
What the "Legal Scholars Letter" Suggests About the Signers' Views on Constitutional Interpretation
From TaxProfBlog, I learn of a letter published on something called Medium and titled "Letter to Congress from Legal Scholars." I am less interested in what it says on the primary subject of the letter--whether "President Trump engaged in impeachable conduct"--and more in what it offers by way of insight into the views of some 765 individuals (so far) affiliated with law schools, including full-time, adjunct, and visiting scholars, on American constitutional interpretation. In general, and imperfectly, I try to avoid making statements about others' motivations or thinking, because we see through a glass darkly on such questions and because it is rarely necessary to draw conclusions about others' motives or thinking when we can focus instead on their words and actions. But for present purposes, I do write with the assumption that the signers believe the contents of the letter, and that their beliefs extend past the bottom line to embrace at least the major arguments made in the letter and the legitimacy as sources of the sources they rely on. I cannot say this is an accurate assumption as to any particular signer. But it seems to me that to assume anything else would be disrespectful. On that assumption, I think we can identify in the letter at least the following propositions about constitutional interpretation. They are hardly shocking propositions; there is no "gotcha" spirit to this post. But it is always interesting to take a sounding of the basic views on constitutional interpretation of a large number of American legal scholars, some of whom teach and/or write on constitutional law.  
1) The views of the "Founders" are at least relevant to constitutional interpretation. Having offered the statement that the president engaged in impeachable conduct, the letter proceeds: "We do not reach this conclusion lightly. The Founders did not make impeachment available for disagreements over policy, even profound ones, nor for extreme distaste for the manner in which the President executes his office." It states that President Trump's conduct "is precisely the type of threat to our democracy that the Founders feared when they included the remedy of impeachment in the Constitution." It cites the Founders' "keen[ ] concern[s]" about corruption in presidential dealing with foreign governments and their "thinking on impeachment." These views and concerns are repeatedly given a strong role in the letter's account of what impeachment is for and what it means. Obviously they think the Founders' views are highly relevant to the interpretation of the Constitution. Although I leave it at "relevant," it doesn't seem unfair to say that the letter suggests that the Founders' views are not only relevant, but of great importance in understanding the Constitution and its individual provisions. As a side note, it is interesting that the letter refers solely to the "Founders" and not to the ratifiers of the Constitution.
2) The Federalist and the constitutional convention--apparently including Madison's notes of the convention--are relevant sources of constitutional interpretation. In its assertions about what the constitutional text concerning impeachment means, its purposes, and its applications, the letter links three times to the proceedings of the constitutional convention and once to the Federalist. One can therefore assume that the letter's signatories believe these are relevant sources of constitutional interpretation. (This does not necessarily mean they believe they are relevant interpretive sources for judges.) As a side note, it appears that the letter implicitly weighs in on the reliability, at least in broad terms, of James Madison's notes of the convention--a point that has recently and prominently been questioned by the legal historian Mary Sarah Bilder--since it appears to link to Max Farrand's use of Madison's notes. I am not sufficiently familiar with the specifics of Bilder's work to say how her criticisms would apply to the particular portions of Madison's notes that the letter relies on as authority. Whether or how much one should rely on the Federalist has, of course, long been a question for constitutional interpreters, and the letter apparently settles on the view that one can rely on it at least to enough of an extent as to make it one of one's primary sources in a letter to Congress about the constitutional meaning of impeachment.  
3) At least where it is specific, constitutional text is exclusive. To repeat and extend the quote I used above, the letter argues early on, "The Founders did not make impeachment available for disagreements over policy, even profound ones, nor for extreme distaste for the manner in which the President executes his office. Only 'Treason, Bribery or other high Crimes and Misdemeanors' warrant impeachment." This seems to suggest a conclusion that, at least where the Constitution provides specific textual instructions or grounds and omits others, that text--glossed, as we have seen, by the views and concerns of the "Founders"--is authoritative and exclusive. I do not draw any conclusions from this proposition about what the signers might think about the nature of more vague or open-ended constitutional text or about the existence or non-existence of unenumerated rights. I am a little curious how the proposition the letter adheres to would apply to the arguments of Professors Ackerman and Amar about the non-exclusivity of the quite specific instructions set out in Article V concerning constitutional amendment. One would think that as a logical matter the signers would be disinclined to share Ackerman or Amar's views, although surely that question would require a good deal more airing.
4) Oaths, office, and the "public trust" matter. The letter includes within the scope of impeachable conduct a president's "betray[al]" of his oath of office, at least where it involves threats to American democracy. It goes on to assert that "[i]mpeachment is a remedy for grave abuses of the public trust," and that treason and bribery, the "two specific bases for impeachment named in the Constitution" (with "high Crimes and Misdemeanors presumably read as non-specific bases), involve grave abuses of the public trust because they "include conduct undertaken not in the 'faithful execution' of public office that the Constitution requires, but instead for personal gain (bribery) or to benefit a foreign enemy (treason)." While these assertions must surely be read in light of the specific circumstances, I think they can properly also be read more broadly, to suggest the importance of the oath of office, of faithful execution, of the concept of public office itself, and to suggest that faithful execution of the oath does not include actions undertaken (strictly?) for personal gain as opposed to for purely public-regarding and office-centered reasons. Again, this is not a "gotcha" post and I do not understand these propositions to be terribly controversial as such. I do find them interesting, nonetheless, for a few reasons. The most important is the recognition of something (at least on my reading of these subjects) more than strictly positivistic, textualist, or power-related in the action of office-holders, but rather a recognition of the importance of the concept of office, of oath-keeping, and of particular virtues in the holding and performance of one's office. It is a topic I find fascinating and have written about. The letter also suggests the influence of recent legal writers, including my blog-mates Ethan, who has written about oaths and faithful execution, and Richard, who has written about oaths. Whether the logic of this focus on oath, office, and faithful execution might have more interesting or controversial applications is not something I'm in a position to opine about. But I would be curious about two questions. One is how these propositions should be understood to apply to judges, who also take oaths of office (both constitutional and statutory), and in particular whether a judge who rules for reasons of, say, a general and personal sensibility concerning justice rather than for more channeled and textually constrained legal and constitutional reasons is in violation of his or her oath. The second is whether the presidential oath and the faithful execution of public office are only violated by certain kinds of personal gain. The letter focuses on bribery--understandably, since it is one of the specific grounds for impeachment. But one can violate one's oath and one's duty of faithful execution in other ways than bribery. Does a president who acts, not with the public good and the faithful execution of his or her office first and foremost in mind, but for things like the good of his or her own re-election of party fortunes similarly violate the oath and his or her constitutional duty? If so, is that impeachable as well?
5) "Extreme distaste for the manner in which the President executes his office" is not a basis for impeachment. That last question may be answered in part by the opening argument of the letter, quoted above, which states that neither profound policy disagreements nor extreme distaste for the manner in which the President executes his office are "available" bases for impeachment. That suggests at least some implicit limitation on the kind of conduct that falls within the scope of violation of the oath or of the duty of faithful execution, or conversely suggests that only some forms of execution are faithless, and that some extremely distasteful forms of execution of the office of the President can nevertheless be "faithful execution." Without suggesting that the letter itself says more about this topic than it actually does, it seems to me that this proposition necessarily has some implications for other questions that have been raised around the current impeachment controversy. One member of Congress, for instance, has argued that the articles of impeachment should be broadened to include "[the President's employment of] racist, anti-Semitic, Islamophobic, transphobic, xenophobic language instigating enmity and inciting violence within our society" and "'the adverse impact his racism is having on the countless African-American victims who believe that, too often, one party ignores us and the other takes us for granted." A newspaper writer, saying he had consulted on the question with "legal experts," recently called for eight articles of impeachment, including "conduct grossly incompatible with the presidency" such as "[lying] constantly, eroding the credibility of the office." Without wanting to presume too much and with due acknowledgment that the devil is in the details, it seems to me that the logic of the legal scholars' letter suggests that some or many of the signatories would feel compelled to disagree with such arguments and hold these to be "unavailable" bases for impeachment.  
Again, to be perfectly clear, I am interested only in the propositions offered or strongly implied in the letter. I draw no firm conclusions about what its signers actually believe, although the contents of a document that one signs and offers to Congress ought to be pretty good evidence of just that. I understand that some people may feel free to sign letters or amicus briefs--even when those letters or briefs not only make clear that they are writing as legal scholars but add that they "do not reach" the conclusion(s) offered in the letter "lightly"--with which they do not fully agree or as to which they agree only with the bottom line while taking various views on all the stated "considerations" that lead to that bottom line. I believe such a position to be inconsistent with either scholarly or civic integrity, but I imagine views on that will differ. And certainly there is room for friendly argument and further thought--by me, by others, and perhaps by the signers themselves--about what the letter and its arguments mean and imply for constitutional interpretation, both as to impeachment and as to other constitutional questions, although I would think they must mean something. 
Posted by Paul Horwitz on December 9, 2019 at 12:30 PM in Paul Horwitz | Permalink | Comments (0)
Saturday, December 07, 2019
Legislatures creating universality
As I discuss in a forthcoming piece, the combination of remedial particularity (no non-particularized injunctions) and departmentalism (the executive can ignore judicial precedent about a law's constitutional validity, at least until the matter reaches court) leaves an essential role for the legislature. The only way to stop the executive from enforcing or threatening to enforce a constitutionally dubious law, even one declared invalid by SCOTUS, is to repeal that law.
That was the task of the Commission to Examine Racial Equity in Virginia, which last month released its Interim Report identifying dozens of state laws for repeal; these include the anti-miscegination law at issue in Loving, some education laws enacted during Massive Resistance to Brown, and some laws targeting the "feeble-minded." Josh Blackman comments.
The action is symbolic, because any enforcement effort would fail. Any government official attempting to enforce would be sued for damages (qualified immunity would be lost, because the invalidity of these laws is clearly established by SCOTUS precedent), injunctive relief, and attorneys fees. And the line attorney litigating the case likely would be sanctioned (although I doubt it would be by contempt, as Josh suggests). But there is a substantive component, if read as the legislature checking the executive in some manner.
Posted by Howard Wasserman on December 7, 2019 at 12:51 PM in Constitutional thoughts, Howard Wasserman, Judicial Process, Law and Politics | Permalink | Comments (0)
Friday, December 06, 2019
Students finding interesting issues (Further Updated)
I gave my Evidence exam earlier this week. In the study/review lead-up, several students asked me a similar question (not sure if all were using the same commercial materials or if they all were talking):
A party calls an adverse party and is allowed to ask leading questions on direct under 611(c)(2). Can the party ask that witness about specific instances of untruthful conduct to impeach under 608(b), which is ordinarily allowed only on cross. In other words, when a party is allowed to ask leading questions under 611(c)(2), does that convert direct into cross for all purposes?
I presented the question to the Evidence Prof listserv. No one knew of case law raising the issue or the certain answer. One person said my students deserve a pat on the back for identifying and thinking up this issue.
The prevailing view among professors is that the party can ask about 608(b) specific instances. This derives from three things: 1) 607, which allows a party to impeach its own witnesses, from which it follows that all methods of impeachment are available; 2) 611(c)(2), which contemplates "direct" examination that functions like cross; and 3) because the party could have waited for the other side to call that witness and then cross examined the witness on specific instances, it should be able to do the same thing when it calls that witness itself for strategic reasons.
Thoughts?
Update: A reader emailed me to say that, despite the language of 608(b), courts allow specific-instances evidence on direct. The reasoning is that 607, allowing a party to impeach its own witnesses, trumps the limitation in 608(b)--all methods of impeachment are available to impeach any witness at any time--your own on DEX or the other party's on CREX.
But I wonder if the limitation-to-cross continues to apply in one situation: When Pty II uses its witness to impeach Pty I's witness. So imagine the following:
Tom has testified, called by Pty I. On the plain language of 608, Pty II could impeach Tom on specific instances of conduct in the following ways:
   • On CREX of Tom, ask him about Tom's untruthful acts: 608(b)(1)
   • Call Ira; on direct, ask him about Tom's character for truth under 608(a). But not specific instances of Tom's conduct under the text of 608(b)(2), because this would not be on CREX.
But under the approach courts take to reconcile 608(b) and 607), could Pty II ask Ira, on direct, about Tom's specific instances of untruthful conduct under 608(b)(2)? I understand allowing 608(b)(1) evidence on direct if I am forced to impeach my own witness. But the rationale for that extension does not extend to 608(b)(2) evidence in the Tom/Ira situation I describe here.
Further Update:
My original emailer says the answer is no, Pty II can't ask Ira about Tom's specific instances. That owes to the prohibition on extrinsic evidence in 608(b), not the cross-examination requirement. Ira testifying to Tom's specific instances would be extrinsic evidence. Which makes sense.

Posted by Howard Wasserman on December 6, 2019 at 11:26 AM in Howard Wasserman, Teaching Law | Permalink | Comments (2)
Thursday, December 05, 2019
Another study shows handwriting > computers
New in the Journal of Legal Education, from Colleen Murphy and Christopher Ryan, Jr. of Roger Williams Law and Yajni Warnapala of the Roger Williams Mathematics Department. The study looks at performance in required 2L Con Law and Evidence courses at Roger Williams. It also contains a piece from Murphy's 1L Civ Pro class, showing that students who were given the option of using a laptop but were shown a memo describing the studies comparing handwriting with computer notetaking were more likely to elect not to use computers.
Posted by Howard Wasserman on December 5, 2019 at 06:45 PM in Article Spotlight, Howard Wasserman, Teaching Law | Permalink | Comments (2)
Wednesday, December 04, 2019
A Marshall Court Myth
One standard story about John Marshall is that he began the practice of having the Supreme Court (or at least the Court's majority) speak in one voice through a single opinion. Turns out this is not true. You can find Supreme Court opinions in 1799 written by Chief Justice Oliver Ellsworth that are self-styled opinions of the Court. This practice was far less common until Marshall took over and did not occur in major cases, but the break between Marshall and his predecessor is not as sharp as we are sometimes told. 
Posted by Gerard Magliocca on December 4, 2019 at 11:17 AM | Permalink | Comments (0)
Monday, December 02, 2019
The Case for Teacher-Created Supplemental Learning Guides
The following post is by Leslie Y. Garfield Tenzer (Pace) and is sponsored by West Academic.

There is a chasm between doctrinal classroom learning and commercial study aids. In the classroom, particularly first year, faculties aim to rewire student neurons, training them to "think like a lawyer." In contrast, commercial outlines, flashcards, and the like, detail the black- letter law, encouraging students to memorize rather than analyze.
Continue reading "The Case for Teacher-Created Supplemental Learning Guides"
Posted by Howard Wasserman on December 2, 2019 at 02:08 PM in Sponsored Announcements | Permalink | Comments (2)
Friday, November 29, 2019
More state action and private vendettas
I wrote awhile back about a case in which police officers took private action against a citizen (trashing his car) based on a personal vendetta resulting from a professional dispute (the citizen filed a departmental complaint about them). The Seventh Circuit found no state action in an analogous case. A citizen shouted at a police officer while he was making an arrest and criticized the officer (and perhaps threatened his family) on Facebook, prompting the officer to file a criminal complaint with a fellow officer, prompting that officer to arrest the citizen. The court held that, although the original interaction came when the officer was on the job, he acted as a private citizen in filing a criminal complaint with another officer, who then pursued those charges.
The Seventh Circuit's analysis would reject the potential claim in the earlier case. I imagine the court would say the officers acted as private citizens in trashing the guy's car and it is not enough that the dispute traces to official police conduct.
Posted by Howard Wasserman on November 29, 2019 at 09:31 AM in Civil Procedure, Constitutional thoughts, Howard Wasserman, Law and Politics | Permalink | Comments (2)
Wednesday, November 27, 2019
JOTWELL: Azad on McAlister on unpublished dispositions
The new Courts Law essay is a guest submission from Ryan Azad (a clerk on the California Supreme Court), reviewing Megan McAlister, "Downright Indifference": Examining Unpublished Decisions in the Federal Courts of Appeals, 118 Mich. L. Rev. 1 (2019), arguing that unpublished opinions should at least explain the reasoning for the benefit of the (often pro se) litigants.
Posted by Howard Wasserman on November 27, 2019 at 10:55 AM in Article Spotlight, Howard Wasserman | Permalink | Comments (0)
Tuesday, November 26, 2019
Lawsky Practice Problems - On-Line Tax Teaching and Learning Tool
I've put together an on-line teaching and learning tool for introductory tax courses at

https://www.lawskypracticeproblems.org/
Some questions and answers follow after the break.
Continue reading "Lawsky Practice Problems - On-Line Tax Teaching and Learning Tool"
Posted by Sarah Lawsky on November 26, 2019 at 05:18 PM in Tax, Teaching Law | Permalink | Comments (3)
Monday, November 25, 2019
Organizing Fed Courts
My Fed Courts class ended this week. For the second straight year, I ran out of time and was unable to reach the last section, on  Congressional Control over the Federal Courts; this covers Klein and Plaut, as well as the fun theoretical stuff on jurisdiction-stripping, court-packing, etc.
After the jump is the broad strokes of my syllabus. I would welcome thoughts of what I can or should cut to give me the two days I would need to include this final section. Or, alternatively, is the congressional control stuff the least important and it falling by the wayside, while unfortunate, is less problematic than if I skipped something else.
By way of background, I teach Fed Courts as (in the words of one former student) "the love child of Con Law and Civ Pro." It is a federal-court litigation course, interspersed with some constitutional and judicial theory.
Continue reading "Organizing Fed Courts"
Posted by Howard Wasserman on November 25, 2019 at 11:44 AM in Civil Procedure, Howard Wasserman, Teaching Law | Permalink | Comments (3)
Eric Rasmusen, IU, and the First Amendment
For those who missed it, Indiana-Bloomington Provost (and law professor) Lauren Robel issued a public statement excoriating business professor Eric Rasmusen's publicly expressed views about women, racial groups, LGBTQ people, and others, while insisting that the First Amendment prevented the school from firing the tenured professor. The school did prohibit Rasmusen from teaching single-section required courses and imposed special blind-grading obligations. Rasmusen has responded. Many, such as Gregory Magarian (Wash. U.) on the blog Lawyers, Guns, and Money saw this as counter-speech in action. Brian Leiter doubts that a university administrator should comment on a faculty member's speech--he argues Robel should have stopped at "the First Amendment protects this speech, Rasmusen does not speak for IU, and we are monitoring to ensure compliance with anti-discrimination laws. Josh Blackman questions whether there is a First Amendment difference between firing a professor and hampering his teaching by reducing the size of his classes--either is a sanction imposed because of his speech.
On a different note, the Magarian interview is interesting as a wide-ranging discussion of where the First Amendment is trending. Note particular his discussion of Citizens United as not quite the bogeyman everyone says.
Posted by Howard Wasserman on November 25, 2019 at 10:59 AM in First Amendment, Howard Wasserman | Permalink | Comments (2)
The Role of Individualization in Kansas v. Glover
Earlier this month, the Supreme Court heard oral argument in Kansas v. Glover, a case about when police have reasonable suspicion to stop vehicles that are owned (but not necessarily being driven) by people with suspended licenses. I want to draw attention to an underappreciated strand of argument in this case—namely, the role of "individualized" or "particularized" evidence. In short, the justices and their commentators have focused on whether police had a reliable or testable basis for their suspicion; but a lack of individualized evidence may actually be the more serious and intractable problem.
Continue reading "The Role of Individualization in Kansas v. Glover"
Posted by Richard M. Re on November 25, 2019 at 08:30 AM | Permalink | Comments (1)
Sunday, November 24, 2019
A pleading question
The Comcast argument from two weeks ago featured competing hypotheticals designed to show proximate cause under § 1981, but instead showed the problem of pleading oneself out of court. Following some comments on my prior post, I have been thinking about both (which I would like to use in Civ Pro next semester).
Continue reading "A pleading question"
Posted by Howard Wasserman on November 24, 2019 at 11:15 AM in Civil Procedure, Howard Wasserman, Judicial Process | Permalink | Comments (0)
Saturday, November 23, 2019
Protesting Harvard-Yale (Updated)
The second half of the Harvard-Yale Game was delayed for 48 minutes when students from both schools rushed the field to stage a climate-change protest calling for both institutions to divest from oil, gas, and other energy investments. Many protesters eventually left the field, while the last stragglers were escorted by police; I do not know how many students were arrested. [Update: This report says 42 students were charged with misdemeanor disorderly conduct]
Just to be clear (and putting state action to one side);
• The students should have been untouchable had the protest remained in the stands. While climate change has nothing to do with football, chanting and displaying signs about divestment is not inconsistent with cheering and displaying signs at a football game.
• The students were properly subject to arrest (reports suggest some wanted to be arrested). While engaging in expressive behavior, they did so in a place they had no right to be. This is civil disobedience--breaking the law, and accepting the consequences, to draw attention to the cause and the protest.
• This demonstrates why politics and speech are inseparable from sports. No one would be talking about a few hundred Ivy League students protesting climate change in the middle of campus. The protest now is a national story. And it is part of the story of a great football game--Yale won 50-43 in Double-OT, staging a late-game comeback, clinching the victory in darkness (no lights at the Yale Bowl), and claiming a share of the Ivy League title.
Posted by Howard Wasserman on November 23, 2019 at 04:45 PM in First Amendment, Howard Wasserman, Sports | Permalink | Comments (0)
Thursday, November 21, 2019
Bribery, Impeachment, and the Common Law
Earlier this morning I published an online essay with The Atlantic about how the crime of bribery fits into impeachment. The editors at The Atlantic made me take out a lot of nerdy stuff about legal treatises.  And while I totally understand why that level of detail probably isn't appropriate for a general audience, I wanted to offer that level of detail to the other law professors and lawyers out there who care about how we ought to understand bribery as it relates to impeachment.
The Constitution specifically lists bribery as grounds for impeachment.  Article II, section 4 says: "The President, Vice President and all civil Officers of the United States, shall be removed from Office on Impeachment for, and Conviction of, Treason, Bribery, or other high Crimes and Misdemeanors."  I'm intrigued by the use of the word "shall" in that Clause.  (Does that mean it's mandatory rather than a matter of discretion?!)  But I'm a criminal law professor, not a constitutional law expert, and so I want to try and stay within my area of expertise.
Because there is a credible argument that President Trump committed bribery when he withheld military aid to Ukraine in return for announcements of political investigations, the public obviously cares what the word bribery means in the Constitution.  I've seen a number of people offer opinions on the issue. And while I do not think that there are clear cut answers here, I think that the opinions that are being bandied about are insufficiently nuanced, if not wrong.  So here is my more nuanced take.
Continue reading "Bribery, Impeachment, and the Common Law"
Posted by Carissa Byrne Hessick on November 21, 2019 at 11:56 AM in Carissa Byrne Hessick, Constitutional thoughts, Criminal Law | Permalink | Comments (5)