« Dr. Glaucomflecken on Private Equity | Main | Et tu, Justice Sotomayor »
Monday, July 17, 2023
The Grateful Dead and Me
Although Jerry Garcia died in 1995, various versions of the Grateful Dead, featuring former members and other musicians, have continued touring ever since. Next weekend in San Francsico, the latest iteration, Dead & Company, will play the final three shows of what has been billed as their final tour. This seemed like a good opportunity to repost my old Slate article on my interface with the Dead in the summer of 1971.
I Sued the Grateful Dead
I was wrongfully barred from the 8/14/71 show, a legendary scorcher. I demanded to be made whole.
BY STEVEN LUBET
JUNE 04, 2015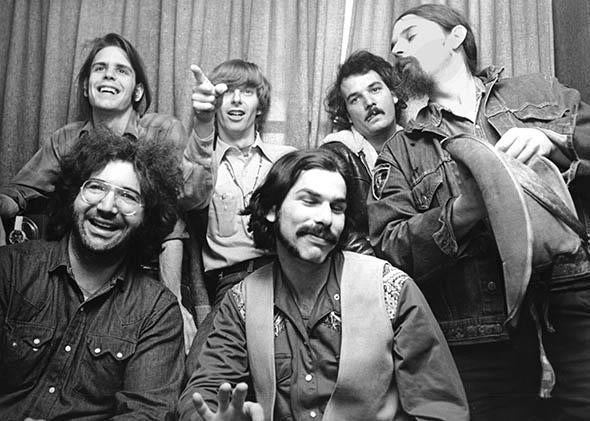 The Grateful Dead, clockwise from upper left: Bob Weir, Phil Lesh, Bill Kreutzmann, Ron "Pigpen" McKernan, Mickey Hart, and Jerry Garcia, circa 1970, United Kingdom. Photo by Chris Walter/Music File Photos
Over the Fourth of July weekend, the surviving members of the Grateful Dead will perform three shows at Chicago's Soldier Field, the site of Jerry Garcia's last performance with the band before his death in 1995. Tickets sold out in minutes for what was billed as the "last-ever" appearance by the core four of Phil Lesh, Bill Kreutzmann, Bob Weir, and Mickey Hart, though since the shows were announced there has been some confusion about just how valedictory they are. Still, the fevered anticipation is easy to understand, especially in a certain demographic. Many boomers of my generation, and even people decades younger, are eager to relive their Deadhead days, recalling the many firsts they experienced thanks to the Grateful Dead: first love, first psychedelic revelation, first rhapsodic exhaustion after dancing uncontrollably to a 20-minute guitar jam, first public nudity. And, perhaps uniquely in my case, first lawsuit.
I attended law school in Berkeley in the early 1970s, when Grateful Dead concerts were pretty common at venues around the Bay Area, including several at the Berkeley Community Theatre that later became legendary. I wasn't thinking about history in August 1971, when I bought four tickets to a show at the Community Theatre at four bucks apiece. I just wanted to treat my girlfriend and my two younger brothers to "a good time show for good time people," as the event had been billed by the legendary promoter Bill Graham. (Almost everybody, and everything, from those days turned out to be legendary.)
The four of us arrived early to grab good seats because my youngest brother was only 13, and he wanted to sit near the front. Hippies were not known for punctuality, and the Dead never started on time, so we had our choice of locations, even though that meant sitting around as the place filled up with people and smoke—yes, those kinds of people and that kind of smoke.
Finally, the opening act took the stage. It was the New Riders of the Purple Sage, featuring Jerry Garcia himself on the pedal steel guitar and Spencer Dryden (late of Jefferson Airplane) on drums. They played for well over an hour, as the smoke density in the auditorium thickened from haze to fog, until it felt as though you were wearing it like pajamas (as if anyone in those days bothered with pajamas).
By the time the New Riders finished their set, the audience was gasping for breath, although in a mellow kind of way. My girlfriend and my middle brother seemed to be enjoying the atmosphere (or perhaps were unable to move), but I decided to take my youngest brother outside for some fresh air. I cautioned him to bring his ticket stub—we had been given them at entry—and we stepped into the cool Berkeley evening, not exactly surprised to discover that virtually everyone else had opted to remain recumbent indoors.
After a while we heard the Dead warming up. We started to head back inside, only to be stopped by a uniformed security guard. I held out our ticket stubs to prove we had paid for the show, and he told us it didn't matter. "Nobody gets back in," he said. Now, I had only finished one year of law school, but I thought I knew something about contracts. I'd paid for the tickets, and there were no signs prohibiting re-entry. Nobody warned us when we were stepping outside, including the guard who was now giving us trouble. And why give us ticket stubs at all if they weren't meant to allow us back inside after intermission?
I explained all of this to the guard. "Hey, man," I said, trying to be cool.  "Everyone knows what stubs are for. That's why they hand them out." He was moved neither by my attempt at hipness (which probably annoyed him) nor by my undeniable logic (which mattered not at all). "Nope," he said, "my orders are that nobody gets back in." Well, "I'm only following orders" was pretty much the single most unhip thing anyone could say in Berkeley, but no matter. He wasn't letting us through that door.
Just then Bill Graham himself walked by, immediately recognizable by his shock of graying hair and the fact that he was a good decade older than anyone else in the vicinity. Graham was a somewhat polarizing figure in the Bay Area. He'd made underground rock music accessible to millions, but he did it for the money instead of the pure joy of reveling in the counterculture. But as a law student—even a longhaired one—I really had no standing to complain about Graham's business instincts, and anyhow I needed his help.
"Hey, Mr. Graham," I said, astutely figuring that he would not want me to address him as "Bill," "brother," or "comrade." "We have ticket stubs, and this guy won't let us back in." Then I invoked precedent. "I'm from Chicago, and they always let us use stubs at the Kinetic Playground." Perhaps out of solidarity with his fellow promoter, the legendary Aaron Russo, and perhaps out of good-heartedness, Graham relented and told the guard to readmit us.
"Thanks, man," I said as I handed over the ticket stubs. 
"Thanks, pig," said my little brother, who had been 11 during the Chicago Democratic convention in 1968, and had picked up some bad habits from my radical pals.
That got Graham's immediate attention. "Keep 'em out," he snapped to the guard. I tried to explain that my brother was only a kid, but Graham had his limits and there was no getting around them. He did let me go back to the auditorium to retrieve my girlfriend and my middle brother, but he held my baby brother hostage (well, sort of) to make sure I didn't disappear inside.
We missed the Dead's two-hour set, which included renditions of Garcia's melancholy "Brokedown Palace," Ron "Pigpen" McKernan's bluesy "Mr. Charlie," and, as an encore, a spritely "Uncle John's Band." (You can listen to a very good recording of the show at Archive.org.) My girlfriend didn't much care—she wasn't a Dead fan, which might explain why we broke up a few days later—but my brothers were disappointed to return to Chicago without having gotten the full California experience.
That left me alone to lament the lost $16, which at the time was almost double my weekly food budget. And so I did what aspiring lawyers have ever done. I filed my first lawsuit—a case in small-claims court, but a lawsuit nonetheless.
This required hitchhiking to the San Francisco courthouse, which was the proper venue for a case against Graham's production company. I filled out the simple forms, squeezing a brief description of my claim into the small space provided. I probably invoked some needless legalese such as "detrimental reliance," "executory contract," and "good and valuable consideration," and I vaguely recall some pretentious Latin, thrown in for what I thought would be good effect. Maybe it was inclusio unius est exclusio alterius, which had some remote bearing on my claim, or de minimis non curat lex, which did not. The impassive clerk took my papers and assigned a hearing date, and I wondered if I would have to wear a tie for the occasion (in which case I would need to borrow one).
To my wonderment, a check for $16 arrived in the mail about a week later. No explanation; no apology; and obviously no need for Bill Graham's lawyers to waste their time arguing with a disappointed hippie law student. That was not good enough for me, however, as there was still the matter of my $2.25 filing fee, which I was entitled by law to recover. I wrote a letter to Graham insisting on full reimbursement, and threatening not to dismiss the case. Sure enough, the remaining payment arrived the following week. I now wish that I'd saved and framed at least one of the checks, but I cashed them instead and then blew the money on brown rice and vegetables.
That is the true story of the time I sued the Grateful Dead, except that I really sued their promoter, who turned out not to give a damn. In the language of the law, I had been made whole by the refund, even though I feel bummed to this day about missing the concert. It was one of the last times the five original members of the Dead ever performed together, as Pigpen would soon be disabled by cirrhosis of the liver, which claimed his life in 1973.
I am not planning to attend the Soldier Field concert. Tickets are going for $1,000 a pop on the secondary market, and I fear that being there would just leave me longing for a legendary night in Berkeley. I've filed a lot of lawsuits in the last 40 years, and acquired a closet full of ties, but I have seldom had a victory as swift and complete as my case against Bill Graham. Maybe it was my strategic use of Latin—post hoc ergo propter hoc—or maybe he had second thoughts about turning away my kid brother. Either way, I'm not sure whether the experience taught me anything meaningful about the rule of law—although, come to think of it, save your ticket stub is still pretty good advice.
Comments are regrettably closed, but those with similar stories are welcome to send me emails.
Posted by Steve Lubet on July 17, 2023 at 02:07 PM | Permalink
Comments
The comments to this entry are closed.