« JOTWELL: Pfander on Sohoni on universal injunctions | Main | Jewish-as-race-or-national-origin »
Thursday, December 12, 2019
The Cambridge Handbook of U.S. Labor Law for the Twenty-First Century
A new book on labor law for a new century - Rick Bales and Charlotte Garden's labor of love - is a must for anyone interested in the future of our job markets. Thirty-five contributors have written chapters about issues ranging from public sector innovations, combatting union monopoly power; independent contractors and joint employers; international labor law and much more.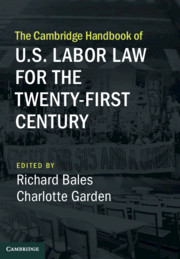 Posted by Orly Lobel on December 12, 2019 at 12:27 AM | Permalink
Comments
Just in time for the holidays!
Posted by: Joseph Slater | Dec 12, 2019 10:37:59 AM
The comments to this entry are closed.