« November 2019 | Main | January 2020 »
Tuesday, December 31, 2019
Karen Daniel, RIP
The sudden, tragic death of our Northwestern colleague, Karen Daniel, has hit hard not only our law school community, but the wide community of individuals and organizations devoted to criminal justice work, especially in the area of the wrongfully accused. Karen's professional life was focused like a laser on impactful litigation and advocacy. Brought to Northwestern several years ago by Larry Marshall, one of the founders of the Center on Wrongful Convictions, Karen established an important practice in this space, working with talented lawyer-teachers and mentoring many  students.  As dean, I appointed Karen and Jane Raley co-directors of the CWC.  (This was a no-brainer decision, I hasten to add, but one of which I remain proud).  Jane passed away on Christmas Day five years ago; Karen soldiered on; and the CWC continued its heroic work.  Because law school politics are what they are, some colleagues always looked with some skepticism at the CWC's large role in the curricular ecosystem of our law school, wondering whether the project had become in some way outsized.  But, reflecting back on this recent difficult period, I feel liberated enough to say that this perception misses a larger point, and that is that the CWC's contributions, and Karen's, ought not be measured simply by the number of students in the courses and the per-student costs of the program.  Rather, the CWC (by which I mean also to include the programs focused on youth and on women specifically) s a jewel in the crown of our Bluhm Legal Clinic and Northwestern's law school because of what it did and also what it represented -- as a foundational project of justice seeking in a profoundly unjust world.
I will always remember Karen Daniel as a key, and truly irreplaceable, piece of that mighty, and hopefully enduring, foundation.
I will also remember a plane ride I took with Karen several years ago, after I had appointed her to the CWC co-directorship.  In the bureaucratic miasma of a large, complex law school, I more often than not neglected to get to know in a broad and deep way many of my colleagues.  As dean, I took some neglectful shortcuts, figuring that the public bios and encomia from colleagues enabled me to learn enough to make faculty-related decisions.  This made the opportunity to connect more with colleagues all the more meaningful. By happenstance, Karen and I found ourselves sitting next to each other in a trip returning (if I recall correctly) from a AALS meeting in Washington DC or New York.  In that trip together, I discussed with Karen her professional journey and her work in our Clinic.  Talking about teaching and advocacy, Karen constantly returned to the humans involved -- the clients, the exonerated individuals, their families, their challenges, their meaningful lives. Her passion was always close to the surface; and I was moved by her words and the life force in this modest lawyer-teacher.  Others at our law school knew Karen better and for longer; but it was a privilege to have this window into the incredible work of one of my remarkable colleagues.
Words will of course fail at communicating the measure of this tragedy. So much left to accomplish, as a teacher, an advocate, and a friend. But I know well that Karen Daniel's legacy of service and accomplishment within and outside of our community is forever secured and, as I believe deep down she would want to say, our redoubled commitment in our law school, the legal academy, and the criminal justice community to the profoundly important work of CWC and other impactful organizations, is the true legacy of this life very well lived.
Posted by Dan Rodriguez on December 31, 2019 at 12:01 PM in Daniel Rodriguez | Permalink | Comments (7)
Monday, December 30, 2019
Hate crimes charges in synagogue stabbing (Updated)
The United States has filed federal hate-crimes charges against Grafton Thomas, accused of stabbing five people at a shul during a Chanukah celebration. The charges were brought under § 247, which prohibits obstruction of a person's free exercise of religion through the use of force. According to the complaint allegations by FBI Special Agent Julie Brown, Thomas' handwritten journals and internet searches focused on some anti-Semitic content.
I have never been a fan of hate-crimes laws. I believe SCOTUS gave too-short shrift to the First Amendment concerns in upholding the concept in Wisconsin v. Mitchell. I am not convinced that Thomas' actions are "worse" because he targeted Jews as to require different crimes or punishments. Nor do I (as sort-of part of the "attacked" group*) feel safer or more protected that Thomas will be prosecuted for the specific crime of targeting Jews as opposed to the more general crime of attempted murder or assault-with-a-deadly-weapon or something like that.
[*] To be clear, in response to a reader email, I am not trying to separate myself from the victims of these attacks as "different" types of Jews. By sort-of, I was making the point that the attacks have been localized in insular Jewish communities in New York. So I am part of the group as a Jewish person; I am not part of that insular and localized group. For purposes of this post: If the attacks were taking place against Jews in Coral Gables, Florida (where my temple is located), I would not be in any greater favor of hate-crimes laws as the solution.
I did not know about § 247, distinct from § 249(a), which makes it a crime to willfully cause or attempt to cause bodily injury to a person because of, among other things, the victim's actual or perceived religion, race, or national origin. I am curious why the U.S. Attorney charged under § 247 rather than § 249. Is the difference that this attack occurred during religious exercise--a Chanukah celebration at a place of worship--rather than from encountering a Jewish person on the street? And if the US Attorney pursues others of the dozen-or-so attacks on Jews of the past eight days, which occurred on the street, would it use § 249 instead?
Update: Marty Lederman also wonders why the government used § 247 rather than § 249, because it would be easier to prove both the motive element and the jurisdictional elements under § 249 than § 247 (although Marty believes the government can prove both as to § 247).
Posted by Howard Wasserman on December 30, 2019 at 05:10 PM in Constitutional thoughts, Howard Wasserman | Permalink | Comments (8)
Dean Search: Roger Williams School of Law
Roger Williams University invites nominations and applications for the position of Dean, School of Law.
Founded in 1919, Roger Williams University is a private institution that places high importance on teaching and scholarship in both the liberal arts and sciences and numerous professional fields of study. With a combined enrollment of more than 4,500 undergraduate and graduate students, and more than 275 full-time faculty, the School is positioned to become one of the finest comprehensive universities in the country. With campuses on the coast of Bristol and in the heart of Providence, RI, Roger Williams University is committed to strengthening society through engaged teaching and learning so that students graduate with the ability to think critically and to apply the practical skills that today's employers demand. Roger Williams offers a wide array of academic programs through six schools of study, including the School of Law (RWU Law).
Established in 1993, RWU Law has approximately 450 students (75 percent of whom come from out of state) and 24 full-time faculty. A leader in experiential education, RWU Law delivers an innovative, high-quality legal education that is also affordable and inclusive. As Rhode Island's only law school, RWU Law has the undivided attention of the state bench and bar, a world-class faculty dedicated to both teaching and research, exceptional clinical and externship programs, and a broad and accomplished alumni base. Last year, RWU Law celebrated its 25th anniversary.
Reporting directly to President Ioannis Miaoulis, PhD, and working closely with the Law School's Board of Directors, the Dean will inspire a diverse constituency around the School's vision and mission, which focus on preparing students not only for careers in law but also to become forces for positive change. As the only law dean in Rhode Island, RWU Law's leader holds elevated prominence within the state's legal system. The Dean will ensure that RWU Law remains student-centered; promotes diversity, equity, and inclusion; continues the University's commitment to serving the public interest; and prepares graduates for challenging legal careers. Promoting faculty excellence in scholarship, teaching, and public service and supporting students and alumni in their journeys to become capable professionals and engaged citizens, the Dean will continue to prioritize academic rigor and will improve shared governance, transparent leadership, and collaborative decision-making. In addition to being passionate about legal education and its access, the next leader of RWU Law will also demonstrate financial acumen and possess a proven record of fundraising. A J.D. or its equivalent is required.
Please send all nominations, inquiries, and expressions of interest in confidence to:
Shelly Weiss Storbeck, Managing Partner Anne E. Koellhoffer, Senior Associate Storbeck/Pimentel & Associates, LP [email protected]
For more information, please visit Roger Williams University Law's homepage at law.rwu.edu.
Roger Williams University is an affirmative action/equal opportunity employer and committed to a diverse workforce. All applicants will receive consideration for employment without regard to race, color, religion, gender, sexual orientation, gender identity or expression, national origin, age, disability, veteran status, or any other basis protected by applicable state and federal law.
Posted by Howard Wasserman on December 30, 2019 at 09:31 AM in Teaching Law | Permalink | Comments (0)
Sunday, December 29, 2019
Karen Daniel (1957-2019)
At Faculty Lounge, Steve Lubet has stories and remembrances of Karen Daniel, former director of Northwestern's wrongful-convictions clinic, who was struck and killed by a car last week.
Posted by Howard Wasserman on December 29, 2019 at 11:21 AM in Teaching Law | Permalink | Comments (0)
Friday, December 27, 2019
AALS Law Prawf Karaoke
The following comes from Franita Tolson (USC) and Anthony Michael Kreis (Chicago-Kent):
AALS Law Prawf Karaoke on Saturday night while we're in D.C..
Time: 8pm, Saturday, January 4th.
Place: Recessions Bar 
1823 L Street Northwest
Washington, DC 20036
Uber/Lyft/Taxi Meeting Point: For those who want to ride over together, we will meet in the Marriott Wardman Park main lobby at 7:30pm.
Please spread the word to anyone who might be interested that I've inadvertently left out. Hope to see y'all there!
Posted by Howard Wasserman on December 27, 2019 at 10:23 AM in Teaching Law | Permalink | Comments (0)
Tuesday, December 24, 2019
Constitutional small claims court
Clark Neily at the Cato Blog proposes a constitutional small-claims court for low-level constitutional violations. Neily's starting example is a cop citing a woman for disorderly conduct for saying "bitch" in public, an obvious constitutional violation, then ordering away (on the silent threat of arrest) an attorney who attempted to intervene. Neily's proposal would create a small-claims-court/traffic-court hybrid, with small-money damage awards paid from an escrow fund established by each department. Neily acknowledges the major structural departure, but says it is better than the current approach, "which is to collectively shrug our shoulders at the vast majority of relatively low-level civil-rights violations committed by cops hundreds, if not thousands, of times a day across the country."
It is an interesting idea, of a piece with other proposals to enable recovery on small violations. In my Civil Rights class, I discuss Jim Pfander's proposal to allow plaintiffs to seek only nominal damages in exchange for eliminating qualified immunity.
There are a host of details to work out, as Neily acknowledges. They begin with whether this system is in federal or state court and what that choice says about our current assumptions about the federal judiciary and civil rights. If at the state (or municipal) level, recall that municipal traffic courts have become money-making institutions for themselves, their local governments, and their police departments, creating their own constitutional violations. We might worry about recreating that system, even with the different goal of compensating citizens against governmental overreach. Finally, should it be limited to police or should it extend to other executive officials who violate rights in a small, l0w-level way, such as the staffer in the Recorder of Deeds office?
Posted by Howard Wasserman on December 24, 2019 at 11:27 AM in Civil Procedure, Constitutional thoughts, Howard Wasserman, Judicial Process, Law and Politics | Permalink | Comments (4)
Saturday, December 21, 2019
More on the role of academic experts
Andrew Ferguson in The Atlantic offers a new contribution to the debate over academic experts in public debate and public affairs and he pulls no punches in arguing that academic experts have nothing to add to public-policy debates. He aims his current ire at historians in the current impeachment debate, but spares some for nuclear scientists who argued for disarmament in the '80s and doctors arguing for stem-cell research in the '00s. He also questions the motives of the "obscure signatories from backwater colleges scattered between the coasts" who enjoy the ego boost of seeing their names alongside better-known professors. As I said, he pulls no punches.
I do not reject the participation of experts as completely as Ferguson does, because I believe there is a place for that participation. Ferguson's pithy point is "[i]f I want to understand the Whiskey Rebellion of the 1790s, Sean Wilentz [the Princeton history professor] will be my go-to guy, I promise. But Trump's impeachment, and contemporary politics in general?" The problem is that the Whiskey Rebellion (or some other historical event) might be essential to understanding contemporary politics, making that expertise essential to understanding contemporary politics. The same for nuclear scientists. Ferguson dismisses their actions as assuming that "knowing how to build a bomb was the same as knowing whether it should be used," ignoring that scientists' knowledge of the bomb's effects is relevant, thus helpful, to the political question of whether the bomb should be used. I agree that some of this is argument from authority. But some of this input from experts is necessary, proper, and essential.
Which brings us to Ferguson's insistence that "[t]he whole democratic enchilada rests on the assumption that when it comes to prudential matters of public importance, the view of the stevedore is as valuable as that of the Princeton professor." But I am not sure that is democracy's assumption (putting aside that we are a republic, not a democracy). Democracy assumes that the stevedore and the Princeton professor's votes count equally in selecting representatives and that the stevedore and the Princeton professor have an equal right to speak on matters of public concern. But democracy does not assume the surrender or rejection of any role for experts and expertise. Nor does democracy assume that, on a matter on which the Princeton professor offers an expertise that the stevedore lacks, the stevedore's views should be as influential on policy decisions. Just as I expect the stevedore's views should be more valuable and influential on the question of working conditions on the docks.
Ferguson is on the same page as Paul, Eric, and others who criticize academics for trading on their prestige in opining on matters beyond their expertise; the trick then becomes figuring out when those academics are truly speaking as useful experts and when they are speaking as credentialed citizens (as Brian Kalt put it, "your average lawyer"). But Ferguson goes one step further in rejecting all expertise.
Posted by Howard Wasserman on December 21, 2019 at 06:12 PM in Howard Wasserman, Teaching Law | Permalink | Comments (11)
Some Questions About the Harvard Law Review and its Scholarly Treatment of Prison Issues
This is a long post. I say so below, in the body of the post, but want to emphasize it here at the start in a kind of preface. I wanted to write what is ultimately a questioning and critical post in a way that was fair, and that aimed at the questions that inspired it without being dismissive of the work I'm questioning. I think the questions I raise are valid and important ones, concerning the nature of legal scholarship and the state of what is supposed to be one of the leading journals of legal scholarship, the Harvard Law Review. They deserve to be aired fully, both to put it on the record, so to speak, and so that those who care about these things can confront them properly and in an informed fashion. I'm sure there are many ways to write the same post more briefly. Some of them would involve stinting on details that I think matter, however, and most of them would involve spending more time than I have. As it is, medical issues delayed the publication of this post, which I started writing in November and ought to have published a few weeks ago. That's a benefit of sorts, since it gave me more time to see whether my concerns would be addressed in a timely fashion in the Harvard Law Review Forum. I can't say I apologize for the length, but I wouldn't object if many readers chose to give the post a miss. Where concerns about scholarship and our discipline are concerned, I think it's important to put things on the record, even if that record is too lengthy.   
For those who are still interested, bear with me. For what it's worth, my main area of interest and reason for writing this--not to dismiss the articles I discuss here, but to ask about how they relate to the basic scholarly mission of the Harvard Law Review and what is largely missing so far from its work on the topic of "prison abolition"--can be found in the final section of the post.  
* * * 
This year's Supreme Court issue of the Harvard Law Review is out. I always enjoy it, both in itself and as an object of professional and institutional inquiry. The Foreword this year, by University of Pennsylvania professor Dorothy Roberts, is titled Abolition Constitutionalism. Its take-off point is "prison abolition." In Professor Roberts's words and those of the writers she quotes, "Many individuals have...concluded that the answer to persistent injustice in criminal law enforcement is not reform; it is prison abolition." The movement wants to "'make "abolition" a practical theory of change.'" Roberts's Foreword seeks to "make the case for an abolition constitutionalism that attends to the theorizing of prison abolitionists...[and] to examine prison abolitionist theory and organizing as it relates to the U.S. Constitution in particular." The ultimate goal is to "construct a new abolition constitutionalism on the path to building a society without prisons."
This is the second occasion in a very short period of time on which the Harvard Law Review has devoted substantial space and resources to this topic. An unusual "Developments in the Law" issue of the HLR in April 2019 also focused on prison abolition. I say "unusual" because, at least as long as I can remember as a reader of the HLR, the Developments issue has been student-written. This Developments issue was, apart from an introduction, written instead by two professors, an activist who is also an adjunct professor, and a Miami Law student who served a prison sentence and now also works for restoring voting rights to former prisoners. I found the departure from the norm noteworthy as such, and--or "but"--admired the inclusion of a number of individuals, especially a non-"top ten" law student, who do not fit the usual pattern of iron-cage credentialism that generally characterizes the leading law journals. But it was unusual. I have more to say about Roberts's extensive (about 120 pages) Foreword below, but I'll just say for now that I read it and admire various things about it, some of which I identify and single out for praise.   
On the one hand, the focus on the single topic of "prison abolition" in two nearly-contemporaneous issues, surely involving at least some overlap of editors, could be taken as indicating that the HLR, or its current staff, take the subject very seriously indeed. And one might say by extension that its staff takes very seriously the "'concrete reforms" (to quote the introduction to the Developments issue) that might be made with respect to a congeries of issues: the number of prisoners in the United States, the number of African-American prisoners in particular, capital punishment, bail, court fees and fines, the effect of criminal records, and police violence, to name a few identified in the same introduction. On the other, I can't help but feel that the Foreword and the Developments issue taken together present some intellectual, political, and institutional questions that raise genuine questions about the journal's ultimate seriousness about these issues, about reform with respect to these topics, and about its willingness to engage in serious intellectual inquiry about them and about "prison abolition" as a movement and a theory.
Of course this is the usual long post, for a couple of reasons other than the usual didn't-have-enough-time-to-write-a-short-post one: 1) I want to give due credit to the Foreword and its author and to the review and its editors for positive or creditable aspects of these works while still raising some questions and potential criticisms, and doing both requires a little more nuance and space. That's especially so because it seems to me that we live in a cultural and intellectual moment in which sincere caveats or notes that in a sound academic environment ought not be needed at all--such as that criticism does not mean one is attacking or disagrees completely with an article or a scholar or a viewpoint--are no longer assumed or given sufficient credence. 2) I'm interested in raising questions about how an intellectually serious journal would address the issue or movement or theory of prison abolition, not in taking a position on prison abolitionism itself. That again requires a little nuance. My goal is ultimately to ask what one would expect of a journal that takes these issues seriously and is a serious intellectual and academic enterprise as opposed to something else entirely, not to take on the substantive topic. But I think the questions I ask are legitimate, and could or even should be voiced more vigorously, not least by Harvard's own faculty and administration.   
* * *
I've been a less active scholar in recent years due to some medical issues (and my own flaws), so I apologize for citing work done long ago. Would that I had a more recent book of my own to point to as an example! But when I wrote a pair of books an age or two ago, one about "constitutional agnosticism" and one about "First Amendment institutions," one essential duty was to define those terms with as much clarity as possible. I'm not sure I fully succeeded in either case, although I tried, and critics rightly pointed out the lack. Had I turned in the manuscripts without at least making a serious effort to define my main concept in each book, however, I doubt they would have passed review by the presses or by their internal reviewers--also rightly so. Had I refused to define them on the grounds that it was all about, to quote the legal argument offered in the film The Castle, "the vibe of the thing," the refusal would rightly not have passed muster, or if it had would have been the subject of derisive comment by reviewers. Of course definitions are often imperfect, in themselves or in what they include or exclude. But they're also an essential part of scholarship. Whole fields of scholarship are built around attempting to define the nearly undefinable, and often the fact that an idea cannot be clearly defined is taken by scholars and others as a good reason to harbor doubts about it.  
Early on, Roberts writes, in a passage worth quoting at length, "It is hard to pin down what prison abolition means. Activists engaged in the movement have resisted 'closed definitions of prison abolitionism' and have instead suggested a variety of terms to capture what prison abolitionists think and do--abolition is 'a form of consciousness,' 'a theory of change,' 'a long-term political vision,' and 'a spiritual journey.' Professor Dylan Rodriquez, a founding member of Critical Resistance, lyrically defines abolition as 'a practice, an analytical method, a present-tense visioning, an infrastructure in the making, a creative project, a performance, a counterwar, an ideological struggle, a pedagogy and curriculum, an alleged impossibility that is furtively present.'"
One may sympathize with Professor Roberts insofar as, as a scholarly work, her Foreword is tasked with offering a workable definition of a broad ideological and activist project whose own chief writers seem, on this description, to have a sweeping and/or vague vision of what it actually is. She had much more space, it's true, but she certainly goes further in defining it than the introduction to the Developments issue manages to do. And Roberts does, in a sense, at least narrow her focus, by identifying "three central tenets that are common to formulations of abolitionist philosophy." She devotes considerable space to an interesting and admirable effort to describe those tenets. Still, despite her devotion of almost 40 pages to a "summary of prison abolition theory and . . . its foundational tenets," I found myself grasping after a clearer definition. 
This is not a criticism of Roberts's effort. (If criticism were apt on this point, it would be better coming from someone with a surer grounding in this literature and in criminal law and justice scholarship than I possess.) Perhaps the problem is inherent in the topic--or the movement. But, between a 120-page Foreword and a special issue, and with due regard to what a serious scholarly journal is obliged to do if it is to be a serious scholarly journal, one might expect a journal to find meaningful space for a sustained critical examination of what the inability to clearly define a movement that is at least in part a scholarly and intellectual one means for that movement, both intellectually and practically. It is an obvious line of concern and criticism, and surely a sound and fertile basis for scholarly discussion. Given the many pages the HLR has devoted to prison abolitionism in the past year, the journal seems to fall short on this point. Nor do I think it's sufficient to say that no definition is possible because prison abolitionism, as at least some of its proponents define it, is everything from a "spiritual journey" to an "ideological struggle." Scholars who deal with spiritual or ideological movements begin by defining those movements. Where they escape or defy definition, scholars discuss that fact, and raise the obvious questions and problems that result from a movement that lacks clarity--problems as much for those inside it as for those trying to understand it from the outside.
From my perspective, the most interesting contribution of the Foreword, other than providing a substantial introduction to the concept and literature of prison abolition, is Roberts's discussion of two possible paths in understanding prison abolition in relation to American constitutionalism. (There is also an extensive discussion of the Supreme Court's discussion in Flowers v. Mississippi. While I have nothing to say about it, it's worth lauding, given the number of Forewords in the past few decades that barely glance at the Supreme Court Term that is their reason for existence, or that treat recent decisions at a high level of abstraction without delving into any particular cases.) As she puts it in her conclusion, there is a "tension between two approaches to abolition constitutionalism. On the one hand, there is good reason to renounce the Constitution because constitutional law has been critical to upholding the interests of the racial capitalist regime while advancing legal theories that justify its inhumanity. On the other hand, there is utility in demanding that the Reconstruction Constitution live up to the liberation ideals fought for by abolitionists, revolutionaries, and generations of ordinary black people." According to her account, "some prison abolitionists eschew any reliance on the Reconstruction Constitution" and reject the Constitution more generally; earlier, she writes that one path of abolitionism "is resigned to the futility of employing U.S. constitutional law to dismantle the prison industrial complex and other aspects of the carceral state." A second path, one I think it is fair to say she favors, "finds utility in applying the abolitionist history and logic of the Reconstruction Amendments to today's political conditions in the service of prison abolition." Although she provides a number of arguments in favor of an instrumental use of the Constitution in service of prison abolition, she acknowledges the tension and argues that abolitionists "must engage dynamically with this tension." This is a useful discussion and fitting conclusion. It is equally true for scholars who are simply interested in studying and discussing prison abolitionism, whether they consider themselves members of this movement or not.
A second and related tension she discusses, also usefully, is that between prison abolition and prison reform. Prison abolitionism, on her account, "is defined in contradistinction to reform: reforming prisons is diametrically opposed to abolishing them. Efforts to  improve the fairness of carceral systems and to increase their efficiency or legitimacy only strengthen those systems and divert attention from eradicating them." This raises an obvious question: "How can abolitionists take incremental steps toward dismantling prisons without falling into reformist traps?" Abolitionists have "resolved this quandary," she writes, by adopting "the concept of 'non-reformist reforms--those measures that reduce the power of an oppressive system while illuminating the system's inability to solve the crises it creates.'" I'm not at all sure she convinces me that "non-reformist reforms" avoid the "reformist traps" she describes as a concern of the abolitionists. It seems to me that as with the former point, she could conclude more forcefully that this is an ongoing and perhaps an ineluctable tension. But I appreciated her raising and grappling with the question.
* * *    
I have given a lengthy description of Professor Roberts's Foreword, and noted some of what I found most instructive in it, because I have no interest in simply dismissing it, nor in dismissing "prison abolitionism" as such. Criticisms of legal scholarship based solely on the politics or aims of the scholar or scholarship, even if and when they're justified, tend to be accepted or rejected along the usual polarized political lines, and as such rarely move discussion forward. And I care more whether a particular article is good than what its politics are. An explicitly "political" or normative article that is open about the flaws, dangers, tensions, and unanswered questions of its argument, and that is open about how its logic could be used in ways that make it useful to one's political opponents or politically unsaleable for one's allies, can be a fine piece of scholarship. An ostensibly disinterested scholarly work that fails to do these things is not.
But it does seem to me that this rather large collection of pieces, appearing in a short time in the same journal, does raise some obvious but important questions about the state of the scholarly mission of the journal and about what it does not do, and perhaps about its institutional functioning. The latter point is perhaps most evident in the unusual nature of the Developments issue itself. Was the decision to depart from the journal's usual practice of making the Developments issue a student-written issue supported overwhelmingly by its editorial staff? Was the decision to devote that issue only to the writings of prison abolitionists, and not to include critics of prison abolitionism or supporters of, so to speak, "reformist reform" also supported by everyone? Were there no editors who harbored intellectual or practical doubts about prison abolitionism? Even more to the point, were there no editors who support prison abolitionism but thought that, as a scholarly journal, the Law Review should have included serious skeptical or critical treatments as part of its unusual Developments issue? 
One might ask similar questions, not about Roberts's Foreword, but about the journal's institutional treatment of that Foreword. One of the useful aspects of the HLR's online Forum is that it allows for critical scholarly responses to the journal's main articles. "Critical" doesn't have to mean "opposed"; just critical. No article is perfect and no interesting topic does not have ample room for varied approaches and hard questions. Often, as far as I can tell from the outside, the journal commissions Forum pieces precisely for that reason, and does so around the same time that it commissions the articles to which the Forum pieces are a response. Most recent Forewords have been accompanied, often contemporaneously, by responsive Forum pieces. So far there is none for Roberts's Foreword. It is certainly possible that one or more such pieces are on their way, and that they will raise some of the questions that any scholar might raise about the Foreword or about prison abolitionism itself. I hope that's the case. But given that the Developments issue came out in April and surely was some time in the making, there has certainly been a long delay, even leaving aside a Forum response to Roberts's Foreword. From both a scholarly and an institutional (assuming that at least a couple of editors think there ought to be critical as well as supportive treatments of the issue, whether for purely scholarly and intellectual reasons, or for institutional reasons, or because they are personally skeptical of prison abolition) perspective, I find it hard to imagine any justification for not doing so.
One might respond that there is no need to do so if those criticisms have been well aired elsewhere. I doubt that holds up as a scholarly justification: that might be true of one or two isolated articles, but when a journal devotes an entire issue and a major separate piece to what is largely a single perspective, that response becomes quite weak. The more it says from a single perspective, surely the more obvious it becomes that there are unanswered questions that ought to be addressed. Nor is it a good justification to say that the journal is uninterested in such perspectives because there is nothing to be said on the other side. At least on this issue, the Foreword itself notes several tensions in the movement, and both the Foreword and the Developments introduction note the difficulty in defining the movement at all. Obviously there are things to be said on the other side.                                 
Finally, I don't see how it would be a good response to say that the journal is only interested in one perspective because it has taken an institutional stand in favor of one position. The most obvious response, and one I endorse, is that this is not how a scholarly journal is supposed to work. It is especially true in the case of a massively staffed student-run journal, because it seems unlikely that there is unanimity on the part of all the editors on that position and, even if there were, it is unlikelier still that all of those editors are both fans of prison abolition and opposed to the basic scholarly norms that would counsel in favor of including critical as well as supportive treatments of that movement. Even if every editor subscribed to both propositions and was interested only in advocating for and selling prison abolition, and even if that were a legitimate approach for a flagship law journal, from a strategic point of view there is good reason to think that a univocal approach, one that doesn't include the usual scholarly apparatus of serious doubt and criticism, will only convince those who are already convinced and will ultimately do more to engender skepticism about the whole project than to advance its serious treatment by others.
In fact, and with due acknowledgment that this isn't my field, it seems to me, based on some searches and inquiries to criminal law scholars, that it is not the case that criticism or skepticism of prison abolition has been well aired elsewhere, and especially not in legal scholarship. Even though the movement has been around for some time, it has only gained wider public attention relatively recently, so perhaps that's unsurprising. A number of the journalistic treatments that have been offered on the subject, which one might expect to include some effort to air criticisms or skepticism, have failed to do so in any serious way--an unfortunate side effect, it seems to me, of changes in journalism since my own brief stint as a journalist. The New York Times Magazine's main discussion of this topic, to give a prominent example, is written by a novelist who is a prison abolitionist. There are a couple of well-known law review articles discussing prison abolitionism, now including Roberts's Foreword, but Roberts writes that "[a]bolitionist theorizing and activism have largely occurred separately from lawyers and the legal academy," and the Developments introduction, which she cites, similarly asserts that prison abolition "is so often missing from legal journals and education." If legal scholarship hasn't much discussed prison abolition at all, it surely has left a gap for critical discussion of the subject. One would think legal scholars, including those who support abolition, would naturally support efforts to encourage such a literature.
As I've made clear, this isn't my field. I wouldn't write such an article. But I would certainly be interested to hear what criminal law and justice scholars might say if they turned a critical eye on the topic. People tend to like publishing in the Harvard Law Review and its Forum, and I imagine it would not find it impossible to find smart and qualified legal scholars to raise critical questions about it from a variety of perspectives. I imagine it could find even more from other disciplines (such as criminology) in which there has already been more discussion of prison abolition, including critical discussions by those who are sympathetic to the movement.
The editors could start, both in identifying questions and in identifying authors, with this article by two criminologists, Nicolas Carrier and Justin Piché, on "Blind Spots of Abolitionist Thought in Academia." They argue in this 2015 article that while abolitionism has been subjected to "harsh and ill-informed critiques, . . . not all critiques directed at abolitionism are misguided....[T]he marginality of abolitionism, in the realm of scholarship and elsewhere, is at least partly the result of failures to adequately confront a set of longstanding and emerging challenges, compromising its very tenability." They note what they consider, at the time, a paucity of "comprehensive critical self-assessment[s] of abolitionism," and identify an article from 2000 that they think does fit the bill. In the 15 years since the publication of that article, they write, "abolitionists [still] have not satisfactorily confronted some critiques that have been [made of] prison and penal abolitionism." And they note, importantly although I would have thought it obvious, that "[i]f academia offers the privilege of indulging in abolitionist communications, then an academic discussion of some of its  problems and unsolved dimensions ought not  to be interpreted as a negation of its possibility."
If Carrier and Piché are (still) right, then there is room and need for informed but critical discussion of prison abolitionism. Given the recent volume of pieces the HLR has published on the topic, the ability of that journal to solicit the work of good writers, and the function of the HLR Forum and the space it provides, one would think it would be in a particularly good position to commission such work, and even that as a scholarly journal with an apparent strong interest in the subject it has a duty to do so. Given the vast number of criminal law scholars, one would think that the legal academy would be fertile ground to find such critics. The journal's student editors, having spent so much time working on this subject, would also be well positioned to do such work; surely some of them, while they were editing the contributions on this topic and familiarizing themselves with the abolitionist literature that is copiously cited by Roberts and the authors in the Developments issue, found unanswered questions and room for doubt. As I have noted, Roberts certainly acknowledges and addresses "tensions" and "quandar[ies]" in prison abolitionism; but that is surely not all that can be said. And given the recent emergence of some serious abolitionist scholarship in the law journals, one would also think that there is room not only for sympathetic critique but for more forceful work opposing or raising serious doubts about prison abolitionism--work which could or would now not be "harsh and ill-informed," but thoughtful and informed by the very work that these abolitionist legal scholars have published.
That none of this has yet appeared in the HLR is at least unfortunate. I think it's fair to say it raises some serious institutional questions--for this journal, at a minimum, if not more generally for American legal scholarship. It may be a scholarly duty for a legal academic journal to publish new ideas or topics that have been neglected in legal scholarship. But it is equally a duty for it to publish critical thinking about those new ideas and not just to champion them. And the more a journal publishes on that topic, the more pertinent and pressing that duty becomes. If it were really serious about these issues, one would obviously expect it to be serious enough to seek out and offer good critical work on the topic. It seems to me that merely championing some movement is, in some ways, and especially for a leading scholarly journal, as much an indication of a lack of true seriousness as it is of genuine seriousness about it.
On the one hand, I hesitate to be too critical about the work of law students, and wish to be charitable. On the other, rightly or wrongly, the HLR is considered a leading scholarly journal in our field; and its editors, in my scanty experience dealing with them, are smart, serious, and capable. Their privileged position, the importance of their journal to the discipline, and their talent and intelligence all suggest that it is fair to ask whether they could have done better and, more cautiously, why they have proceeded as they have so far. As I've said, perhaps there are Forum pieces or student notes in the offing that will offer a more critical and disinterested scholarly take on prison abolitionism. But they haven't shown up yet, and there is certainly still time and room to provide such work if none has been planned, and a large number of criminal law scholars who might do it if asked.
Although I understand the HLR to be a more or less independent entity, there are also institutional questions about the law school and its faculty and administration, and their response to the work the journal has been doing of late. Were there any faculty concerns about the unusual nature of the Developments issue, with its departure from the usual practice of being student-writtten? Were there are concerns about whether the student editors were all in agreement with an issue that took an essentially supportive rather than disinterested scholarly position on prison abolitionism, and if not whether those editors were given an opportunity to provide more critical contributions? Are any of the faculty concerned about the absence, so far at least, of any critical response in the HLR Forum to either the Development articles or the Foreword? Have any of the faculty or administration conveyed any such concerns to the journal's editors, in "Grizzer-gram" fashion? If they haven't, I think they ought to--not because they support or oppose prison abolitionism, but because they want the journal to function at its best and in proper fashion as a scholarly journal. I have no inside knowledge about any of this, of course, and perhaps there have indeed been such discussions. There is surely room for them.
I repeat: I have no brief against prison abolitionism, as an intellectual or activist movement; and I think the Foreword, in particular, is a serious and interesting piece. Nor, at least here, am I questioning whether there can ever be advocacy in legal scholarship or by legal journals. My concern is with the unusual way it has been addressed by a leading general (and not subject-specific) scholarly journal, with a particular set of scholarly duties, and with whatever that unusual treatment may have to say about the journal institutionally. For various reasons, good or bad, these kinds of questions tend not to be aired publicly all that much, even if other scholars might have the same concerns. But I think there are reasons to be concerned, and to put those concerns on the record. Ours is, after all, or is supposed to be, a scholarly discipline; and we are ultimately the ones responsible for policing it, publicly as well as privately.
Posted by Paul Horwitz on December 21, 2019 at 12:16 PM in Paul Horwitz | Permalink | Comments (0)
Happy Holidays - Take a Break from Research with Fiction about Us
Professors deserve some downtime too... As longtime readers of this blog know, my favorite type of fiction is the one close to home - the academic or campus novel. So I liked finding this list which includes some of my favorites (William's Stoner; Lodge's Trilogy; Sittenfield; Chabon; Rooney) and some new titles I need to order. Enjoy and if you stumble upon some new great academic novels please SHARE!
I am in the middle of Richard Rousseau's new book Chances Are, and it is about the formative college experience, but not a true academic novel like his amazing Straight Man. I also so want to find something that would match the four Napoli books of Elena Ferrante, which at some point become about a professor's life.
Posted by Orly Lobel on December 21, 2019 at 02:02 AM | Permalink | Comments (6)
Thursday, December 19, 2019
Oaths, Impeachment, and Questions of Degree
Senator Lindsey Graham caused quite a stir last week when he said, regarding the impeachment of Donald Trump "I'm not trying to pretend to be a fair juror here."  Soon after, Senator Mitch McConnell said "I'm not an impartial juror . . . I'm not impartial about this at all."  While we might all suspect that Graham and McConnell were never going to vote against President Trump in the upcoming impeachment trial, these statements are nonetheless controversial because they seem entirely at odds with the oath that both Graham and McConnell will have to swear at the beginning of the impeachment trial.
The U.S. Constitution states: "The Senate shall have the sole Power to try all Impeachments. When sitting for that Purpose, they shall be on Oath or Affirmation."  The oath itself is not written into the text of the Constitution, but the current Senate rules contain the following oath: ""I solemnly swear (or affirm, as the case may be) that in all things appertaining to the trial of the impeachment of [name], now pending, I will do impartial justice according to the Constitution and laws: So help me God.''  Similar language about impartial justice has been used in the oath for a very long time, at least dating back to the impeachment trial of Andrew Johnson.
While the text of the Constitution does not say anything about impartiality, it seems pretty clear why impartiality is included in the oath.  In Federalist 65, for example, Alexander Hamilton stated that the Senate was the optimal body to try impeachments because they were independent and thus more likely to be impartial:
Where else than in the Senate could have been found a tribunal sufficiently dignified, or sufficiently independent? What other body would be likely to feel CONFIDENCE ENOUGH IN ITS OWN SITUATION, to preserve, unawed and uninfluenced, the necessary impartiality between an INDIVIDUAL accused, and the REPRESENTATIVES OF THE PEOPLE, HIS ACCUSERS?
In other words, Hamilton wanted the Senate to make these decisions precisely because it was more insulated from political pressures.
Others have noted that the statements by Graham and McConnell are, on their face, inconsistent with the oath.  I agree.  But I wanted to write this post in response to a counterargument that I've seen—namely, that because impeachment is necessarily a political process, we cannot expect the Senators to actually be impartial.  Perhaps the oath is outdated, some say, and in a post-Seventeenth Amendment world,* we must expect that Senators will make their decisions solely on the basis of partisan considerations.  In other words, some are arguing that, the oath notwithstanding, we cannot expect political actors to behave impartially.
I am no impeachment expert, but I think that this issue raises a deeper question that is worth talking about.  The question is whether we can acknowledge that impeachment will necessarily include political considerations, while, at the same time, insist that it be something other than an exercise in rank partisanship. That politics will play a role in impeachment is, of course, inevitable because the task was assigned to Congress.   But even if politics has some role to play--or at least will play some role--in impeachment, that doesn't mean we should throw away the idea of the oath or the principle of impartiality.  I think we can acknowledge some role for politics without saying that politics is the only thing that will or should matter. 
I see an analogy here to judges and the role of personal values and judgment calls. I know a number of people who insist that judges must adopt a methodology such as textualism or originalism in order to constrain them from making decisions based on their own values or policy preferences.**  Their argument seems to be that, if we acknowledge that a judge's values should sometimes guide their decisions, then there is no stopping point—judges can simply substitute their preferences for all policy decisions by the political branches.
This argument about judges ignores hundreds of years of history during which judges routinely decided cases on the basis of their intuitions about right and wrong.  The common law process—in which judges would make modest decisions, and then later attempt to identify broader principles—required judges to consider policy outcomes.  And although the system was hardly perfect, it rarely (if ever) resulted in the parade of horribles recounted by those who counsel judicial restraint above all else.
In fact, I have sometimes wondered whether judges tended to issue modest decisions precisely because everyone understood that it was the judges themselves who were making important decisions.  Maybe it is easier for modern judges to make sweeping countermajoritarian decisions when they can say that the text or the history of the Constitution demands such a decision.  If judges today had to say they were making a decision because they personally believe it to be the correct outcome, would they, perhaps, make more narrow decisions?
Similarly, we could acknowledge that Senators are likely to be swayed by political considerations, but also expect them to observe certain norms of impartiality.  For example, what if the Senators openly tried to grapple with the inevitable pull of partisan politics? What if they were to say something like "I know that, as a Republican (or Democrat), people might worry that I am going to vote against (or in favor of) removal based only on politics, but here is why I think it is the correct decision . . ."?  In other words, Senators could embrace the idea that politics inevitably shape important decisions, but also try to explain the substantive, non-political reasons for their decisions.
In any event, the path that Graham and McConnell have taken seems untenable to me. I don't see how either of them can say these things and then swear an oath to do "impartial justice."  Whatever the phrase "impartial justice" means, it does not mean loudly declaring that you refuse to be fair.
* I find the role of the Seventeenth Amendment in all of this to be fascinating.  If anyone knows of some good writing on the Seventeenth Amendment and impeachment, please let me know!
** There are, of course, other reasons to adopt such methodologies. But a number of smart people I know have said that they prefer such methodologies because they constrain judges.
Posted by Carissa Byrne Hessick on December 19, 2019 at 02:36 PM in Carissa Byrne Hessick, Constitutional thoughts, Current Affairs | Permalink | Comments (9)
Wednesday, December 18, 2019
Kalt on "Experts" and Journalists
A nice piece by law professor Brian Kalt at Quillette, arguing that, as the headline puts it, "Journalists Need to Do a Better Job Matching 'Experts' to Their Actual Expertise." Although Kalt is writing mostly about law professors, of course it is true of many subjects.
I note Kalt's piece for purposes of adding two things. First, as Kalt observes later in the piece, perhaps too gently, this is something the experts themselves could help with. I would go further than that. By definition, the "experts" themselves are the ones who are supposed to get it right: to know the subjects on which they are or aren't qualified to opine. Kalt writes, correctly, that when contacted by a journalist, one may not know enough to opine, but may have some idea who is an expert in that area and to offer those names to the reporter. It's a good thing, and perhaps a professional obligation, to help in that fashion. But the most important word in the sentence "No, I'm not an expert on this subject and thus won't talk to you, but here are some people you might contact," is "No." The most important obligation an actual expert has is to refuse to talk qua expert about any subject on which one isn't actually expert. 
Expertise is not relative. Some professors may console or rationalize a willingness to talk on such subjects on the grounds that they certainly know more about the subject than the reporter or than many laypeople and thus can be of some help. But expertise consists of a high level of skill or knowledge, not a better-than-average level of skill or knowledge. And it is topic-specific. Teaching a survey course in some area does not make you an expert on everything contained within that course, and most people who teach, say, constitutional law focus their scholarship on some particular area rather than the whole megillah. If you're not genuinely expert on the topic you've been asked to opine on, just say no. The headline of Kalt's piece notwithstanding, it seems to me that the burden is first and foremost on the "expert," not the journalist. (Nor, of course, is it sufficient that being quoted is seen as being good for your law school or university. Even if it were true, which I doubt, that it's genuinely good for your institution for you to talk about questions outside your expertise, your primary duty is to your discipline and to your professional integrity. Being an academic means never having to say you're sorry when you tell your institution's press person that you're unwilling to talk to a reporter.)
Second, Kalt offers a useful stylized account of what he thinks and says when asked to opine on some issue about which he has "only a glib understanding and no special expertise," in which he explains to the reporter that he doesn't know more about some question than "your average lawyer." It seems to me that this is the key to the dialogue Howard had a while back with some commenters about why he would not sign a law professors' letter addressing the question of a judicial nominee's demeanor. Howard wrote that that question "did not call for any scholarly expertise"; some commenters argued back that this was a question on which one could be an expert. There is some truth to the commenters' counter-argument, at least in the abstract. But it is not a question on which most law professors, or even most teachers of subjects like legal ethics, are expert, and they are certainly not expert simply by virtue of being law professors or lawyers. If your opinion on a subject is ultimately, and at best, just that of "your average lawyer," again, you should not opine on that question.       
Posted by Paul Horwitz on December 18, 2019 at 02:08 PM in Paul Horwitz | Permalink | Comments (0)
Criminal Law syllabus / course aims and goals
Over the years, I've revised, tweaked, abandoned, and cobbled together a few pages, at the front of the syllabus, about the aims and goals of my first-year Criminal Law course. To avoid exam-grading obligations, I'm messing around with them again. And, if anyone else needs an avoidance-behavior opportunity, I'd welcome reactions and suggestions!  Below the jump . . .
Course Description and (Some) Goals:
            In this introductory course, we will read, talk, learn, and think about the Criminal Law. Our focus will be, for the most part, on what is often called "the general part" of Criminal Law rather than on specific offenses in particular jurisdictions. We will cover technical matters and traditional doctrines as well as the theoretical, philosophical, and moral assumptions, commitments, and goals that shape the ways we define, prosecute, and punish crimes. The study of Criminal Law can and should be challenging and unsettling – and also fascinating and fun. I look forward to working with you.
            A goal for this class, and for the entire first year of law school, is to learn how – and to push ourselves – to read carefully, write clearly, and think rigorously, "like a lawyer." More specifically, my hope for each one of you is that you will acquire and develop:
(1) The ability to read and the habit of reading legal materials – cases, statutes, constitutions, etc. – in a careful and disciplined way. In many contexts, skimming texts for the "general idea" works fine. In the Criminal Law and law-school contexts, though, it usually doesn't. As you'll see, words matter: they can make the difference between going home and going to prison.
(2) The ability to draw relevant and instructive comparisons and similarly relevant and instructive distinctions. This is a big part of what "legal reasoning" is all about. You should be able to pull general principles and rules from one case and apply them to another – or, to explain why they should not be applied and others should be instead. In your law-school classes, when your teachers push you with hypotheticals and changed facts, this kind of reasoning is what we are aiming for.
(3) An appreciation for the fact – and, to be clear, it is a fact – that legal doctrines, rules, tests, and standards reflect and are shaped by underlying premises, assumptions, values, and commitments. You should be able to think critically about these doctrines and identify the premises they reflect and their likely implications. The doctrines and definitions you will study are what they are for certain reasons and because of certain arguments.
(4) A familiarity with a range of traditional and contemporary Criminal Law terms and doctrines and also with certain notable features of the Model Penal Code. Because Notre Dame Law School students come from, and go to, a wide array of jurisdictions, it does not make sense to limit ourselves to any particular jurisdiction's criminal statutes. It does make sense, though, to notice and appreciate the fact that, sometimes, different jurisdictions take different approaches, employ different definitions, and apply different rules.
(5) The ability to listen carefully and sympathetically to others' arguments – especially arguments with which you think you disagree, or which irritate or offend you, or which challenge or unsettle you – and to reflect upon them, to engage them, and to respond thoughtfully and civilly to them. To teach, and to study, Criminal Law appropriately requires engaging with a number of difficult and controversial questions and topics.
(6) A genuine and abiding enthusiasm for lawyering and the legal enterprise, and a happy resolution to live your life in the profession – in this vocation – as a "different kind of lawyer."
            Now, at some point, you will almost certainly ask yourself "why isn't this class more like Law & Order . . . or Sherlock, or Suits, or Better Call Saul?" The truth is, in the "real world," there is much, much more to "criminal law" than you will encounter in this course. This course is not (directly) about search-and-seizure rules, policing and profiling, interrogation practices, trial procedures, evidence, post-conviction review, prison conditions, criminology, or the death penalty. Our subject – substantive Criminal Law – is only one part of (what is often, but misleadingly, called) the criminal-justice "system." The criminal-law process, as it plays out in the trenches, involves and is influenced by bureaucracy, procedural rules, personalities, choices, evidence, case-specific facts, race, budgets, poverty, wealth, politics, fear, prejudice, bravery, and evil. Those of you who decide to practice criminal law (or who really like crime dramas) will want to explore, during your law-school career, a wide variety of other courses. (When the time comes, I'll be happy to offer suggestions.)
        That said, relatively few of you will actually practice criminal law. So . . .  why is Criminal Law a required course? Here are a few reasons: First, the first-year Criminal Law course is intended to continue your introduction to statutes and to the very important, lawyerly task of interpreting and applying them. You'll need this skill in many upper-level courses and almost all of you will need it in practice as well. Second, it lays a foundation for understanding and thinking critically about the fairness, rationality, efficiency, and morality of the criminal process and you ought to be able to do these things as a lawyer – especially as a Notre Dame lawyer – and, even more importantly, as a citizen. Third, this course raises fundamental "big questions" about the law. For example: Why do we punish? What justifies punishment? What counts as a harm? When are people responsible and/or culpable for their actions or for the harms they cause? What are the limits on the coercive power of the state? These questions will arise in different forms in many other classes, in many areas of practice, and in any "examined life." Our hope is that "Notre Dame Lawyers" will take them particularly seriously.
Posted by Rick Garnett on December 18, 2019 at 11:39 AM in Criminal Law, Rick Garnett | Permalink | Comments (2)
Monday, December 16, 2019
The Clinton Impeachment Precedent
There is some talk from the President's supporters (and others) that his impeachment means that impeachment will become a more common part of politics. This may be true, but I would pin the blame on the Clinton impeachment.
Prior to 1998, every impeachment was done with a reasonable prospect of obtaining a conviction in the Senate. Not every trial resulted in a conviction, of course, but the ones that did not were close. While analogies to criminal law are tricky in impeachments, there is some similarity here to the thought that a prosecutor should not bring a case unless he or she thinks that there is a reasonable chance of obtaining a conviction. In other words, people should not be indicted just to make a statement.
The Clinton impeachment broke new ground. Everyone knew that the Senate would not convict President Clinton, but the House impeached him anyway. This was a defensible position in the sense that the House and the Senate are independent bodies. The House of Representatives is within its rights to impeach someone no matter what the Senate thinks. After all, maybe the Senate is partisan, maybe the Senate is wrong, etc. Once the House started down that road, though, a restraint on presidential impeachment was removed.   
Posted by Gerard Magliocca on December 16, 2019 at 09:29 PM | Permalink | Comments (3)
Reported Entry Level Hiring 2020 - Spreadsheet
Here is the spreadsheet for 2020 entry-level hiring. This information is drawn from what seemed to be public postings (for example, tweets) that announced entry-level hires. I have included the link to the relevant public source (for example, the tweet announcing the hiring).
As always, if you are the person listed and would like the entry changed or removed, just send me an email and I will immediately change or remove the listing.
I'm happy to add other reports of hires anytime, if people want to email me with their own information (or if someone wants to point me toward a public source for the information, such as a tweet or announcement by a school); in addition, the usual call for information will be posted in early March.
Posted by Sarah Lawsky on December 16, 2019 at 09:30 AM in Entry Level Hiring Report | Permalink | Comments (13)
Sunday, December 15, 2019
Proposal for Law Journal Publication Reform
Brian Galle (Georgetown; Chair of AALS Section on Scholarship, Advisory Committee on Law Journal Reform) has shared the working draft of the Section's proposal for reworking the publication system. It makes two proposals. It is worth a read.
The moderate change is Limited Submission with Mandatory Acceptance ("LSMA")--authors submit to a limited number of journals and must accept the first offer. A supplement would impose a "quite period" of four weeks--no journal can make an offer on a piece for four weeks from receipt. The sweeping change is a Matching System, a la medical residency--authors identify the journals they would publish in and journals identify the articles they would publish.
The Section meets on from 3:30-5:15 on January 5 at the AALS Annual Meeting.
Two interesting proposals. I am trying to think about which approach is best specifically for professors at schools outside the top-50 or top-75 schools.
Posted by Howard Wasserman on December 15, 2019 at 09:20 PM in Howard Wasserman, Teaching Law | Permalink | Comments (1)
The Constitutional Remedial Gap
The current impeachment proceedings exemplify a recurring problem in American history. If a President engages in misconduct only one formal remedy is available--impeachment and removal. If a member of Congress or a federal judge engages in misconduct, there are a range of possible penalties that can be tailored to the offense.
Suppose a member of Congress does something wrongful and does not resign. Her part of Congress can expel her, but that is a draconian sanction that has been imposed only a few times in each House. She can, though, just be "censured" and penalized through a loss of committee memberships or a curtailment of floor privileges. Or there can be a reprimand with consequences for her next election. Likewise, a federal judge who misbehaves can be disciplined by means other than an impeachment. Judges can be suspended from hearing cases for a period of time by a circuit or by the judicial conference.
There is nothing that can be done to a misbehaving President other than impeachment. Sure there are informal sanctions that can operate, but that may not do all that much. And you can understand why people acting in good faith might hesitate to impeach or remove a President. If every act of misconduct by a member of Congress or the federal bench was reachable only through impeachment, few would suffer that sanction. The Senate tried to respond to this problem for Andrew Jackson by censuring him. One problem with that was a constitutional one (where did the Senate get the authority for that) but another was that the censure could have no tangible impact.  
At best, you might say that the Clinton impeachment precedent is that impeachment is a kind of censure from the House of Representatives. And maybe Presidents care about that. If President Trump is reelected in 2020 notwithstanding his impeachment, though, then that will become something of a paper tiger.
Posted by Gerard Magliocca on December 15, 2019 at 05:14 PM | Permalink | Comments (2)
Friday, December 13, 2019
Kennesaw State pays cheerleader $ 145,000 for having knelt
I missed this controversy from 2017: Five cheerleaders at Kennesaw State knelt before a football game in September 2017, causing the school to alter the pre-game routine and keep the cheerleaders in the tunnel during the anthem. It eventually was revealed that this change came from the political-hack then-President, under pressure from Republican state officials. The school reversed course one month later and the President resigned one month after that. One of the cheerleaders sued; on Thursday, the school settled for $ 145,000.
The resolution is an interesting one, because college athletes stand in a weird position. FIRE's story insists that "[s]tudent-athletes are students first, athletes second, with expressive rights fully protected by the First Amendment." But there are ways in which student-athletes look like employees who represent the university at public events, giving the school a bit more control over their speech. This settlement suggests that, at least in this case, those involved took the former view.

Posted by Howard Wasserman on December 13, 2019 at 09:31 AM | Permalink | Comments (0)
Thursday, December 12, 2019
Can An Impeachment Be Repealed?
Suppose Republicans retake the House of Representatives in 2020. In the new House, they promptly repeal of what they consider the unjust impeachment of President Trump. Can they do that?
The answer, I think, is yes. It's never been done before, but I am hard pressed to see why the House is bound by an impeachment passed by a prior one. This is different from an impeachment and a conviction. The Senate's judgment in impeachment trials is final. The impeachment itself, though, is not different from any other House resolution. (There is an analogy here to the Senate's Censure of Andrew Jackson in 1834, which a different Senate expunged three years later.) I doubt, though, that a repeal of an impeachment will mean that people will say that President Trump was not impeached.
Posted by Gerard Magliocca on December 12, 2019 at 09:12 PM | Permalink | Comments (16)
Evidence that Jews do not run Hollywood
I have written that The Goldbergs (a show we love and watch regularly) struggles with how explicitly Jewish it wants to be. This week's Christmas-themed episode might have been its most Jewish. It showed gifts wrapped with blue-and-white paper with Stars of David; visible Happy Chanukah bunting; and a Menorah with candles. Best of all, it showed Beverly lighting first-night candles.
Then she blew them out.
Posted by Howard Wasserman on December 12, 2019 at 07:29 PM in Culture, Howard Wasserman, Television | Permalink | Comments (1)
Jewish-as-race-or-national-origin
I have not weighed in on the dispute over the administration's new order on anti-Semitism and Title VI. I do not like the new regs in my guise of free-speech advocate, because it appears to have potential to incentivize schools to restrict a lot of protected speech (including naked anti-Semitism) for fear of losing federal dollars.
But I do not understand the supposed apprehension that David Schraub describes: Jews do not want to be described as having a distinct national origin because it highlights "otherness," non-Americanness, and the historic charge of disloyalty. Schraub argues that "[i]f Jews are deemed "just" a religious group, then they are not covered by Title VI. Publicly funded programs, under this view, could discriminate against Jews with impunity." But this is incomplete. Schraub ignores the word "race" in Title VI, which seems to capture Jews without having to get into existential debates about nationality and the disloyalty they imply. SCOTUS has held that Jews are protected under § 1982 and Iraqi-born Muslims under § 1981. Lower courts have relied on that case law to hold that Jews are protected as a racial group (defined by "ethnicity and ancestry") under Title VI and Title VII (although other courts disagree). The point is that reading Title VI to protect Jews is neither unusual nor dangerous.
Posted by Howard Wasserman on December 12, 2019 at 07:22 PM in First Amendment, Howard Wasserman | Permalink | Comments (5)
The Cambridge Handbook of U.S. Labor Law for the Twenty-First Century
A new book on labor law for a new century - Rick Bales and Charlotte Garden's labor of love - is a must for anyone interested in the future of our job markets. Thirty-five contributors have written chapters about issues ranging from public sector innovations, combatting union monopoly power; independent contractors and joint employers; international labor law and much more.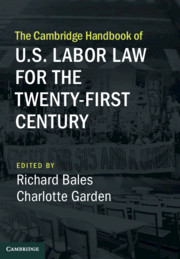 Posted by Orly Lobel on December 12, 2019 at 12:27 AM | Permalink | Comments (1)
Wednesday, December 11, 2019
JOTWELL: Pfander on Sohoni on universal injunctions
The new Courts Law essay comes from Jim Pfander (Northwestern-Pritzker), reviewing Mila Sohoni, The Lost History of the "Universal" Injunction, 133 Harv. L. Rev. (forthcoming), which shows the long SCOTUS practice of issuing universal injunctions (without calling them such).
Posted by Howard Wasserman on December 11, 2019 at 12:37 PM in Article Spotlight, Howard Wasserman | Permalink | Comments (0)
Tuesday, December 10, 2019
Final Reflections on VAP/Fellowship Interview Series
Now that my series interviewing VAP and fellowship directors has ended, I wanted to reflect on the broader lessons that I learned from these interviews.  Your takeaways may differ, so I hope you chime in in the comments if you think there are different or additional takeaways that prospective candidates and/or hiring committees should have.  But I've been on the hiring side for a long time and there were still a number of things that surprised me when I dug into the VAP/fellowship world.
**Before I dig into these reflections, a quick note that Howard Wasserman was nice enough to create a category for VAP and fellowships to the left, so you can now find all of these interviews and posts in one place.  Please remember also that the AALS has a new site devoted to providing information about the law teaching market.  Now onto my final reflections:
1.  It is *really* hard to get many VAPs and fellowships these days, way harder than I would have guessed. I imagined these programs as a chance for candidates coming from practice to kick start their writing, and I think some programs do work like that.  But several of the top programs seem to require that their fellows have several papers before they even start the fellowship.  These programs get enough applications (75+) that they can be this picky, and my guess is that this competition in turn drives the Ph.D. + fellowship trend that we see in Sarah's data.  It's obviously hard to write several good papers in practice, so it's not surprising that candidates are doing a Ph.D. program to write an initial set of papers and then doing a top fellowship to bring their scholarship back into the law world, write even more, and make additional connections.  That's a long on-ramp though, and it likely comes at the cost of other things such as practice experience.
That said, I don't want to overstate the requirements.  Plenty of programs said that their VAPs typically only have one paper when they apply to the program, which is still a lot but obviously easier to prepare than two or three papers.  And several programs stressed that they care most about the idea for the paper you plan to write while in the VAP program, so having a really good idea for your next paper may compensate for not having a CV full of published papers when you apply. 
2.  As a hiring chair, I have often marveled at how much the law teaching market has changed/improved from when your academic pedigree was the main criteria. On the hiring side, we look at what you've written, not where you went to law school, and I think many academics pat themselves on the back for using this criteria.  I worry though that we're ignoring the impact of the VAP/fellowship programs on our decision making.  Sure, maybe whether you went to Harvard/Yale/Stanford doesn't matter much to hiring committees anymore, but I think these credentials do matter when it comes to getting a fellowship.  Writing matters a lot there too, as I note above, but when fellowship candidates don't have many fully polished pieces, hiring decision makers in many programs will fall back on old proxies – where you went to law school, who's recommending you, etc.  So I worry that we've essentially replicated the old hiring system, just earlier in the process.  Not entirely – as noted above, candidates need one or more papers to get a VAP, and the quality of those papers have a lot of weight – but when candidates are less polished and have less developed scholarly identities, it's easy for the old criteria to creep back in.  And now they matter at a stage of the process that's a lot less transparent.  As a hiring committee at Richmond, we can debate these issues among our whole faculty and decide how we want to address them.  Decisions on which VAPs and fellows to hire, in contrast, are made by a fairly small number of people and are not typically subject to a lot of debate by a school's faculty. 
3.  Fellowships really vary in how well they prepare candidates for the market. On the hiring side, I think we tend to lump these programs together ("well, they did a VAP…"), instead of really looking at the details of each program.  We know candidates look different after they have (i) time to write and (ii) good mentoring, and yet the programs really differ in how much time and mentoring the VAPs/fellows get.  On the hiring side, that means we should have higher expectations for the fellows who have been blessed with lots of time and good mentoring and a bit more forgiving of fellows who have struggled to write while juggling high teaching loads and little mentoring.   On the candidate side, *please* ask questions on these points during the VAP/fellowship interview process.  I get that it's hard to suss all that out, and you may not have a ton of options.  But you should still try to ask hard questions about what percentage of your time will be free to write (if it's less than, say, 40% over the year, I would worry).  A teaching load of one doctrinal course per semester is different than a teaching load of two (or even one) legal writing sections per semester.  And ask current or past VAPs how many people read their draft, how many people listened to their job talk and provided feedback, and how many people discussed their research agenda with them. 
This is even more true when it comes to less formal programs.  For the most part, I interviewed the directors of established, long-standing programs.  But plenty of schools hire visitors when they have a curricular hole, and these visitors can often be people who hope to go on the teaching market someday.  My instinct is that these less formal positions likely involve a higher teaching load and far less mentoring than the more formal programs.  Really ask the hard questions here.  If you don't have significant time to write and your goal is ultimately get a tenure-track law job, the position likely isn't worth your time. 
4.  No matter how much support you get from your own school, a VAP or fellowship is still an entrepreneurial process. There's a certain amount of sitting in your office and writing, but you also need to take the initiative to reach out to people in your field, go to conferences, introduce yourself to people, etc.  I talked with one program director who told me, "we're looking for go-getters, and go-getters go get."  I want that on my tombstone—"go getters go get."  What this person meant by that, based on the rest of the discussion, is that they want fellows who take the initiative in asking for what they need, whether it's comments on a paper, connections to people in their field, or anything else.   Even the best fellowship won't hand you these things, and most fellowships are not the best fellowships.  You have to be a go-getter who is going to go get—send that email to the scholar you don't know but whose work you admire or ask a scholar to go to coffee with you at a conference.  Make the first move, even if it feels horribly awkward.  Most law professors are friendly people, and we're happy to help new people in our field.
5.  I was surprised that basically all of the programs said that they don't consider curricular area in selecting VAPs and fellows, at least if the VAP or fellowship itself does not have a curricular focus. I knew that a program like the Climenko or Bigelow wouldn't have explicit curricular preferences, but I guess I expected that these programs would think more about which curricular areas are in demand on the tenure-track hiring side and give high-demand areas more of a thumb on the scale.  Having been on our hiring committee for many years, I will say that even though people talk about "the market" for law professors, there isn't a single hiring market.  Instead, there are many mini-hiring markets in various curricular areas.  Picking on my own curricular area (I'm a corporate law person), the hiring market in corporate law looks really different than the hiring market in federal courts or con law.  Given that it can be difficult to hire a great person in corporate law or other high-demand areas, I wish fellowships sought out people in those areas more and dialed back a bit on some of the other areas where there just isn't as much curricular demand.    But I admit my corporate law bias here, so maybe I am wrong!
6.  Finally, a caveat. My interviews were all with people who had a strong incentive to paint their program in the best light possible.  I get that.  Hiring standards might not be quite as high as the interviewees made them out to be; additional factors probably come into play even if they didn't want to admit them publicly.  I don't have any illusion that I got the 100% unvarnished truth about these programs.  So we should take everything in the interviews with a grain of salt.  Hopefully though they are still valuable in shedding light into this process.
For now, I'm knee deep in the hiring process on the entry-level side, but I'm open to continuing this project next summer.  Let me know what additional information about fellowships or law faculty hiring more generally might be helpful!   
Posted by Jessica Erickson on December 10, 2019 at 08:30 PM in Getting a Job on the Law Teaching Market, VAPS & Fellowships | Permalink | Comments (11)
Marvin Miller and the Hall of Fame (Updated)
Marvin Miller--the first executive director of the Major League Baseball Players Association and the creative force behind the modern economics of baseball and all professional sports--was elected to the Hall of Fame yesterday. The election comes seven years after Miller's death. And, although I did not know this, against his express wishes.
Miller was passed over several times by various committees between 2003 and 2010, likely because the powers-that-be wanted to deny Miller the honor, at least while he was alive. In 2008, Miller, askedtthe Baseball Writers Association of America, the main selection body, not to nominate him again; he declared himself "unwilling to contemplate one more rigged veterans committee whose members are handpicked to reach a particular outcome while offering the pretense of a democratic vote. It is an insult to baseball fans, historians, sports writers and especially to those baseball players." Miller was no doubt especially angry that in 2007, former commissioner Bowie Kuhn, Miller's chief antagonist, was elected just before his death. Despite the request, Miller was nominated in 2010, then posthumously in 2014, 2018, and this year.
There is an interesting debate about how the Hall should handle those wishes. On one hand, it is a museum designed to tell the history of baseball and to recognize those who made the game--that history cannot be told without Miller. On the other hand, the Hall of plaques does more than tell a story; it singles people for a unique honor, an honor that should be bestowed only if both parties wish. Miller's children have made clear they will not attend and accept induction in their father's place. And it is hard not see the election as one final power play against Miller--selecting him against his wishes, but when he could no longer decline appear and make his own case.
Speaking of Miller and Kuhn, Slate's Hang Up and Listen uses Miller's election as an excuse to parse Flood v. Kuhn, especially the bizarre Part I in which Justice Blackmun rattles off a laundry list of historic players from a bygone era. Several tidbits on this.
That part of the opinion was written for only three of the five Justices who formed the majority (Blackmun, Stewart, and Rehnquist). Chief Justice Burger and Justice White refused to join that part of the opinion, White expressly because an paean to baseball and a recitation of players had nothing to do with the case and no place in a judicial opinion.
The list includes only two African-American players--Jackie Robinson and Roy Campanella. And they are from a different baseball era. The white players all played in the 1900s-1930s. Based on a quick glance, it appears no one on the list began his career beyond the early '30s. The latest player is Hank Greenberg, who retired in 1948, but debuted in 1930. Robinson and Campanella played from the late-'40s to mid-'50s. Blackmun's original draft did not include any African-Americans; he added Robinson, Campanella, and Satchel Paige at the insistence/request of Justice Marshall. But Blackmun could not (or did not bother to) match anyone to the era that is the focus of the rest of the list, although several historically great Negro League players (e.g., Josh Gibson) were contemporaries of Ruth, Gehrig, etc.  Marshall then dissented in the case, so he did not join the list at all.
Finally, there was some horse-trading among the Justices about who to include. That still does not explain how Moe Berg made the list.
Posted by Howard Wasserman on December 10, 2019 at 03:01 PM in Howard Wasserman, Judicial Process, Sports | Permalink | Comments (2)
Does the Disqualification Clause Present a Political Question?
The draft articles of impeachment from the House of Representatives call for the President's removal from office and his "disqualification to hold and enjoy any Office of honor, Trust, or Profit under the United States." Does this mean that he can (assuming there is a conviction) be barred from being elected again as President? The answer is unclear. Suppose, though, that the Senate applies the disqualification penalty and says that the presidency is covered. Can this decision be reviewed by a court?
The answer, again, is unclear. The Supreme Court held in United States v. Nixon that the impeachment trial process raises non-justiciable political questions--the Senate has the final word. Is that true in determining the scope of the sentence? You could say so if you think that a sentence is part of the trial. But you can also understand those as separate phrases that should be treated differently. Or you could say that the application of a sentence is different from the lawful scope of a sentence.
Posted by Gerard Magliocca on December 10, 2019 at 01:10 PM | Permalink | Comments (2)
Monday, December 09, 2019
Segall on the role of law professors
Eric Segall has an excellent post at DorfonLaw about the proper role for law professors in controversial legal and political disputes. The obvious trigger was the four prawfs who testified at the impeachment hearings. But Eric expands it to participation in congressional testimony, confirmation hearings, amicus briefs, letters on public matters, etc. And blogs--he questions whether writing publicly, in our professional (and professorial name) about matters beyond our scholarly expertise either trades on the professorial name or dilutes it.
Two thoughts. First, Eric references the letter that 2000 law professors signed arguing that Brett Kavanaugh's demeanor at his hearing was not judicial and should have been disqualifying. I did not sign for the reason Eric offers for not signing--the question of Kavanaugh's demeanor did not call for any scholarly expertise and was really a cover for political opposition to Kavanugh's appointment.* I had a heated debate with my wife and overly engaged daughter, who did not buy the distinction or the idea of trading on my position to suggest expertise on a contentious political matter on which I could speak not as an expert but as a "concerned citizen."
[*] Which I shared. And which I offered in emails to several Republican Senators (not my own, because I chose not to waste my breath), using my name but not my title or position.
Second, a blog, like other social media, strikes me as a different medium of work. I am trading less on my position and expertise and more taking an opportunity to write for a regular audience about things that interest me and about which I know something (even if I do not know as much about these things as I do about universal injunctions). Regular readers of the blog know and expect that some of what I write about is going to be non-expert interests (baseball, Judaism) or personal matters (family, etc.). And you understand that this is part of the forum and what I like to do here. That is different than using my professorial cache (such as it is) to talk about a non-expert matter to a new, unfamiliar audience in a different forum, such as the op-ed page of the The New York Times or an advocacy letter to a congressional committee.
Posted by Howard Wasserman on December 9, 2019 at 03:11 PM in Blogging, Howard Wasserman, Teaching Law | Permalink | Comments (4)
What the "Legal Scholars Letter" Suggests About the Signers' Views on Constitutional Interpretation
From TaxProfBlog, I learn of a letter published on something called Medium and titled "Letter to Congress from Legal Scholars." I am less interested in what it says on the primary subject of the letter--whether "President Trump engaged in impeachable conduct"--and more in what it offers by way of insight into the views of some 765 individuals (so far) affiliated with law schools, including full-time, adjunct, and visiting scholars, on American constitutional interpretation. In general, and imperfectly, I try to avoid making statements about others' motivations or thinking, because we see through a glass darkly on such questions and because it is rarely necessary to draw conclusions about others' motives or thinking when we can focus instead on their words and actions. But for present purposes, I do write with the assumption that the signers believe the contents of the letter, and that their beliefs extend past the bottom line to embrace at least the major arguments made in the letter and the legitimacy as sources of the sources they rely on. I cannot say this is an accurate assumption as to any particular signer. But it seems to me that to assume anything else would be disrespectful. On that assumption, I think we can identify in the letter at least the following propositions about constitutional interpretation. They are hardly shocking propositions; there is no "gotcha" spirit to this post. But it is always interesting to take a sounding of the basic views on constitutional interpretation of a large number of American legal scholars, some of whom teach and/or write on constitutional law.  
1) The views of the "Founders" are at least relevant to constitutional interpretation. Having offered the statement that the president engaged in impeachable conduct, the letter proceeds: "We do not reach this conclusion lightly. The Founders did not make impeachment available for disagreements over policy, even profound ones, nor for extreme distaste for the manner in which the President executes his office." It states that President Trump's conduct "is precisely the type of threat to our democracy that the Founders feared when they included the remedy of impeachment in the Constitution." It cites the Founders' "keen[ ] concern[s]" about corruption in presidential dealing with foreign governments and their "thinking on impeachment." These views and concerns are repeatedly given a strong role in the letter's account of what impeachment is for and what it means. Obviously they think the Founders' views are highly relevant to the interpretation of the Constitution. Although I leave it at "relevant," it doesn't seem unfair to say that the letter suggests that the Founders' views are not only relevant, but of great importance in understanding the Constitution and its individual provisions. As a side note, it is interesting that the letter refers solely to the "Founders" and not to the ratifiers of the Constitution.
2) The Federalist and the constitutional convention--apparently including Madison's notes of the convention--are relevant sources of constitutional interpretation. In its assertions about what the constitutional text concerning impeachment means, its purposes, and its applications, the letter links three times to the proceedings of the constitutional convention and once to the Federalist. One can therefore assume that the letter's signatories believe these are relevant sources of constitutional interpretation. (This does not necessarily mean they believe they are relevant interpretive sources for judges.) As a side note, it appears that the letter implicitly weighs in on the reliability, at least in broad terms, of James Madison's notes of the convention--a point that has recently and prominently been questioned by the legal historian Mary Sarah Bilder--since it appears to link to Max Farrand's use of Madison's notes. I am not sufficiently familiar with the specifics of Bilder's work to say how her criticisms would apply to the particular portions of Madison's notes that the letter relies on as authority. Whether or how much one should rely on the Federalist has, of course, long been a question for constitutional interpreters, and the letter apparently settles on the view that one can rely on it at least to enough of an extent as to make it one of one's primary sources in a letter to Congress about the constitutional meaning of impeachment.  
3) At least where it is specific, constitutional text is exclusive. To repeat and extend the quote I used above, the letter argues early on, "The Founders did not make impeachment available for disagreements over policy, even profound ones, nor for extreme distaste for the manner in which the President executes his office. Only 'Treason, Bribery or other high Crimes and Misdemeanors' warrant impeachment." This seems to suggest a conclusion that, at least where the Constitution provides specific textual instructions or grounds and omits others, that text--glossed, as we have seen, by the views and concerns of the "Founders"--is authoritative and exclusive. I do not draw any conclusions from this proposition about what the signers might think about the nature of more vague or open-ended constitutional text or about the existence or non-existence of unenumerated rights. I am a little curious how the proposition the letter adheres to would apply to the arguments of Professors Ackerman and Amar about the non-exclusivity of the quite specific instructions set out in Article V concerning constitutional amendment. One would think that as a logical matter the signers would be disinclined to share Ackerman or Amar's views, although surely that question would require a good deal more airing.
4) Oaths, office, and the "public trust" matter. The letter includes within the scope of impeachable conduct a president's "betray[al]" of his oath of office, at least where it involves threats to American democracy. It goes on to assert that "[i]mpeachment is a remedy for grave abuses of the public trust," and that treason and bribery, the "two specific bases for impeachment named in the Constitution" (with "high Crimes and Misdemeanors presumably read as non-specific bases), involve grave abuses of the public trust because they "include conduct undertaken not in the 'faithful execution' of public office that the Constitution requires, but instead for personal gain (bribery) or to benefit a foreign enemy (treason)." While these assertions must surely be read in light of the specific circumstances, I think they can properly also be read more broadly, to suggest the importance of the oath of office, of faithful execution, of the concept of public office itself, and to suggest that faithful execution of the oath does not include actions undertaken (strictly?) for personal gain as opposed to for purely public-regarding and office-centered reasons. Again, this is not a "gotcha" post and I do not understand these propositions to be terribly controversial as such. I do find them interesting, nonetheless, for a few reasons. The most important is the recognition of something (at least on my reading of these subjects) more than strictly positivistic, textualist, or power-related in the action of office-holders, but rather a recognition of the importance of the concept of office, of oath-keeping, and of particular virtues in the holding and performance of one's office. It is a topic I find fascinating and have written about. The letter also suggests the influence of recent legal writers, including my blog-mates Ethan, who has written about oaths and faithful execution, and Richard, who has written about oaths. Whether the logic of this focus on oath, office, and faithful execution might have more interesting or controversial applications is not something I'm in a position to opine about. But I would be curious about two questions. One is how these propositions should be understood to apply to judges, who also take oaths of office (both constitutional and statutory), and in particular whether a judge who rules for reasons of, say, a general and personal sensibility concerning justice rather than for more channeled and textually constrained legal and constitutional reasons is in violation of his or her oath. The second is whether the presidential oath and the faithful execution of public office are only violated by certain kinds of personal gain. The letter focuses on bribery--understandably, since it is one of the specific grounds for impeachment. But one can violate one's oath and one's duty of faithful execution in other ways than bribery. Does a president who acts, not with the public good and the faithful execution of his or her office first and foremost in mind, but for things like the good of his or her own re-election of party fortunes similarly violate the oath and his or her constitutional duty? If so, is that impeachable as well?
5) "Extreme distaste for the manner in which the President executes his office" is not a basis for impeachment. That last question may be answered in part by the opening argument of the letter, quoted above, which states that neither profound policy disagreements nor extreme distaste for the manner in which the President executes his office are "available" bases for impeachment. That suggests at least some implicit limitation on the kind of conduct that falls within the scope of violation of the oath or of the duty of faithful execution, or conversely suggests that only some forms of execution are faithless, and that some extremely distasteful forms of execution of the office of the President can nevertheless be "faithful execution." Without suggesting that the letter itself says more about this topic than it actually does, it seems to me that this proposition necessarily has some implications for other questions that have been raised around the current impeachment controversy. One member of Congress, for instance, has argued that the articles of impeachment should be broadened to include "[the President's employment of] racist, anti-Semitic, Islamophobic, transphobic, xenophobic language instigating enmity and inciting violence within our society" and "'the adverse impact his racism is having on the countless African-American victims who believe that, too often, one party ignores us and the other takes us for granted." A newspaper writer, saying he had consulted on the question with "legal experts," recently called for eight articles of impeachment, including "conduct grossly incompatible with the presidency" such as "[lying] constantly, eroding the credibility of the office." Without wanting to presume too much and with due acknowledgment that the devil is in the details, it seems to me that the logic of the legal scholars' letter suggests that some or many of the signatories would feel compelled to disagree with such arguments and hold these to be "unavailable" bases for impeachment.  
Again, to be perfectly clear, I am interested only in the propositions offered or strongly implied in the letter. I draw no firm conclusions about what its signers actually believe, although the contents of a document that one signs and offers to Congress ought to be pretty good evidence of just that. I understand that some people may feel free to sign letters or amicus briefs--even when those letters or briefs not only make clear that they are writing as legal scholars but add that they "do not reach" the conclusion(s) offered in the letter "lightly"--with which they do not fully agree or as to which they agree only with the bottom line while taking various views on all the stated "considerations" that lead to that bottom line. I believe such a position to be inconsistent with either scholarly or civic integrity, but I imagine views on that will differ. And certainly there is room for friendly argument and further thought--by me, by others, and perhaps by the signers themselves--about what the letter and its arguments mean and imply for constitutional interpretation, both as to impeachment and as to other constitutional questions, although I would think they must mean something. 
Posted by Paul Horwitz on December 9, 2019 at 12:30 PM in Paul Horwitz | Permalink | Comments (0)
Saturday, December 07, 2019
Legislatures creating universality
As I discuss in a forthcoming piece, the combination of remedial particularity (no non-particularized injunctions) and departmentalism (the executive can ignore judicial precedent about a law's constitutional validity, at least until the matter reaches court) leaves an essential role for the legislature. The only way to stop the executive from enforcing or threatening to enforce a constitutionally dubious law, even one declared invalid by SCOTUS, is to repeal that law.
That was the task of the Commission to Examine Racial Equity in Virginia, which last month released its Interim Report identifying dozens of state laws for repeal; these include the anti-miscegination law at issue in Loving, some education laws enacted during Massive Resistance to Brown, and some laws targeting the "feeble-minded." Josh Blackman comments.
The action is symbolic, because any enforcement effort would fail. Any government official attempting to enforce would be sued for damages (qualified immunity would be lost, because the invalidity of these laws is clearly established by SCOTUS precedent), injunctive relief, and attorneys fees. And the line attorney litigating the case likely would be sanctioned (although I doubt it would be by contempt, as Josh suggests). But there is a substantive component, if read as the legislature checking the executive in some manner.
Posted by Howard Wasserman on December 7, 2019 at 12:51 PM in Constitutional thoughts, Howard Wasserman, Judicial Process, Law and Politics | Permalink | Comments (0)
Friday, December 06, 2019
Students finding interesting issues (Further Updated)
I gave my Evidence exam earlier this week. In the study/review lead-up, several students asked me a similar question (not sure if all were using the same commercial materials or if they all were talking):
A party calls an adverse party and is allowed to ask leading questions on direct under 611(c)(2). Can the party ask that witness about specific instances of untruthful conduct to impeach under 608(b), which is ordinarily allowed only on cross. In other words, when a party is allowed to ask leading questions under 611(c)(2), does that convert direct into cross for all purposes?
I presented the question to the Evidence Prof listserv. No one knew of case law raising the issue or the certain answer. One person said my students deserve a pat on the back for identifying and thinking up this issue.
The prevailing view among professors is that the party can ask about 608(b) specific instances. This derives from three things: 1) 607, which allows a party to impeach its own witnesses, from which it follows that all methods of impeachment are available; 2) 611(c)(2), which contemplates "direct" examination that functions like cross; and 3) because the party could have waited for the other side to call that witness and then cross examined the witness on specific instances, it should be able to do the same thing when it calls that witness itself for strategic reasons.
Thoughts?
Update: A reader emailed me to say that, despite the language of 608(b), courts allow specific-instances evidence on direct. The reasoning is that 607, allowing a party to impeach its own witnesses, trumps the limitation in 608(b)--all methods of impeachment are available to impeach any witness at any time--your own on DEX or the other party's on CREX.
But I wonder if the limitation-to-cross continues to apply in one situation: When Pty II uses its witness to impeach Pty I's witness. So imagine the following:
Tom has testified, called by Pty I. On the plain language of 608, Pty II could impeach Tom on specific instances of conduct in the following ways:
   • On CREX of Tom, ask him about Tom's untruthful acts: 608(b)(1)
   • Call Ira; on direct, ask him about Tom's character for truth under 608(a). But not specific instances of Tom's conduct under the text of 608(b)(2), because this would not be on CREX.
But under the approach courts take to reconcile 608(b) and 607), could Pty II ask Ira, on direct, about Tom's specific instances of untruthful conduct under 608(b)(2)? I understand allowing 608(b)(1) evidence on direct if I am forced to impeach my own witness. But the rationale for that extension does not extend to 608(b)(2) evidence in the Tom/Ira situation I describe here.
Further Update:
My original emailer says the answer is no, Pty II can't ask Ira about Tom's specific instances. That owes to the prohibition on extrinsic evidence in 608(b), not the cross-examination requirement. Ira testifying to Tom's specific instances would be extrinsic evidence. Which makes sense.

Posted by Howard Wasserman on December 6, 2019 at 11:26 AM in Howard Wasserman, Teaching Law | Permalink | Comments (2)
Thursday, December 05, 2019
Another study shows handwriting > computers
New in the Journal of Legal Education, from Colleen Murphy and Christopher Ryan, Jr. of Roger Williams Law and Yajni Warnapala of the Roger Williams Mathematics Department. The study looks at performance in required 2L Con Law and Evidence courses at Roger Williams. It also contains a piece from Murphy's 1L Civ Pro class, showing that students who were given the option of using a laptop but were shown a memo describing the studies comparing handwriting with computer notetaking were more likely to elect not to use computers.
Posted by Howard Wasserman on December 5, 2019 at 06:45 PM in Article Spotlight, Howard Wasserman, Teaching Law | Permalink | Comments (2)
Wednesday, December 04, 2019
A Marshall Court Myth
One standard story about John Marshall is that he began the practice of having the Supreme Court (or at least the Court's majority) speak in one voice through a single opinion. Turns out this is not true. You can find Supreme Court opinions in 1799 written by Chief Justice Oliver Ellsworth that are self-styled opinions of the Court. This practice was far less common until Marshall took over and did not occur in major cases, but the break between Marshall and his predecessor is not as sharp as we are sometimes told. 
Posted by Gerard Magliocca on December 4, 2019 at 11:17 AM | Permalink | Comments (0)
Monday, December 02, 2019
The Case for Teacher-Created Supplemental Learning Guides
The following post is by Leslie Y. Garfield Tenzer (Pace) and is sponsored by West Academic.

There is a chasm between doctrinal classroom learning and commercial study aids. In the classroom, particularly first year, faculties aim to rewire student neurons, training them to "think like a lawyer." In contrast, commercial outlines, flashcards, and the like, detail the black- letter law, encouraging students to memorize rather than analyze.
Commercial outlines have been a valued supplement to learning for decades. A growing number of today's students, however, are finding these materials critical to academic success. One cause for this over-reliance may be that commercial materials tend to deliver information through bullet-points. This design promotes memorization, a skill essential to most undergraduate lecture-type classes, and therefore one with which college graduates are familiar.
I find it ironic that the skill that earned many students the grades necessary to get into law school is quite different from the skills necessary to earn top grades in law school. Study guides are undoubtedly helpful to students seeking to understand critical legal concepts. Commercial outlines serve the purpose of providing a basic explanation and aid with memorization. As a student, I enjoyed the benefit of a Gilberts outline to provide structure for my personal study guides. But while these types of materials provide a solid backdrop for learning legal concepts, few succeed in developing the kind of thinking inspired by Socratic teaching.
To encourage analytical learning outside of the classroom, many faculty are creating supplemental learning materials or extra assignments. My colleague Michael Mushlin and Judge Lisa Smith, Magistrate Judge for the Southern District of New York, developed a series of supplement assignments designed to take 1L Civil Procedure students beyond the technical knowledge of the Federal Rules as a way to help students appreciate the analytical rigor essential in the courtroom. Students are asked to draft a complaint, conduct a deposition, and engage in other lawyering skills. Providing students with a contextualized experience at the beginning of their law school careers, students learn that law school demands more than pure memorization of the law. You can read more about their experience here.
Another colleague, Bridget Crawford, created a series of prompts for her Federal Income Tax students to answer in between classes. The questions are designed to guide students through critical tests included in the Internal Revenue Code and Regulations. According to Professor Crawford, "Sometimes forcing oneself to slow down and write out answers to questions enables students to read a complex statute differently and more carefully than any of us might on our own. I created this worksheet as an exercise in close reading and statutory interpretation. Those are fantastic skills that will help a lawyer in any area of the law."
Other professors are developing materials that are designed for their students but are also available on a more national scale. Beth Wilensky and Nancy Vettorello found that there was not enough time to cover both the law and the skills necessary to succeed in their Legal Practice at the University of Michigan School of Law. They created a series of YouTube videos on fundamental legal skills concepts. Asking students to watch the videos on their own time, allows for more supervised analytical learning. "Students seem to like the videos," according to Prof. Wilensky, "both because they get a break from reading and also because they appreciate having access to the videos after the class ends." Professor Vettorello noted the added benefit of using class time to have students write, enabling her to comment immediately on their writing. "Frankly it tested my ability to describe and explain suggested changes -- when I made a suggestion and was left with blank stares, it was obvious that my feedback was not detailed enough or that I was using terminology that was not getting through." Both professors find the experience invaluable. "It's like being able to sit next to them while they write, which is fascinating, informative, and even humbling." An added benefit is to those outside the Michigan classroom. The videos are getting national traction, with well over 1,500 hits since their posting in 2016. A sample video is available here.
In 2018, out of my desire to combat what I call "flashcard learning," I created the podcast "Law to Fact." In each episode, I have the opportunity to explore a particular concept with a member of the legal academy, a sort of "portable office hours" students can download at their convenience. The deep exploration of doctrinal issues such as the rule against perpetuities with Shelby Green or skills like how to read a legal opinion with Orin Kerr offers students the chance to observe the analytical component of law school learning. The podcast has been enthusiastically received by students and professors, with over 125K downloads to date.
It is the enthusiasm on the part of the "Law to Fact" guests that I find most encouraging. In every instance, faculty members, many of whom I have never met before, have been generous with both their time and their passion. We teach because we want students to learn not just the law, but how to think like lawyers. In an era where more and more students are inclined to believe that mastery of the material means memorizing the law, I argue it is incumbent upon law faculty to acknowledge reliance on commercial study guides and provide a proper context for their use. Doing so can be as easy as explaining the when, why, and how to use commercially prepared study aids to accomplish ideal learning. And, for those of you who haven't done so in the past, I encourage you to create the type of supplemental material you believe will best prepare your students for success on exams, on the bar, and ultimately, as attorneys.
Finally, I welcome anyone interested to join me on an episode of Law to Fact. As those who have already participated can attest, it is a fun easy 1⁄2 hour exercise, and one that benefits those studying the law. You can reach me at [email protected].
Posted by Howard Wasserman on December 2, 2019 at 02:08 PM in Sponsored Announcements | Permalink | Comments (2)