« Hastie Fellowship Call for Applications | Main | White House must return Acosta credentials »
Thursday, November 15, 2018
The Cambridge Handbook of the Law of the Sharing Economy
I am excited to announce the publication of The Cambridge Handbook of the Law of the Sharing Economy edited by Nestor M. Davidson, Fordham Law School, Michèle Finck, University of Oxford , John J. Infranca, Suffolk University School of Law. Here is the description of the book from Cambridge Press: 
This Handbook grapples conceptually and practically with what the sharing economy - which includes entities ranging from large for-profit firms like Airbnb, Uber, Lyft, Taskrabbit, and Upwork to smaller, non-profit collaborative initiatives - means for law, and how law, in turn, is shaping critical aspects of the sharing economy. Featuring a diverse set of contributors from many academic disciplines and countries, the book compiles the most important, up-to-date research on the regulation of the sharing economy. The first part surveys the nature of the sharing economy, explores the central challenge of balancing innovation and regulatory concerns, and examines the institutions confronting these regulatory challenges, and the second part turns to a series of specific regulatory domains, including labor and employment law, consumer protection, tax, and civil rights. This groundbreaking work should be read by anyone interested in the dynamic relationship between law and the sharing economy.
The book has a great number of insightful chapters by leading scholars in their fields on questions ranging from competition law to zoning and the geography of platforms and new business models, the law and economics of new digital platforms - my chapter is called Coase and the Sharing Economy - and questions about employment, trust, safety, consumer choice, and democratic decision-making.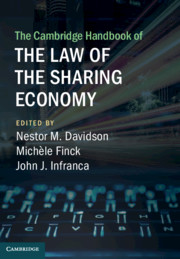 Posted by Orly Lobel on November 15, 2018 at 05:51 PM | Permalink
Comments
A Very Nice Work M Just Waiting An Another Amazing Blog Post.
https://www.ukessaytigers.co.uk/
Posted by: Daniel James | Mar 21, 2019 7:40:24 AM
The finish of law isn't to cancel or limit, yet to save and augment opportunity. For in every one of the conditions of made creatures equipped for a law, where there is no law, http://www.usaassignmentservice.com/pay-for-assignment there is no opportunity. Taking care of business, man is the noblest everything being equal; isolated from law and equity he is the most noticeably bad.
Posted by: Jennifer Grace | Mar 12, 2019 7:31:17 AM
Thank you for this reference!
Posted by: Harry | Feb 11, 2019 11:46:02 AM
This Handbook grapples conceptually and practically with what the sharing economy - which includes entities ranging from large for-pro the fit firms like is shaping critical aspects of the sharing economy. Having the help this link https://www.dissertationplanet.co.uk/steps-prepare-present-good-dissertation/ studies important dates (project submissions, examinations etc.) to begin work on them.
Posted by: Luke Wright | Dec 15, 2018 3:44:25 AM
I'm writing a dissertation and studying economic business models so, I'd be happy to add this book to my reference list. Also, I'm sure that new digital platforms make life easier and could help to find the product ideas https://answershark.com/writing/business-writing/feasibility-study-topics.html or make a research and adopt new business models
Posted by: Harry | Dec 11, 2018 10:31:06 AM
I'd like to read this
Posted by: Lisa | Dec 11, 2018 10:06:28 AM
Thanks you for the confirmation of something I've suspected for a while, the parm bread bites just seemed like the best bang https://24hwritemyessay.com/professional-business-plan-services for the buck as just a sharing item although the bread twists were intriguing.
Posted by: Antonia Cummins | Dec 10, 2018 5:33:53 AM
If you are looking for the most faster and smoother web browser then only this Homepage address suggest you how important https://foxdownload.org is this Mozilla Firefox. There are so many people who love surfing on internet with this. Thank you so much to this very good information.
Posted by: Ashwin Kumar | Nov 20, 2018 1:23:06 AM
thanks
Posted by: ethan | Nov 20, 2018 1:20:52 AM
Post a comment