« October 2018 | Main | December 2018 »
Friday, November 30, 2018
Incorporation and Government Structure
Inspired by this week's SCOTUS oral argument in Timbs v. Indiana, my colleague (and partner in crime) Andy Hessick and one of our talented UNC students, Elizabeth Fisher, wrote the following about incorporation.  I tend to think that they are wrong--especially about the jury trial right--but I'm having a hard time articulating precisely why.  They are looking for input (and I'm looking for help with counterarguments for the dinner table) so I'm posting it here for folks to weigh in with comments.
Earlier this week the Court heard argument in Timbs v. Indiana, which asks whether the Fourteenth Amendment incorporates the Excessive Fines Clause against the states.  Questions for oral argument put the smart money on the Court saying it is incorporated.  If that's right, then all of the first 8 amendments will be incorporated except for three provisions: the Third Amendment, the right to a jury in civil proceedings, and the right to a grand jury. The reason the Third Amendment is not incorporated is that the Court has never had the opportunity to consider the issue. Third Amendment claims are rare. But the non-incorporation of the other two provisions is harder to explain.
The extent to which the Fourteenth Amendment incorporates rights against the states has been a longstanding question. The text of the Fourteenth Amendment is vague, and the history surrounding its ratification is ambiguous.  Over the years, justices have floated various theories of incorporation.  Some have pressed for total incorporation; others argued for a fundamental-fairness test.  Today, the prevailing doctrine is the so-called "selective incorporation" test under which a right is incorporated if is fundamental or deeply rooted in our nation's history. This test does not derive from either the text or the history of the Amendment.  Instead, it rests on the two principles of protecting individual rights while trying to avoid unduly constraining the states.
Under this selective incorporation test, incorporating the Excessive Fines Clause seems like a no-brainer. Prohibiting excessive fines is just as fundamental or deeply rooted as many of the other rights the Court has incorporated.  But it is hard to see why the grand jury and civil jury clauses are not incorporated under this test.  They are not obviously less fundamental or deeply rooted in our nation's history than other guarantees in the Bill of Rights.  The inclusion of those rights in the Bill of Rights alone strongly suggests their importance. But the Court has repeatedly said that those rights are not incorporated, including in the 1970s after the Court started its modern wave of incorporation.
Questions from some of the justices in the Timbs argument suggest that they are prepared to incorporate all of the guarantees in the first 8 amendments based on a total incorporation theory.  But there are reasons not to incorporate the jury rights.  One reason—a reason we are developing in a new paper—is that incorporating these rights would more significantly interfere with the states' sovereignty than the incorporation of other rights. Most rights impose substantive restrictions. For example, the First Amendment limits the government's ability to regulate speech.  Other rights require the government to follow particular procedures.  For example, the Due Process Clause requires the government to afford process before depriving individuals of life, liberty, or property.  The grand jury and civil jury clauses do much more.  They require the government to adopt particular structures.  For example, the Seventh Amendment obliges the government to provide juries in common law cases over $20.
Requiring states to adopt government structures significantly intrudes on the states' prerogative to arrange their own governments. Under the Constitution, states are sovereign except to the extent that the Constitution provides otherwise. An essential feature of sovereignty is the power to arrange government and distribute power among governing bodies.  The Framers deliberately protected that power of the states.  The only limitation they imposed is that states must have republican forms of government, but they left the states vast discretion in structuring their republican governments.  Not incorporating the grand jury and civil jury clauses avoids dictating to the states how to arrange their judiciaries.
Of course, the obvious objection to this structural rights theory is that the Court has incorporated the right to a jury in criminal proceedings.  But it may be that the Court took a wrong turn in incorporating that right.  Certainly, the incorporation of that right has resulted in doctrinal anomalies.  For instance, despite the Court's insistence that incorporated rights apply in the same way to the state and federal governments, the right to a criminal jury does not apply the same way to the states and the federal government. Among other things, although juries must be unanimous in federal criminal cases, they do not need to be unanimous in state proceedings.  This inconsistency suggests at least some recognition that incorporating the right interferes with the states' prerogative to operate its judiciary.
The idea is still in nascent form.  We still have much work to do on it, and we'd love any thoughts on it. 
Posted by Carissa Byrne Hessick on November 30, 2018 at 11:17 AM in Carissa Byrne Hessick, Constitutional thoughts | Permalink | Comments (6)
Nationwide Injunctions at the National Association of Attorneys General
Yesterday, I appeared with Suzette Malveaux (Colorado) for a panel on nationwide injunctions at the fall meeting of the National Association of Attorneys General. It was a fun discussion. Time ran short, so I did not have the chance to make one point: State AGs stand in a unique position because they are the only class of litigants who may be both beneficiaries and victims of universal injunctions--beneficiaries when they sue the federal government, victims when they defend the validity of their state laws.
I will post a video link if one becomes available.
Posted by Howard Wasserman on November 30, 2018 at 09:31 AM in Civil Procedure, Constitutional thoughts, Howard Wasserman | Permalink | Comments (0)
Wednesday, November 28, 2018
Bringing Students into the Criminal Procedure Courtroom
The following post is by Brian R. Gallini (Arkansas) and is sponsored by West Academic.
When I first started teaching the investigative criminal procedure course more than a decade ago, I was immediately struck by how the material captured student attention. I doubt it was my teaching. After all, the subject matter—largely an inquiry into what police can and cannot do—impacts us all as citizens.
Convincing students to engage with the criminal procedure course has become an increasingly easy sell. In just thirty-five days after its release, an average of 19.3 million viewers watched each episode of Making a Murderer. Meanwhile, in the first full year following its release, 80 million listeners downloaded season one of the hit podcast Serial. Those numbers reflect the reality that criminal procedure is an intriguing and constantly evolving area of the law that seemingly captures the public interest unlike other law school courses.
I have for the past few years been thinking deeply about how best to capture that momentum in the criminal procedure classroom. I have long been skeptical that approaching the course through excerpts from scholarly literature, Supreme Court cases, and a series of notes and questions following an excerpted case continues to suit the modern law student. Instead, I have long been curious about how the cases of real-world defendants might inform, enhance, or even outright form the basis for teaching the investigative criminal procedure course.
That long-standing curiosity forms the basis of my inspiration to provide a criminal procedure casebook that tries to bring law students into the courtroom. In my opinion, today's law students benefit more from courses that teach the substantive law in a manner that captures their attention while honing their practical skills. That, in short, is what this book tries to do. It relies heavily on practical materials to guide students through the substantive law.
In an effort to engage students and present "the big picture," each chapter focuses on a specific "real-world" defendant, such as O.J. Simpson (the former NFL running back), Richard Kuklinsky (the mafia's most prolific hitman), and John Wayne Gacy (one of this country's most prolific serial killers)—among numerous other (in)famous defendants.
Organizationally, each chapter begins with an introductory description highlighting the relevant legal aspects from the particular defendant's case. Typically, each chapter also tries to lay out the law in an easy to digest format. There is no hiding the ball in this book. Core cases are then presented in a logical and easy to follow order.
One of the book's features that I'm most proud of is the supplemental online case file repository. To further explore the topics presented by each defendant's case, the book includes access to an online case file repository that provides professors and students with access to relevant filings from each defendant's case. These files include the actual litigation documents from each case, such as complaints, search warrants, transcripts, and other resources like interrogation videos. One chapter even introduces students to the particular defendant by offering them access to private Supreme Court materials associated with that defendant's case.
By focusing so heavily on defendants—rather than rely more traditionally on core cases and scholarship alone—my hope is to offer a fresh approach to teaching the investigative criminal procedure course. This book aside, I'll submit to you that an investigatory criminal procedure class discussion focused on "real life" defendants and litigation materials creates a lively environment unlike a more typical conversation that revolves around discussing one case at a time in a vacuum—disconnected from how that case applies to a real person.
Posted by Howard Wasserman on November 28, 2018 at 06:53 PM in Sponsored Announcements | Permalink | Comments (0)
A funny thing happened on the way to the court of appeals
Here is my SCOTUSBlog recap of Tuesday's argument in Nutraceutical Corp. v. Lambert, considering whether the 14-day period for seeking interlocutory review of a class certification order is subject to equitable tolling.
The most notable part of the argument was the humor--the transcript shows eight breaks for laughter, seven during petitioner's argument. Which makes sense, given stated concerns for Martian invasions. I await Jay Wexler's analysis of the case.
Posted by Howard Wasserman on November 28, 2018 at 11:17 AM in Civil Procedure, Howard Wasserman, Judicial Process | Permalink | Comments (0)
Tuesday, November 27, 2018
"10,000 mostly drunk people" and "contempt of cop"
Here is my SCOTUSBlog recap of Monday's argument in Nieves v. Bartlett. I genuinely am not sure how this comes out, as no one on the Court was blatantly leaning in one direction and everyone seemed determined to find a middle ground between the government's extreme that would let no claims go forward and the respondent's extreme that would let too many claims go forward.
The argument will be best remembered for the Chief describing Arctic Man as "10,000 mostly drunk people in the middle of nowhere," a description that thrilled the journalist who wrote the leading story about the festival.
Posted by Howard Wasserman on November 27, 2018 at 11:55 AM in First Amendment, Howard Wasserman, Law and Politics | Permalink | Comments (2)
Call for Papers -- Empirical Analysis of Wealth Transfer Law
From the American College of Trust and Estate Counsel and UC Davis:
The University of California, Davis School of Law (King Hall) and The American College of Trust and Estate Counsel's Legal Education Committee are happy to announce that the 8th ACTEC academic symposium will be held on Friday, October 11, 2019. The theme is Empirical Analysis of Wealth Transfer Law. The event's goals are to bring together established and emerging scholars and to foster discussion about empirical scholarship about wills, nonprobate transfers, intestacy, inheritance taxation, and related issues. 
Articles presented at the symposium will consist of those selected from this Call for Papers and those from invited speakers. All papers will be published by the UC Davis Law Review.
If you would like to be considered to present a paper, please email an abstract of no more than two pages to Professor David Horton ([email protected]) by March 1, 2019. The Law Review will notify those selected by March 15, 2019. Please be aware that speakers must submit drafts that are ready for the editing stage of the production process by mid-November 2019.
Speakers will be reimbursed for their reasonable travel expenses (economy airfare, ground transportation, and up to two nights in a local hotel). Speakers will also be invited to dinner on Friday, October 11. Breakfast and lunch will be provided to speakers and attendees on October 11 courtesy of the ACTEC Foundation. Questions about the symposium or this Call for Papers should be directed to David at the email address above or Professor Adam Hirsch ([email protected]).
Posted by Sarah Lawsky on November 27, 2018 at 11:00 AM | Permalink | Comments (0)
Friday, November 23, 2018
JOTWELL: Mullenix on Vitiello on a civ pro companion
The new Courts Law essay comes from Linda Mullenix (Texas), reviewing Michael Vitiello, Animating Civil Procedure (Carolina Academic Press 2017),  a companion to Civ Pro casebooks offering a procedural-justice gloss on the major cases and issues.
Posted by Howard Wasserman on November 23, 2018 at 11:17 AM in Article Spotlight, Books, Howard Wasserman | Permalink | Comments (0)
Tuesday, November 20, 2018
Universal injunction in asylum-point-of-entry (corrected)
These are coming too quickly to process. The District Court for the Northern District of California issued a universal preliminary injunction (styled a TRO, but done adversarially and scheduled to last more than 14 days) prohibiting the government from enforcing new regulations denying asylum to any persons who present themselves at places other than lawful points of entry.
Unlike the Ninth Circuit in the DACA case, which Sam Bray analyzed, the court did not explain its scope ruling, other than by pointing to three things: facial unconstitutionality; the cert grant in the second travel ban case that allowed the preliminary injunction to stand as to people "similarly situated" to the plaintiffs (before the whole thing became moot); and the relevance of the APA. Sam discusses (with links) the third point and whether the APA really demands universality. The first point relies on Califano v. Yamasaki's "extent of the violation" language, ignoring that Califano involved a nationwide class (and thus a violation of the rights of the class), not the permissible scope of an injunction in an action brought by an individual. The second point continues to get far too much mileage out of loose language in a decision on a stay and granting cert. I have been accused of undervaluing that language, and perhaps I have. But courts are treating it as SCOTUS precedential imprimatur for universal injunctions, which is wait it cannot bear.
Sam argues that courts are close to making universal injunctions the default remedy in cases under APA, immigration cases, and cases with entity plaintiffs. This case supports that position.
Posted by Howard Wasserman on November 20, 2018 at 11:20 AM in Civil Procedure, Howard Wasserman, Judicial Process, Law and Politics | Permalink | Comments (5)
SCOTUSBlog preview: Equitable exceptions to claim-processing rules
I have a SCOTUSBlog preview of Nutraceutical Corp. v. Lambert (to be argued Nov. 27), considering whether the time period for taking a Rule 23(f) interlocutory appeal of a class-certification order is a claim-processing rule subject to equitable exception.
The case was the main topic on this week's First Mondays, live from Duke Law School and featuring Marin Levy and Stephen Sachs, who had fun with the underlying facts  of the suit involving the allegedly fraudulent sale of "Cobra Sexual Energy."
Posted by Howard Wasserman on November 20, 2018 at 10:55 AM in Civil Procedure, Howard Wasserman, Judicial Process | Permalink | Comments (3)
Monday, November 19, 2018
SCOTUSBlog Preview: First Amendment retaliatory arrests
I have a SCOTUSBlog preview of  Nieves v. Bartlett (to be argued November 26), considering whether a plaintiff seeking damages for a First Amendment retaliatory arrest must show absence of probable cause. The Court last term punted on the question in Lozman v. City of Riviera Beach, because the case involved a retaliatory municipal policy, not only one officer's single retaliatory decision
I describe this as a sneaky-important case, because it involves a collision of two Roberts Court commitments--protecting First Amendment rights and immunizing law enforcement from damages suit and liability. The last part of the petitioner's brief downplays the constitutional importance of talking back to, challenging, criticizing, or insulting police officers performing official functions, insisting it is not speech on matters of public concern that should be protected against retaliatory motives; this eliminates the need for damages liability to vindicate that speech. The brief also argues that police departments will discipline rogue officers who engage in retaliatory arrests, especially in an age of body cameras and citizen video, when departments are more committed to internal accountability. The second point is laughable as an empirical matter. The first is correct on free-speech principle only if the First Amendment does not extend to the rough-and-tumble of ugly public protest or if police officers, the public officials with whom the public has the most direct contact, are above rhetorical challenge and criticism. But both are ideas I could see this Court majority buying, with the second commitment prevailing over the first.
Posted by Howard Wasserman on November 19, 2018 at 03:02 PM in Civil Procedure, First Amendment, Howard Wasserman, Judicial Process, Law and Politics | Permalink | Comments (4)
Sunday, November 18, 2018
The limits of Spiderman
Ilya Somin has an interesting post wielding the Spiderman Principle--"With great power comes greats responsibility"--to argue against judicial deference to the executive and supposed executive expertise in those areas, such as immigration and national security, in which the executive is believed to have the greatest power. Under the Spiderman Principle, the fact that executive power is so great in these areas requires greater judicial scrutiny and greater justification from the executive, to ensure that this power is used responsibly and not abused.
I agree with Ilya that excessive judicial deference is a problem. But it seems to me the Spiderman Principle does not get us very far, because it cuts both ways. The courts would argue that deference and referral to expertise is compelled by the Spiderman Principle--it is how they bring some responsibility to temper the exercise of their great power to declare invalid the executive's conduct.
Posted by Howard Wasserman on November 18, 2018 at 10:32 AM in Constitutional thoughts, Howard Wasserman, Law and Politics | Permalink | Comments (8)
Saturday, November 17, 2018
What sovereign immunity has wrought (Update)
Steve writes at SCOTUSBlog about a motion in a pending cert case asking the Court to decide on the validity of Matthew Whitaker's appointment as AG, in order to figure out who should be substituted (for Jeff Sessions) as respondent in the petition. This is happening while lower courts consider the validity of the Whitaker appointment in more substantive contexts. (Gerard Magliocca believes that a Court order compelling briefing will compel Whitaker to withdraw or compel the President to nominate a new AG).
This is another example of how much time is wasted by sovereign immunity, rather than being honest about the fact that the government, and not any individual officer, is the real defendant in a challenge to a constitutionally invalid law.
Update: There is a discussion on the Civ Pro/Fed Courts Prof listserv about why plaintiffs ever sue the officer by name rather than office. FRCP 17(d) provides that "A public officer who sues or is sued in an official capacity may be designated by official title rather than by name, but the court may order that the officer's name be added," so it is permissible to sue the title. And since an EPY action is against the officer in his official capacity, it is against the office/title, so we end up in the same place. This gets me to my original point--if we just sued the office (and thus the U.S.), it would remain more straight-forward.
Posted by Howard Wasserman on November 17, 2018 at 03:15 PM in Civil Procedure, Constitutional thoughts, Howard Wasserman, Judicial Process, Law and Politics | Permalink | Comments (2)
Friday, November 16, 2018
White House must return Acosta credentials
According to news reports, District Judge Timothy Kelly ruled from the bench, granting a TRO based on the failure to provide process, without reaching the First Amendment question.
It will be interesting to see if the White House appeals. Although the order was styled as a TRO, the court would treat it as an appealable preliminary injunction should the government choose to appeal. But the court never reached whether the First Amendment in any way limits control over press access. And the due process focus means that, in theory, the White House and Secret Service could give him process tomorrow and reach the same decision. There is a motive to return the credential and let the litigation play out in the district court first.
Update: Garrett Epps (Baltimore) at The Atlantic ties Kelly's decision to the unsung decision in Island Trees v. Pico, in which SCOTUS held that the school district had unfettered power to select books to place on the shelves, but the First Amendment imposed limits on the district removing books already placed (based on objections to content. I highlighted Pico as an important example of why Brennan was the heir to Holmes in protecting free speech, although a decision that gained little traction, including in debates over internet filters in libraries. I agree with Garrett that it would be nice to see a revival of the decision, including in a new context.
Posted by Howard Wasserman on November 16, 2018 at 10:48 AM in Constitutional thoughts, First Amendment, Howard Wasserman, Law and Politics | Permalink | Comments (4)
Thursday, November 15, 2018
The Cambridge Handbook of the Law of the Sharing Economy
I am excited to announce the publication of The Cambridge Handbook of the Law of the Sharing Economy edited by Nestor M. Davidson, Fordham Law School, Michèle Finck, University of Oxford , John J. Infranca, Suffolk University School of Law. Here is the description of the book from Cambridge Press: 
This Handbook grapples conceptually and practically with what the sharing economy - which includes entities ranging from large for-profit firms like Airbnb, Uber, Lyft, Taskrabbit, and Upwork to smaller, non-profit collaborative initiatives - means for law, and how law, in turn, is shaping critical aspects of the sharing economy. Featuring a diverse set of contributors from many academic disciplines and countries, the book compiles the most important, up-to-date research on the regulation of the sharing economy. The first part surveys the nature of the sharing economy, explores the central challenge of balancing innovation and regulatory concerns, and examines the institutions confronting these regulatory challenges, and the second part turns to a series of specific regulatory domains, including labor and employment law, consumer protection, tax, and civil rights. This groundbreaking work should be read by anyone interested in the dynamic relationship between law and the sharing economy.
The book has a great number of insightful chapters by leading scholars in their fields on questions ranging from competition law to zoning and the geography of platforms and new business models, the law and economics of new digital platforms - my chapter is called Coase and the Sharing Economy - and questions about employment, trust, safety, consumer choice, and democratic decision-making.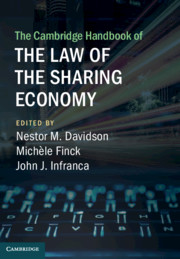 Posted by Orly Lobel on November 15, 2018 at 05:51 PM | Permalink | Comments (104)
Wednesday, November 14, 2018
Hastie Fellowship Call for Applications
From the University of Wisconsin Law School:
The University of Wisconsin Law School seeks applications for the William H. Hastie Fellowship. The application deadline is February 1, 2019.  
For over forty years, the Hastie Fellowship has helped aspiring scholars from underrepresented communities in the legal academy prepare for a career in law teaching. Hastie Fellows devote the majority of their time to their own research agenda, researching and writing scholarly articles with support from a faculty advisor and the Hastie Fellowship Committee. During their residence, Hastie Fellows become part of the rich intellectual community at the University of Wisconsin, participating in workshops, symposia, and colloquia at the law school and broader campus community. Hastie Fellows participate in the entry-level law teaching market during the fellowship's second year, and receive support and mentoring from the faculty. Most fellows also elect to teach or co-teach a course in an area of their interest during their second year in residence. Upon the successful completion of their work, typically involving the preparation of two publishable articles, fellows may elect to receive an LL.M.
Since the program was founded in 1973, over thirty Hastie Fellows have completed the program and secured academic appointments. They are a distinguished presence across American legal education, and three have gone on to serve as law school deans. The Hastie Fellowship continues to play a remarkable role in encouraging and developing scholars from underrepresented communities and in preparing them to succeed in the legal academic market and in the academy. 
Posted by Sarah Lawsky on November 14, 2018 at 02:16 PM in Getting a Job on the Law Teaching Market | Permalink | Comments (0)
Monday, November 12, 2018
C.J. Cregg = Sarah Sanders (Updated)
Attorney David Lurie argues in Slate that CNN should sue the Secret Service over revocation of reporter Jim Acosta's press credentials. He argues that CNN has a good case. D.C. Circuit precedent holds that reporters must receive process in the denial or revocation of credentials and that the basis for revocation cannot be that the reporter criticized the President or anyone else in the White House. And the President admitted that Acosta's credentials were revoked because he did not treat the presidency with "respect" and that he might do the same to other reporters.
Update: CNN and Acosta, represented by Gibson Dunn, has filed suit, claiming violations of the First and Fifth Amendments and the APA; named defendants are Trump, Kelly, Sanders, William Shine (Deputy Chief of Staff, the Secret Service, and the head of the Secret Service.
The incident brought to mind S3E4 of The West Wing, titled "On the Day Before." Press secretary C.J. Cregg gets pissed at a reporter who inaccurately reported on something that C.J. had done. C.J. tells the reporter that she is having the reporter's credentials revoked and that the reporter must call C.J.'s office every day so C.J. can decide if the reporter will be allowed into the press room. And this was played with C.J. as the hero, standing up and justly sanctioning the vapid, dishonest, and unethical reporter.
This is another illustration of Aaron Sorkin writing the Trump Administration in the Bartlet Administration,  with much of the behavior and norm-breaking that we have seen the past two years; the difference is that Sorkin's characters did it in service of a liberal Democratic agenda, while the Trump Administration has done it in service of a very different agenda. There is no difference between Trump and Sarah Sanders stripping Acosta of his credential and C.J. doing the same to that fictional reporter--both are mad because the reporter treated them unfairly.
Posted by Howard Wasserman on November 12, 2018 at 08:44 PM in Culture, First Amendment, Howard Wasserman, Law and Politics | Permalink | Comments (8)
Friday, November 09, 2018
Teaching Con Law in the Current Moment
I'm starting to plan ahead for next semester, and would love to hear what other Con Law professors are doing in terms of folding the issues of the current moment--e.g., the Emoluments Clause, birthright citizenship, the ability to subpoena the president, executive privilege, the authority of the special counsel, appointment and removal power, the census--into their classes.  I've always given some extra time to current issues, but in the past, it's been easier because they were natural outgrowths of the bread-and-butter 1L Con Law subjects (for example, both NFIB v. Sebelius and Obergefell build perfectly on Commerce Clause, Tenth Amendment, and Equal Protection doctrine).  I'm finding several of the current topics more challenging to integrate into the syllabus since they are more specialized and there's not necessarily much case law (yet).  To what extent are all of you generally sticking with your regular syllabi, versus significantly re-doing them in order to build these topics in?  If the latter, what are the topics that you're dropping to make room for them?
Posted by Emily Gold Waldman on November 9, 2018 at 05:01 PM | Permalink | Comments (15)
Thursday, November 08, 2018
I am Spartawitz or Wearing a yarmulke after Pittsburgh
I began wearing a yarmulke the Tuesday after the October murder of eleven Jews at Pittsburgh's Tree of Life Synagogue. I would have started sooner; the idea came to me almost immediately. But I wore a baseball hat on Sunday, so my head was covered. On Monday, I was late getting to work and forgot, as finding a head covering had not become my routine. I wore one to an inter-faith memorial service at my Reform temple near Miami on Monday evening, and it has remained.
This is new for me. I grew up in an unaffiliated Hebrew School that combined Conservative liturgy with a Reform commitment to justice; yarmulkes were reserved for services. I attended a public school district that was about 45% Jewish, but not one kid in my class wore one. I  attend a Shabbat morning minyan, a small, joyous, informal service at which I wear a tallis and a baseball cap, usually bearing the logo of my daughter's private, Episcopal-affiliated middle school (we both appreciate irony).
The deaths in Pittsburgh triggered a desire to publicly pronounce and announce my Jewishness. Not that this was not already obvious to anyone paying attention—my last name is Wasserman, I grew up in the suburbs of New Jersey, I work in academia, and I am obsessed with Jewish baseball players. This was different. I was challenging anti-Semites or other people who are uncomfortable around "different" Jews. As if saying hineni—"Here I am."
Update: Tablet's Unorthodox discusses (around 58:30) a letter from a listener who similarly began wearing a yarmulke following the shooting. He discusses greater initial apprehension of a negative reaction from other Jews than I had.
The practice of wearing a head covering outside of prayer is said to rest on two ideas. One is as a reminder that Hashem always is above us and that we must remain humble as we walk through life. The second is to stand apart as Jews, to dress differently from the Nation around us and thus to affirm and celebrate our separate identity as the People Israel.
I was motivated by the latter idea and its symbolism in a moment of distress for the Jewish People. I described it to one (non-Jewish) colleague as an "I am Spartacus" moment. ("I am Spartastein"? "I am Spartawitz"?) A student who has worn a yarmulke his entire life stopped by my office to thank me—having always stood out in this noticeable way, he appreciated other Jews joining him in such a public display. I have heard stories of rabbis in France warning congregants not to wear yarmulkes outside, given the increase in anti-Semitism there. I would not be so dissuaded, although I believe (hope?) the situation in the U.S. is less fraught and dangerous.
But I have experienced two things in the past week or so. First, it has become more than symbolic. Having something on my head reminds me of my identity and my place as part of the Jewish People at every moment. I appreciate the constant sense of belonging; I am not sure I am not walking with my head slightly higher. (This is easy to say at 50; I am sure I would have felt differently if I were obligated to do this at 15). Second, I am beginning to appreciate the first idea—the constant awareness of humility and the feeling of something greater as I walk my four cubits.
I do not know how long I will continue to do this, if I will return to my old fashion stylings when the immediate memory of Pittsburgh has faded, if I become annoyed by the feeling the thing is flying off my head when I pace around in class, or if this is a permanent change in my life and my identity. But early results suggest a substantive response in a symbolic act.
Posted by Howard Wasserman on November 8, 2018 at 09:31 AM in Howard Wasserman, Religion | Permalink | Comments (9)
Tuesday, November 06, 2018
Peter Schuck Replies to his Critics on Birthright Citizenship
[Note from Rick Hills: At Peter Schuck's request, I am posting the following response written by Peter regarding recent discussion of his views on birthright citizenship]
To anyone who is interested in my actual position on birthright citizenship for the U.S.-born children of undocumented immigrants:
The flood of criticism, much of it on the Immprof listserv and Prawfsblawg, that has engulfed me (while traveling abroad, no less) and my co-author Rogers Smith deserves a reply. Fortunately, mine can be fairly brief as Rogers has already published his own series of replies on the Immprof listserv, with which I agree almost entirely. But here is where we differ: Rogers seems less troubled than I am by the toxic, corrosive, name-calling, motive-assuming, and debate-chilling tenor of a few of the published comments, typified by that of Paul Schmidt on Immprof, who stated (for instance) that "[s]omebody should take these characters [Rogers and myself] on and 'out them' for the race baiters that they truly are." Rogers, fine scholar, idealist, and gentleman that he is, imagines that even this bombastic exercise in impugning the good faith and motives of two serious scholars who have long advocated more generous immigration policies will somehow advance the cause of egalitarian solidarity. To me, this is wishful thinking that can never justify such ad hominem comments among scholars about a genuinely difficult legal and policy issue. Far from coalition building, this kind of self-righteous intolerance can only confirm the worst suspicions of the coalition partners Rogers hopes to attract.
On to a few substantive points.

1. Our analysis, published in our 1985 book, Citizenship Without Consent, and updated in the Fall 2018 issue of National Affairs, has been discussed extensively. We have -- either in the book or our article — rebutted to our satisfaction the criticisms leveled against our analysis. A non-exhaustive list of these answered criticisms would include, in no particular order: the claim that the legal equivalent of undocumented immigrants did in fact exist at the time of the framing of the Citizenship Clause; the claim that the Court's Wong Kim Ark decision refutes our analysis; the claim that birthright citizenship ("BC") is an essential ingredient of a just and liberal society; the claim that our understanding of the Clause amounts to support for the justly infamous Dred Scott decision; the claim that our position would deprive such children of basic constitutional rights; the claim that whatever the situation was in 1868, our current population of some 11 million undocumented adults and children requires an inclusive BC rule; the claim that our long-standing experience with BC makes the constitutional and policy issues moot; and the claim that the citizenship status of undocumented children is too vital to be left to Congress and the political process. We suspect that nothing more we can say after almost 35 years of debate will ever persuade those who continue to make these claims.
2. In a recent post on Prawfsblawg, Professor Rick Hills has analyzed the criticisms of our position and rigorously showed that the critics' constitutional analysis is not convincing.

Rick nonetheless supports BC on "pragmatic" grounds, grounds which he takes to be relevant to the constitutional analysis. He may well be right, and nothing in our writing suggests otherwise; indeed, we discuss the pros and cons of BC, including the ones mentioned by Rick. But as he emphasizes, these are policy arguments and our analysis emphasizes precisely this -- that Congress is to weigh the policy arguments pro and con, placing whatever weight it deems best on various factors including the ones Rick and we have discussed. Insisting that the Constitution has settled this question in favor of unqualified BC not only preempts this policy debate but is intended by our critics to do just that. Rogers has eloquently explained why such a congressional debate is essential, including the point that refusing to hold such a debate plays into the hands of Trump and enables him to play the elitism, anti-majoritarian card in his approaches to voters. Reasonable people can differ about the merits of Rogers' position on this; I happen to agree with him, perhaps even more emphatically.
Should such a debate occur, however, I question one aspect of Rick's pragmatic argument. He writes:
"The rank-and-file voters who object to birthright citizenship, however, are not concerned with these non-resident Americans who lack ties to the USA. They are instead upset by the entry into citizenship of kids who make their home here and whose actions suggest that they bear as complete allegiance to this country as any other natural-born member."
Rick cites no evidence to support this claim, and I doubt that it exists. Certainly, the practice of "birth" tourism is the rhetorical reddest of red meat for BC opponents, but other factors (again, as we and Rick aver) are relevant to such an analysis. At the end of the debate, the current BC rule might well be retained and affirmed -- but we would have the benefit of an informed, democratic judgment on the issue.
3. Despite some of the comments on our position, BC is not a "liberal" or "conservative" issue. For what it's worth, Rogers is a full-throated, egalitarian liberal, I am a self-styled militant moderate who is emphatically pro-immigration and worries, perhaps even more than Rogers does, about the downgrading of democratic debate in favor of judicial fiat with respect to many (not all) issues, and many conservatives will endorse the current rule, usually on pragmatic rather than constitutional grounds.

Posted by Rick Hills on November 6, 2018 at 05:19 AM | Permalink | Comments (3)
Monday, November 05, 2018
JOTWELL: Levy on Re on Marks
The new Courts Law essay comes from Marin Levy (Duke), reviewing Richard Re, Beyond the Marks Rule (Harv. L. Rev., forthcoming), which critiques the Marks Rule and its (ineffective) efforts to create binding precedent absent a majority opinion.
Posted by Howard Wasserman on November 5, 2018 at 10:34 AM in Article Spotlight, Civil Procedure | Permalink | Comments (0)
Sunday, November 04, 2018
Perfection, athletic skills, and sports
This Deadpsin piece defends the scoring system in gymnastics, under which Simon Biles won the all-around despite falling in two events (her routines have such a higher degree of difficulty than everyone else that even large point deductions for falls do not bring her back to the pack.
The piece includes the following:
Gymnastics is is an aesthetic, performance-based sport. As such, its ideas of winning and perfection are deeply intertwined. The history of the sport suggest that victory and perfection often go hand in hand, and that you can't have the former without the latter.

Ideas about "perfection" exist in other sports too. There is such a thing as a perfect game in baseball, and they are always the same—a pitcher faces 27 batters and gets them all out in order. Football's quarterback ratings are notably, ridiculous obscure, but an upper boundary exists and a few dozen quarterbacks have hit it over the years. Perfection is as rare in those disciplines as it is anywhere else. It's special, but by no means a guarantee of victory. A pitcher can be perfect through nine and watch his bullpen blow it in the tenth; a quarterback putting up a perfect 158.3 has given his team a chance to win, but only a chance.
This captures my line between sport and non-sport. Performing skills perfectly or well is intertwined with victory in non-sports, because victory is determined by a judgment on the internal value and quality of those skills. Victory in sport is extrinsic, determined by the outcome of the performance of the skills and not by the skills themselves. This is true not only for the aesthetic quality of the skill (how nice the jump shot looks or how hard the pitcher throws), but the overall performance of those skills, which still may not produce victory.
Posted by Howard Wasserman on November 4, 2018 at 09:31 AM in Howard Wasserman, Sports | Permalink | Comments (2)
Friday, November 02, 2018
Packers fan finds counsel for First Amendment claim against Bears
I have written about Beckman v. Chicago Bears, a lawsuit by a Bears season-ticket holder and Packers fan who was prevented from going onto the field in Packers gear. Proceeding pro se (although with some informal guidance for a time), Beckman survived a 12(b)(6) by a very forgiving district court. It now appears Beckman has obtained counsel for the long-haul--the First Amendment Clinic at Duke and a Chicago attorney named Michel Lieber.
I think his First Amendment claim is a good one, if he can get past the state action problems. I remain surprised it took him this long to find counsel, but I am glad he found someone. This could get interesting.
Posted by Howard Wasserman on November 2, 2018 at 02:38 PM in Civil Procedure, Constitutional thoughts, First Amendment, Howard Wasserman | Permalink | Comments (2)
Birthright Citizenship: A Case Study in the Near-Inevitability of Constitutional Ambiguity
President Trump, normally a divisive figure, has improbably unified us with his recent tweet on ending birthright citizenship for the children of unlawfully present aliens. Legal academics on the Left and Right, from John Yoo to Mike Dorf, have joined together as one to declare that Trump's proposal is obviously unconstitutional. Judge James Ho, Trump's own judicial appointee, has argued that the 14th Amendment guarantees citizenship to those born on U.S. soil regardless of whether their parents are lawfully present. (For a typically cogent summary of the debate, see Ilya Somin's post at Volokh's).
Thanks to President Trump, in short, we are enjoying a rare moment of scholarly consensus about the meaning of the Fourteenth Amendment. I honestly regret having to squabble with that spirit of unity in what follows. As I shall explain after the jump, I share the consensus view that the Fourteenth Amendment ought to be construed to guarantee birthright citizenship for those born on American soil to unlawfully present aliens. Unlike the scholars referenced above, however, I take this view to be the result of pragmatic constitutional construction. Plain textual semantics, legal tradition, and historical context all will not do the trick. The scholarly consensus, in other words, conceals a constitutional policy judgment. This judgment is buried under cartloads of erudition about sources ranging from Calvin's Case to the 39th Congress's debates about diplomats and Indian tribes to SCOTUS's decision in Wong Kim Ark. None of these, however, really speak to the question being asked by Trump and his supporters, because none of those sources confronted the question of whether persons who entered American soil in violation of its laws were really "subject to the jurisdiction of the United States." To answer that question, one must construct a purpose for the 14th Amendment's guarantee of "soil citizenship" — an unpleasant task, because such constitutional construction exposes how divided we really are about immigration. It is more pleasant to pretend that conventional legal sources yield an answer to an urgent legal question — and if such a pretense is necessary to beat off Trump's attacks on "soil citizenship," then I am happy to go long with the game. But I am hoping that a little candor about constitutional ambiguity will do no damage to a just cause as long as it is excluded from the briefs and confined to an obscure blog.
1. How much of an obligation to obey U.S. law must one have to be "subject to the jurisdiction of the United States"?
According to the conventional wisdom, the Fourteenth Amendment guarantees citizenship to everyone born on U.S. soil subject to a very narrow qualification: Such persons must be "subject to the jurisdiction of the United States." Conventional wisdom declares that one is subject to U.S. jurisdiction whenever one is obliged to obey U.S. laws. The children of foreign diplomats who are born on American soil do not get the benefit of birthright citizenship, because those diplomats and their immediate family members are immune from many laws that the rest of us have to obey. Likewise, invading armies are subject to the law of war, not the domestic law of homicide, theft, and so forth. So the children of foreign invading soldiers and diplomats do not automatically get U.S. citizenship merely by fact of their birth on U.S. soil, but the children of pretty much every other sort of alien does.
There is a pleasing symmetry to this definition of what it means to be "subject to" the United States' jurisdiction: The alien, as it were, takes the bitter with the sweet, sacrificing automatic membership in the national community via birthright citizenship in return for immunity from that community's laws. Like most pat answers to tricky constitutional questions, however, defining "subject to U.S. jurisdiction" as "obliged to obey U.S. law" proves both too little and too much.
First, the "obliged-to-obey-U.S.-law" theory proves too little, because it does not explain exclusion of diplomats' kids from birthright citizenship. "Diplomatic agents" (i.e., those diplomats included on the State Department's "Blue List") enjoy immunity from criminal process, but they are subject to civil process for commercial, property, and professional activities outside their diplomatic duties. So why does not their obligation to obey at least some U.S. law not make those diplomats "subject to U.S. jurisdiction"?
Second, the conventional wisdom proves too much: It suggests that the children of unlawfully present aliens could be excluded from the "jurisdiction of the United States" and, thus, birthright citizenship, simply by Congress' extending something akin to diplomatic immunity to such children. Given that minors generally lack both criminal responsibility and the capacity to incur contractual liability, Congress could practically provide "illegal alien immunity" to many such kids (say, those younger than 13) without risking too much public disorder from increased incentives for lawless juvenile behavior. I am not suggesting that Congress is practically likely to take the hint and use such an immunity-conferring law to exclude aliens' children from birthright citizenship. (If there were any such likelihood, then I would not have suggested the idea). Such theoretically easy evasion of birthright citizenship, however, suggests something wrong with the premise that justifies the evasion.
The reason why mechanical definitions of the "jurisdiction of the United States" fail is that the concept of falling within a nation's "jurisdiction" is actually a hazy legal conclusion the core of which is very hard to specify. As explained by Justice Gray in Wong Kim Ark, the justification for jus solis seems to turn on some sort of reciprocal and voluntary relationship in which the resident provides allegiance to the sovereign in exchange for the sovereign's protection. If the sovereign refuses to enter into this bargain by physically excluding the alien from residency or, failing such physical exclusion, by excluding the alien from the benefit of domestic laws, then there is a non-frivolous argument that the alien does not fit within the spirit of jus solis.
This idea that "jurisdiction" turns on some sort of voluntary agreement between sovereign and subject seems to be the basis for Peter Schuck's and Rogers Smith's 1985 book, Citizenship Without Consent, arguing that Congress can exclude unlawfully present aliens from birthright citizenship. Schuck and Smith continue to maintain that the absence of a voluntary relationship between sovereign and subject places unlawfully present aliens outside the United States' "jurisdiction" within the meaning of the 14th Amendment. Their view is an outlier — but if the strength of an argument is measured by more than numbers, I see no easy textualist argument against their position. (I am on record as disagreeing with Peter's views on soil citizenship, a disagreement to which he responded long ago on this blog).
What about legal tradition? Learned disquisitions on jus solis shed very little light on the problem of unlawfully present persons, simply because, for most of the history of the concept of "soil citizenship," such persons simply did not exist. Until the late nineteenth century, governments did not attempt to control rigorously who could reside within their borders: If one lived peacefully in a kingdom, then the presumption was that (1) one consented to the sovereign government's jurisdiction and (2) the sovereign government consented to one's presence. Since the 1880s with the Chinese Exclusion Act, the United States has attempted to keep out millions of people who want to enter. When the former fails and the latter succeed, can the latter force the former to exercise "jurisdiction" that the government abjures? Nothing said in the 39th Congress, in Calvin's Case, in Wong Kim Ark, or in any other hoary old source on jus solis of which I am aware sheds much light on this question. (Richard Primus has a nice post over at Balkinization explaining why the originalist stance on the meaning of the 14th Amendment's "STTJ" language might be just as indeterminate as the Living Constitutionalists' take(s)). If one really wants to go down the hyper-formalist route, then one simply invites Congress to expel aliens' kids from citizenship through the simple expedient of conferring legal immunities on such kids — immunities that would not add much to what youth already gives them but which would be a formalistic pretext for excluding them from the benefits of birthright citizenship.
2. How can birthright citizenship for all be pragmatically defended?
Suppose that one were inclined to concede that the STTJ language in the 14th Amendment is ambiguous enough to need a little "constitutional construction." How might a broad, simple reading that automatically included virtually all children born on U.S. soil be justified pragmatically?
One justification for such a stance is a combination of administrative simplicity and social equality. Consider the problems of definition raised by Schuck's and Smith's "voluntary consent" theory of citizenship: How can you tell whether or not the sovereign has consented to the presence of an unlawfully present alien? Just because some statutes prohibit an alien's presence does not necessarily imply that the sovereign does not consent to that alien's sticking around. After all, the non- or under-enforcement of laws excluding entry, or requiring deportation, of aliens, is a policy choice by Congress and the President. One can argue, as has Eric Posner and Adam Cox, that the "second-order structure" of immigration law's enforcement decisions suggest that the sovereign has actually consented to aliens' unlawful presence until those aliens misbehave. If this is a fair characterization of how immigration laws are actually enforced, then the Schuck-Smith argument against birthright citizenship for the children of unlawfully present aliens collapses, because the sovereign actually has consented to the aliens' presence and they have consented to obey most of the sovereign's laws.
Schuck and Smith can escape the implications of such de facto consent only by relying on legal formalities that endanger national unity. By stripping children of birthright citizenship, Schuck's and Smith's theory threatens to create a permanent class of guest workers — a class that reproduces itself every generation by giving birth to kids without membership in the nation where they reside. As I observed a decade ago, the beauty of automatic soil citizenship is that "eventually any group that is enlisted, tacitly or otherwise, to labor for our economy will eventually obtain political rights through their children." Nothing in Schuck's and Smith's theory provides this elegantly simple safeguard against Congress' creating an abused subclass of metics.
Soil citizenship comes at a cost, but, in my view, those costs are trivial compared to the benefits. It is true that American law's automatically conferring citizenship on anyone born on U.S. soil creates some U.S. citizens who have no emotional allegiance to the United States. I live in Shanghai for half the year, where international schools are sometimes filled with kids holding U.S. passports who have spent little more time in the United States than the few weeks needed by their parents to engage in "birth tourism.". One might reasonably believe that people with such tenuous links to a nation ought not to be awarded membership in the national community.
The rank-and-file voters who object to birthright citizenship, however, are not concerned with these non-resident Americans who lack ties to the USA. They are instead upset by the entry into citizenship of kids who make their home here and whose actions suggest that they bear as complete allegiance to this country as any other natural-born member. As a practical matter, the danger of non-resident "birth tourism citizens" seems to me to be trivial compared to the dangers posed by giving Congress the power to exclude a class of resident aliens permanently from a share of political power.
These pragmatic considerations cannot be fit easily into the conventional modes of argument dependent on text, history, precedent, and structure. As I suggested above, however, those conventional modes actually yield no uncontroversial answers to the meaning of the 14th Amendment's STTJ language. If the question, therefore, ever comes to a judicial dispute, I predict that lawyers will dutifully assemble the usual suspects, from Calvin's Case to Wong Kim Ark, dazzling us all with their erudition after which the judges and justices will massage the history and precedents with their usual sophistication. But the votes will actually, in the end, rest on the pragmatic hopes and fears that I outlined above.
Posted by Rick Hills on November 2, 2018 at 08:34 AM | Permalink | Comments (26)