Thursday, November 15, 2018
The Cambridge Handbook of the Law of the Sharing Economy
I am excited to announce the publication of The Cambridge Handbook of the Law of the Sharing Economy edited by Nestor M. Davidson, Fordham Law School, Michèle Finck, University of Oxford , John J. Infranca, Suffolk University School of Law. Here is the description of the book from Cambridge Press: 
This Handbook grapples conceptually and practically with what the sharing economy - which includes entities ranging from large for-profit firms like Airbnb, Uber, Lyft, Taskrabbit, and Upwork to smaller, non-profit collaborative initiatives - means for law, and how law, in turn, is shaping critical aspects of the sharing economy. Featuring a diverse set of contributors from many academic disciplines and countries, the book compiles the most important, up-to-date research on the regulation of the sharing economy. The first part surveys the nature of the sharing economy, explores the central challenge of balancing innovation and regulatory concerns, and examines the institutions confronting these regulatory challenges, and the second part turns to a series of specific regulatory domains, including labor and employment law, consumer protection, tax, and civil rights. This groundbreaking work should be read by anyone interested in the dynamic relationship between law and the sharing economy.
The book has a great number of insightful chapters by leading scholars in their fields on questions ranging from competition law to zoning and the geography of platforms and new business models, the law and economics of new digital platforms - my chapter is called Coase and the Sharing Economy - and questions about employment, trust, safety, consumer choice, and democratic decision-making.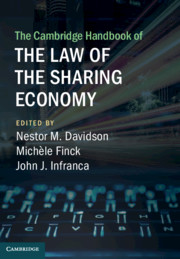 Posted by Orly Lobel on November 15, 2018 at 05:51 PM | Permalink | Comments (0)
Wednesday, November 14, 2018
Hastie Fellowship Call for Applications
From the University of Wisconsin Law School:
The University of Wisconsin Law School seeks applications for the William H. Hastie Fellowship. The application deadline is February 1, 2019.  
For over forty years, the Hastie Fellowship has helped aspiring scholars from underrepresented communities in the legal academy prepare for a career in law teaching. Hastie Fellows devote the majority of their time to their own research agenda, researching and writing scholarly articles with support from a faculty advisor and the Hastie Fellowship Committee. During their residence, Hastie Fellows become part of the rich intellectual community at the University of Wisconsin, participating in workshops, symposia, and colloquia at the law school and broader campus community. Hastie Fellows participate in the entry-level law teaching market during the fellowship's second year, and receive support and mentoring from the faculty. Most fellows also elect to teach or co-teach a course in an area of their interest during their second year in residence. Upon the successful completion of their work, typically involving the preparation of two publishable articles, fellows may elect to receive an LL.M.
Since the program was founded in 1973, over thirty Hastie Fellows have completed the program and secured academic appointments. They are a distinguished presence across American legal education, and three have gone on to serve as law school deans. The Hastie Fellowship continues to play a remarkable role in encouraging and developing scholars from underrepresented communities and in preparing them to succeed in the legal academic market and in the academy. 
Posted by Sarah Lawsky on November 14, 2018 at 02:16 PM in Getting a Job on the Law Teaching Market | Permalink | Comments (0)
Monday, November 12, 2018
C.J. Cregg = Sarah Sanders (Updated)
Attorney David Lurie argues in Slate that CNN should sue the Secret Service over revocation of reporter Jim Acosta's press credentials. He argues that CNN has a good case. D.C. Circuit precedent holds that reporters must receive process in the denial or revocation of credentials and that the basis for revocation cannot be that the reporter criticized the President or anyone else in the White House. And the President admitted that Acosta's credentials were revoked because he did not treat the presidency with "respect" and that he might do the same to other reporters.
Update: CNN and Acosta, represented by Gibson Dunn, has filed suit, claiming violations of the First and Fifth Amendments and the APA; named defendants are Trump, Kelly, Sanders, William Shine (Deputy Chief of Staff, the Secret Service, and the head of the Secret Service.
The incident brought to mind S3E4 of The West Wing, titled "On the Day Before." Press secretary C.J. Cregg gets pissed at a reporter who inaccurately reported on something that C.J. had done. C.J. tells the reporter that she is having the reporter's credentials revoked and that the reporter must call C.J.'s office every day so C.J. can decide if the reporter will be allowed into the press room. And this was played with C.J. as the hero, standing up and justly sanctioning the vapid, dishonest, and unethical reporter.
This is another illustration of Aaron Sorkin writing the Trump Administration in the Bartlet Administration,  with much of the behavior and norm-breaking that we have seen the past two years; the difference is that Sorkin's characters did it in service of a liberal Democratic agenda, while the Trump Administration has done it in service of a very different agenda. There is no difference between Trump and Sarah Sanders stripping Acosta of his credential and C.J. doing the same to that fictional reporter--both are mad because the reporter treated them unfairly.
Posted by Howard Wasserman on November 12, 2018 at 08:44 PM in Culture, First Amendment, Howard Wasserman, Law and Politics | Permalink | Comments (7)
Friday, November 09, 2018
Teaching Con Law in the Current Moment
I'm starting to plan ahead for next semester, and would love to hear what other Con Law professors are doing in terms of folding the issues of the current moment--e.g., the Emoluments Clause, birthright citizenship, the ability to subpoena the president, executive privilege, the authority of the special counsel, appointment and removal power, the census--into their classes.  I've always given some extra time to current issues, but in the past, it's been easier because they were natural outgrowths of the bread-and-butter 1L Con Law subjects (for example, both NFIB v. Sebelius and Obergefell build perfectly on Commerce Clause, Tenth Amendment, and Equal Protection doctrine).  I'm finding several of the current topics more challenging to integrate into the syllabus since they are more specialized and there's not necessarily much case law (yet).  To what extent are all of you generally sticking with your regular syllabi, versus significantly re-doing them in order to build these topics in?  If the latter, what are the topics that you're dropping to make room for them?
Posted by Emily Gold Waldman on November 9, 2018 at 05:01 PM | Permalink | Comments (15)
Thursday, November 08, 2018
I am Spartawitz or Wearing a yarmulke after Pittsburgh
I began wearing a yarmulke the Tuesday after the October murder of eleven Jews at Pittsburgh's Tree of Life Synagogue. I would have started sooner; the idea came to me almost immediately. But I wore a baseball hat on Sunday, so my head was covered. On Monday, I was late getting to work and forgot, as finding a head covering had not become my routine. I wore one to an inter-faith memorial service at my Reform temple near Miami on Monday evening, and it has remained.
This is new for me. I grew up in an unaffiliated Hebrew School that combined Conservative liturgy with a Reform commitment to justice; yarmulkes were reserved for services. I attended a public school district that was about 45% Jewish, but not one kid in my class wore one. I  attend a Shabbat morning minyan, a small, joyous, informal service at which I wear a tallis and a baseball cap, usually bearing the logo of my daughter's private, Episcopal-affiliated middle school (we both appreciate irony).
The deaths in Pittsburgh triggered a desire to publicly pronounce and announce my Jewishness. Not that this was not already obvious to anyone paying attention—my last name is Wasserman, I grew up in the suburbs of New Jersey, I work in academia, and I am obsessed with Jewish baseball players. This was different. I was challenging anti-Semites or other people who are uncomfortable around "different" Jews. As if saying hineni—"Here I am."
Continue reading "I am Spartawitz or Wearing a yarmulke after Pittsburgh"
Posted by Howard Wasserman on November 8, 2018 at 09:31 AM in Howard Wasserman, Religion | Permalink | Comments (8)
Tuesday, November 06, 2018
Peter Schuck Replies to his Critics on Birthright Citizenship
[Note from Rick Hills: At Peter Schuck's request, I am posting the following response written by Peter regarding recent discussion of his views on birthright citizenship]
To anyone who is interested in my actual position on birthright citizenship for the U.S.-born children of undocumented immigrants:
The flood of criticism, much of it on the Immprof listserv and Prawfsblawg, that has engulfed me (while traveling abroad, no less) and my co-author Rogers Smith deserves a reply. Fortunately, mine can be fairly brief as Rogers has already published his own series of replies on the Immprof listserv, with which I agree almost entirely. But here is where we differ: Rogers seems less troubled than I am by the toxic, corrosive, name-calling, motive-assuming, and debate-chilling tenor of a few of the published comments, typified by that of Paul Schmidt on Immprof, who stated (for instance) that "[s]omebody should take these characters [Rogers and myself] on and 'out them' for the race baiters that they truly are." Rogers, fine scholar, idealist, and gentleman that he is, imagines that even this bombastic exercise in impugning the good faith and motives of two serious scholars who have long advocated more generous immigration policies will somehow advance the cause of egalitarian solidarity. To me, this is wishful thinking that can never justify such ad hominem comments among scholars about a genuinely difficult legal and policy issue. Far from coalition building, this kind of self-righteous intolerance can only confirm the worst suspicions of the coalition partners Rogers hopes to attract.
On to a few substantive points.
Continue reading "Peter Schuck Replies to his Critics on Birthright Citizenship"
Posted by Rick Hills on November 6, 2018 at 05:19 AM | Permalink | Comments (2)