Saturday, April 20, 2019
On the need and scope of the Infield Fly Rule, Exhibit # 613
The Mariners turned a double play against the Angels on a fly ball to second base, on a play that illustrates two points about the need for and scope of the Infield Fly Rule.
The Angels had runner on first with one out. The runner, Brian Goodwin, broke for second; the batter, Justin Bour, popped the ball on the infield dirt near the second baseman. Goodwin ran back to first, while Bour, assuming the ball would be caught, began walking towards the dugout. Seeing this, one Mariners infielder yelled to his teammate to let the ball fall to the ground, which he did. He threw to second for the force on Goodwin (the third baseman was covering second on a shift against the lefty Bour), then a relay to first for the inning-ending double play on the non-running batter.
Continue reading "On the need and scope of the Infield Fly Rule, Exhibit # 613"
Posted by Howard Wasserman on April 20, 2019 at 04:25 PM in Howard Wasserman, Sports | Permalink | Comments (1)
Thursday, April 18, 2019
SCOTUS argument recap: Too many metaphors
My SCOTUSBlog recap of Wednesday's argument in McDonough v. Smith is now up. This was the most metaphorical argument I have read, with everyone returning to heads spinning and constitutional rights swimming to and from conclusions (this all seemed to appeal to Justice Gorsuch).
It appears that the petitioner is going to win and that the Court will find the § 1983 claim timely because filed within three years of the favorable termination of criminal proceedings. Counsel for respondent had a rough time. He declined to dispute Justice Ginsburg's contention that the claim is one for procedural (rather than substantive) due process, triggering a suggestion from Justice Sotomayor that he had given the game away. And he received an avalanche of questions--including from the Chief and Justice Kavanaugh--showing sympathy for the argument that favorable termination should be required for policy reasons of avoiding collapse and confusion between criminal and civil proceedings.
The real question is going to be how the Court gets there--whether by focusing on the elements of a § 1983 claim (as the United States urges) or at the level of judicial policy (as petitioner urges). And what happens on remand, where the government argues that, while timely, the claim is barred by prosecutorial immunity.
Posted by Howard Wasserman on April 18, 2019 at 12:00 PM in Civil Procedure, Howard Wasserman, Judicial Process, Law and Politics | Permalink | Comments (2)
Wednesday, April 17, 2019
FIU Law Review: Barnette at 75
I am happy to announce that the new issue of FIU Law Review is available online, featuring last fall's symposium Barnette at 75: The Past, Present, and Future of the Fixed Star in Our Constitutional Constellation. The hard version (which includes Q&A transcripts and a contribution from keynote speaker John Q. Barrett) should be available soon. Ron Collins wrote something up at FIRE. My introduction includes a discussion of an issue I have been playing with--whether, if you could establish state action (which I do not believe you can), the NFL violates the First Amendment by prohibiting players from kneeling during the anthem.
The TOC and links are available after the jump.
Continue reading "FIU Law Review: Barnette at 75"
Posted by Howard Wasserman on April 17, 2019 at 01:38 PM in Article Spotlight, First Amendment | Permalink | Comments (0)
Guest Post (Josh Douglas): Vote for US – The Organizations
This is the third in a series of guest posts from former guest Josh Douglas (Kentucky) that will appear this week. The series was posted on the Election Law Blog. Thanks to Rick Hasen for letting us publish it, with some minor edits.
In my previous posts about my new book, Vote for US: How to Take Back Our Elections and Change the Future of Voting, I discussed some of the Democracy Champions working on positive election reforms and highlighted some of the reforms themselves. The third piece of the puzzle is the incredible local, state, and national organizations focused on these issues.
Continue reading "Guest Post (Josh Douglas): Vote for US – The Organizations"
Posted by Howard Wasserman on April 17, 2019 at 09:31 AM in Books | Permalink | Comments (0)
Tuesday, April 16, 2019
"profane past participle form of a well-known word of profanity"
Anyone else find absurd the Court's refusal to use or allow the use of profanity in a case that is all about profanity and the ridiculous (if clever) work-around the government's lawyer found? Melville Nimmer rolls over in his grave.
Posted by Howard Wasserman on April 16, 2019 at 05:44 PM in First Amendment, Howard Wasserman, Judicial Process, Law and Politics | Permalink | Comments (1)
Justice O'Connor and the ERA
I recently finished the new Sandra Day O'Connor biography by Evan Thomas. There is much to chew in her life story (especially about what people want from judges). One interesting thread is how her public life was shaped by the Equal Rights Amendment. (Even failed amendments have consequences.)
Part of the book covers the debate on the ERA in the Arizona Legislature when O'Connor served there. She was pretty cagey about that issue due to the surrounding politics. (Arizona did not and still has not ratified the ERA.) In a sense, though, this contributed to her moderate Republican image that ended up helping her become the first woman on the Court.
Moreover, Justice O'Connor was selected largely because Ronald Reagan, who opposed the ERA, tried to make up for that position during the 1980 campaign by pledging that he would appoint a woman to the first Court vacancy he faced. What she said about the ERA later I do not know, though of course she authored and joined opinions that furthered sex equality under the Equal Protection Clause.
Posted by Gerard Magliocca on April 16, 2019 at 11:11 AM | Permalink | Comments (0)
Florida State University System Free Expression Statement
The Florida State University System issued a Free Expression Statement to "support and encourage full and open discourse and the robust exchange of ideas and perspectives on our respective campuses." It is a good statement from a First Amendment standpoint. It emphasizes the purpose of higher education in allowing divergent ideas to be debated (a proposition with which my colleague Stanley Fish disagrees); the importance of not stifling ideas because some find them offensive or abhorrent; and that concerns for civility or respect be a cover for stifling expression. It also reiterates schools' power to regulate through neutral time, place, and manner regulations, which still allows administrations to restrict a lot of expression (including by counter-protesters).
The full statement is after the jump.
Continue reading "Florida State University System Free Expression Statement"
Posted by Howard Wasserman on April 16, 2019 at 10:01 AM in First Amendment, Teaching Law | Permalink | Comments (3)
Guest Post (Josh Douglas): Vote for US-The Reforms
This is the second in a series of guest posts from former guest Josh Douglas (Kentucky) that will appear this week. The series was posted on the Election Law Blog. Thanks to Rick Hasen for letting us publish it, with some minor edits.
Yesterday I highlighted some of the amazing individuals I profile in my new book, Vote for US: How to Take Back Our Elections and Change the Future of Voting. These inspiring people are promoting positive voting rights reforms in their local and state communities. Today I'll say a little bit about some of the reforms themselves.
Continue reading "Guest Post (Josh Douglas): Vote for US-The Reforms"
Posted by Howard Wasserman on April 16, 2019 at 09:31 AM in Books | Permalink | Comments (0)
Monday, April 15, 2019
Guest Post (Josh Douglas): Vote for US
This is the first in a series of guest posts from former guest Josh Douglas (Kentucky) that will appear this week. The series was posted on the Election Law Blog. Thanks to Rick Hasen for letting us publish it, with some minor edits.
I'm proud to share that I've just published a new book, titled Vote for US: How to Take Back Our Elections and Change the Future of Voting. It's a popular press book that tells some truly inspiring stories of everyday Americans who are working in communities all over the country to fix our election system. In the process, the book advocates for various reforms to our democracy that are already seeing success in numerous local and state elections. And it highlights lot of amazing organizations that are taking on these efforts.
Today I'll focus on a few of the people I profile in the book – the Democracy Champions in communities all over who are at the forefront of improvements to state and local democracy.
Continue reading "Guest Post (Josh Douglas): Vote for US"
Posted by Howard Wasserman on April 15, 2019 at 09:55 AM in Books | Permalink | Comments (0)
"Barnette at 75" and "A Close Reading of Barnette, in Honor of Vincent Blasi"
I was grateful to Howard, the stationmaster of our blog, for inviting me to participate last fall in a wonderful symposium at Florida International University's law school on the 75th anniversary of West Virginia State Board of Education v. Barnette. Howard and the editors of the FIU Law Review invited a fine group of scholars (plus me) to speak, and it was a very good day, keeping in mind that "a very good day" is sort of the baseline in Miami. Now the Barnette symposium has come out in print and online. It can be found here. 
As Howard notes in his good and substantive introduction, the symposium is divided into three general topic areas. The first set of articles "focuses on Barnette's historical context." The second set focuses on "Barnette as text and the best way to read and interpret Jackson's words." (Justice Robert Jackson wrote the famously eloquent and aphoristic opinion for the Court.) The third and final set is on Barnette's "modern context" and "continued relevance"--especially its appearance in three major Supreme Court decisions in its 75 anniversary year: Masterpiece Cakeshop, Becerra, and Janus.
My contribution, A Close Reading of Barnette, in Honor of Vincent Blasi, is in the second category. As the title suggests, it's a "close reading" of Barnette, one that aims at reading Jackson's opinion itself and drawing all that I can from the text alone. My approach was inspired by the teaching and writing of Vince Blasi, who is one of my teachers and whose "close reading" assignments have inspired many of his former students who now teach in First Amendment law and other areas. Vince has long lamented that in legal education, students are generally asked to read and synthesize large chunks of doctrine drawn from small, chopped-up excerpts of cases, rather than reading individual cases in full and  engaging carefully with them as individual texts. His close reading assignments are an antidote to that. For years, I have gratefully stolen the idea from him and used it in my Law and Religion course, in which students do two close readings of individual cases or texts. Given the elite-reproduction nature of law school hiring, most of us owe considerable debts to teachers whose fame and prestige we can hardly advance and for whom we can do little in return that they really need. The best way to repay that debt is in how we treat our own students. But it was fun to pay explicit tribute to Blasi in this piece.
As it developed, I decided that I wanted to focus on passages other than the famous "fixed star" passage. It is almost literally an arresting passage: so evocative and powerful that it often hijacks the attention of scholars writing about Barnette, who thus neglect much else of importance in the opinion, including much that might help us read the "fixed star" passage more clearly. It is also worth noting and lamenting that my focus on the single majority opinion forced me to omit discussion of the concurring opinions, by Justices Black and Murphy, and Justice Frankfurter's dissent. The concurrences are generally ignored. Frankfurter's dissent in particular has long been short-changed, in large part because of the arresting nature of the opening, deeply personal passage in which he identifies himself as "one who belongs to the most vilified and persecuted minority in history." That passage has encouraged a general dismissiveness toward the dissent, in which casebooks (which skip the concurrences altogether) quote its dramatic opening but treat the dissent (most of which they omit) as a defensive outburst justifying his opinion in Gobitis and his place on the so-called "wrong side of history" in the flag salute litigation. There is actually much to learn from the concurrences and Frankfurter's dissent, each of which in various ways previews arguments and competing views--especially about law and religion--that would recur for the next 75 years and counting. For a fine recent discussion of Frankfurter's dissent, check out this piece by Sam Moyn. For various reasons that I hint at below, I think we can expect a revival of somewhat supportive scholarly interest in Frankfurter's dissent.        
Here's the abstract for my piece:
This article, written for a symposium marking the 75th anniversary of West Virginia State Board of Education v. Barnette, offers a close reading of Justice Jackson's opinion for the Court. In doing so, it offers an implicit and explicit tribute to Vincent Blasi, whose teaching and writing have emphasized the value of deep, careful engagement with the language and arguments of a single text, such as a judicial opinion, and who has been an inspiration to me and many other contemporary First Amendment scholars.

This close reading explores a gallery of passages from Barnette that have received relatively little scholarly attention, largely because Jackson's arresting "fixed star" passage has monopolized much of the discussion. But other passages in the opinion help reveal additional important points about the case with important broader implications. They suggest something about why Jackson treated this as a speech rather than a religion case and as an individual liberty case rather than an equal treatment case. They have implications for arguments about third-party harms, "government nonendorsement," student speech, and heckler's veto doctrine. And they underscore the importance of Jackson's description of an autonomous "sphere of intellect and spirit" and of the limits of state power in this area. Perhaps much more than has been recognized, Barnette is a paean to the sovereignty of the mind, and in doing so it treats this realm as much or more as a matter of state non-interference than as a subject for measured judicial balancing.

Although I focus closely on the text of the opinion itself, I offer some larger assessments of Barnette's condition today. I make two general observations. First, on the one hand, Barnette had an excellent 75th anniversary year, with citations and discussions in major Supreme Court decisions suggesting its stock is high. On the other, I suggest that it is in much poorer health in academic circles. A striking number of scholarly discussions of current issues, such as the wedding vendor cases, omit Barnette altogether. I suggest that these omissions are evidence of a deeper discomfort with Barnette. And for good reason: As this close reading reveals, the words and deeper music of Barnette are in genuine tension with current popular positions on these issues, and suggest that at some point these scholars need to engage directly and seriously with Barnette. Second, I argue that in interesting ways Barnette is a kind of "pre-capitulation" of much that happened in First Amendment law in the 75 years that followed it. This is true not just in the sense that Barnette positively inspired a great deal of First Amendment doctrine, but also in the sense that much of the jurisprudence that followed consisted of efforts to cabin Barnette and its implications and to build safety valves around it.
As the abstract suggests, although the heart of the article is the close reading itself, I do make some broader points about Barnette's place in First Amendment law and about how constitutional doctrine develops. I also argue, in an admittedly speculative fashion, that there is a kind of disjunction between Barnette's status on the Supreme Court and its status among legal scholars. As I note, many articles that might well have been expected to discuss Barnette have instead omitted it altogether. That may change after the most recent Supreme Court decisions, but that's hardly certain (and not all citations are genuine discussions). Of course, in making a general observation based on a citation search of recent legal scholarship, I do not deny that there are "honorable exceptions." But I do suggest that there are good reasons to suspect that many modern scholars might be (or ought to be) ambivalent about Barnette, given the import of that case for the implications of the theories and arguments they have been advancing of late, and that this ambivalence might express itself in part by bracketing Barnette through silence. I hope more of them will take it on directly and forthrightly, and without simply employing the usual lawyer's skill of narrowing or distinguishing it. Read for all it is worth and with its "music" in mind, it means more than that, and suggests real conflicts with the kinds of arguments that have been popular in recent years among First Amendment scholars--but not, for the most part and notwithstanding Justice Kagan's dissent in Janus [the initial post accidentally said "Masterpiece Cakeshop" here; my apologies and thanks to a commenter for pointing out the error] and its invocation of the rather unhelpful meme of so-called "weaponization," on the Supreme Court itself.
For some of these scholars, it might be that reflection will lead them to reject Barnette, in whole or in part. There's nothing wrong with that. The opinion isn't Holy Writ and indeed it's not the scholar's job to treat any text or opinion as beyond question. The worst that can happen is that openly questioning Jackson's opinion might deprive them of some strategic or rhetorical resources in advancing their arguments, and make it less likely that such arguments will win support from judges. But that only matters for political or litigation purposes and is irrelevant for actual scholarly purposes. Taking on Barnette directly, and without resorting to the usual lawyers' expedients, seems to me necessary for scholarly purposes and likely to make the kind of scholarship I am thinking of richer, more candid, and perhaps more self-critical (or bolder). And let me note finally that this symposium itself provides some such efforts. Pieces by Abner Greene, Erica Goldberg, Genevieve Lakier, and Leslie Kendrick all take on Barnette in the context of modern First Amendment debates on and off the courts. I'm delighted. I commend those pieces and the entire symposium, possibly including my own contribution, to readers. Enjoy! 
Posted by Paul Horwitz on April 15, 2019 at 09:41 AM in Paul Horwitz | Permalink | Comments (1)
Sunday, April 14, 2019
Human Capital Accumulation, Mobility & Equality (plus talk tomorrow at Yale)
I am working on a new  paper titled, Gentlemen Prefer Bonds: How Employers Fix the Talent Market very soon on ssrn. here is an abstract:
The labor market is precisely as the name indicates: a market. The currency of this market is talent. Competition principles apply in equal force to the labor market as to the product market, with the added effect that human capital is a living resource—its quality is endogenous to the competition for it. Competition among firms in the product markets spurs innovation, competitive pricing, and higher quality products and services. Competition among firms over talent ensures higher wages, better work conditions, and higher quality human capital. The strength of competition in the labor market depends on a range of factors, but a key measure of competition is the number of alternatives available for employees to consider. A powerful armor employed by companies to reduce alternative job opportunities is the restrictive covenant. The purpose of this article, written for a symposium on frontier in antitrust law is threefold. First, it explains the broader landscape of anti-competitive restrictions that are routinely placed on employees including horizontal collusion between employers agreeing to fix wages or refraining from poaching each other's employees and vertical arrangements between employers and employees, which may include employees agreeing not to solicit customers or former co-workers post-employment; to incur penalty for competition; and to avoid building on their professional knowledge, reaching beyond trade secrecy protections and into information that should remain in the competitive markets public domain, such as customer lists, compensation information, and general know-how. Second, while many of the harms potentially caused by non-competes are well-documented, the article presents a neglected aspect of labor market concentration: the perpetuation of wage gaps and inequalities. The article argues that mobility restrictions have a disproportionate effect on certain protected identities—primarily women, minorities, and older workers. In particular, I provide an original analysis of the effects of restrictive covenants on the gender wage gap and presents supporting empirical evidence. Third, the article presents a pervasive problem in the landscape of restrictive covenants: the prevalence of unenforceable contractual terms. I argue that the problem of unenforceable anti-competitive restrictions in employment contracts calls for a proactive approach, including notice requirements in employment contracts; regulatory action and penalties that target the contracts before litigation has been pursued; and a private right of action, including class actions by employees who have been harmed by unenforceable contracts.
I will be presenting it tomorrow at Yale Law School, if you happen to be in New Haven would love for you to join!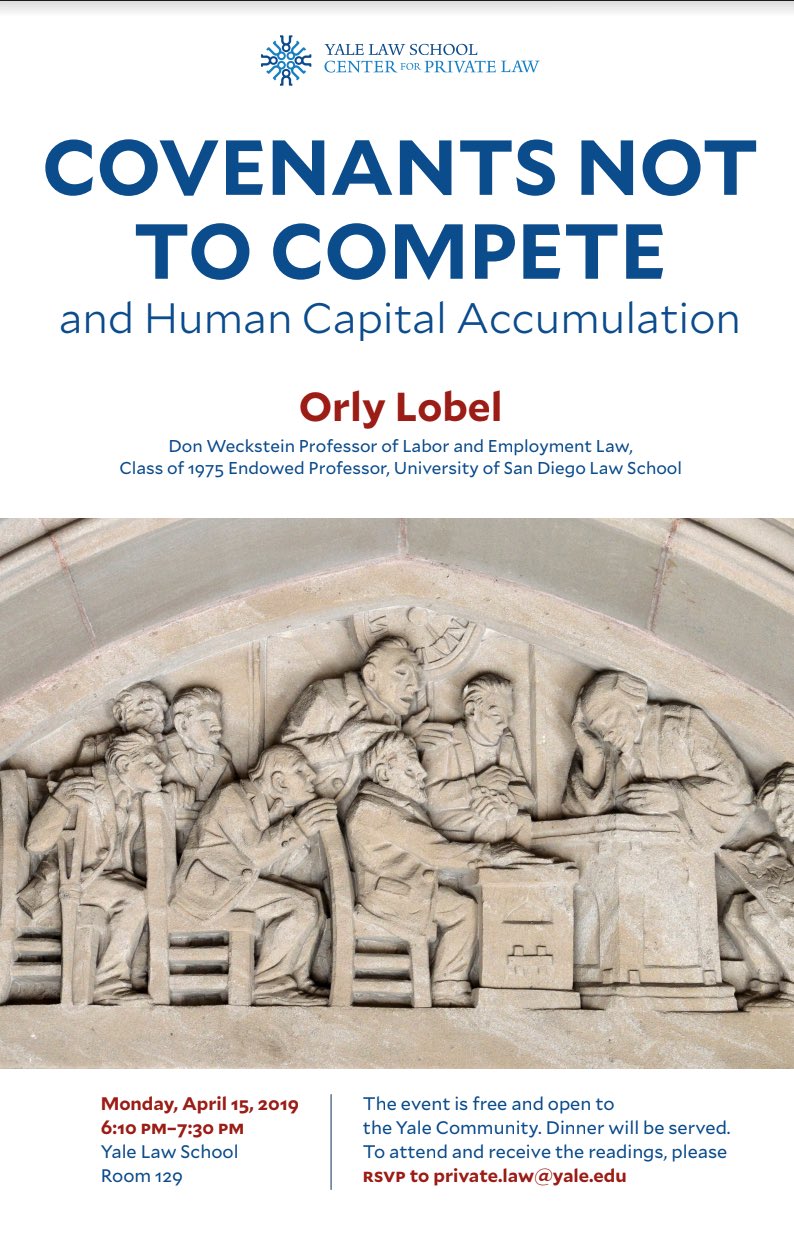 Posted by Orly Lobel on April 14, 2019 at 07:18 PM | Permalink | Comments (0)
Saturday, April 13, 2019
Judicial departmentalism and the rule of law
President Trump has made two recent moves that some are labeling threats to the rule of law: 1) DOJ (at White House urging) declining to defend the Affordable Care Act and 2) Trump instructing the head of ICE to deny entry at the border and to disregard court orders to stop denying entry and promising to pardon officials held in contempt for disregarding court orders. Judicial departmentalism--under which the executive may reach independent constitutional conclusions and act on them, but must obey court orders--looks at these differently.
The first is constitutionally permissible, if politically fraught. From the premise that the executive can reach independent constitutional determinations it follows that the executive can make litigation choices consistent with those determinations, including declining to defend laws. DOJ guidelines on when to decline are just that--prudential guidelines for making controversial choices and avoiding defeat in court, but not constitutionally compelled and not inconsistent with an idealized rule of law.
The second is impermissible, as the President and the rest of the executive branch cannot disregard court orders that bind them or refuse to enforce court orders binding others. The promise to pardon any contempt convictions is inconsistent with that obligation and perhaps with due process. While troubling, this move reflects Trump's limited understanding of how law and judicial processes work. It would be a long way before any federal official who did what Trump suggested would be convicted of criminal contempt. So the pardon power would not be useful if any official did as Trump urged (and reports are that ICE supervisors immediately told officers not to do as Trump suggested).
Posted by Howard Wasserman on April 13, 2019 at 12:54 PM in Constitutional thoughts, Howard Wasserman, Judicial Process, Law and Politics | Permalink | Comments (3)
Thursday, April 11, 2019
FIU Law Review: Summit on the Future of Legal Education and Entry to the Profession
FIU Law Review has published its new issue, A Summit on the Future of Legal Education and Entry to the Profession; this was a live symposium in spring 2018. It was a great live event and the issue includes published contributions from Scott Norberg of FIU, who organized the program; Bernard Burk; Joan Howarth and Judith Wegner; Kyle McEntee; and Aaron Taylor.
Posted by Howard Wasserman on April 11, 2019 at 03:43 PM in Teaching Law | Permalink | Comments (0)